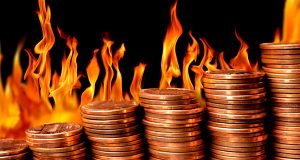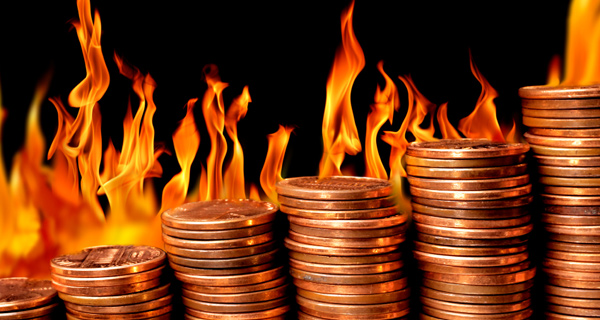 It's an exciting time for penny stocks, especially hot penny stocks like BioDelivery Sciences International (BDSI), Golden Star Resources (GSS), and Shanda Games Limited (GAME)…
BioDelivery Sciences International (NASDAQ: BDSI)
BDSI finished last week with a bang!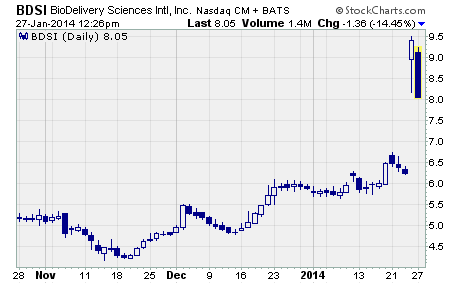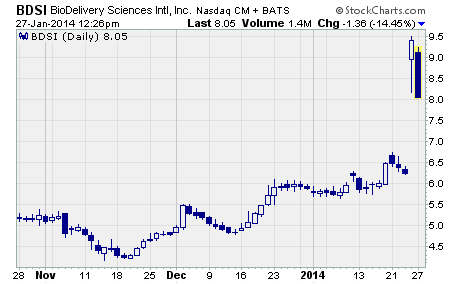 As you can see, the stock began the week on a negative note stringing together three straight losing sessions.  But after giving up 3.4% of its value, BDSI turned on a dime and soared into the stratosphere.
On Friday, the shares rocketed higher by $3.16 to finish the week with a stunning 56% gain.
The stock rose on good news for the company's leading, late-stage clinical drug candidate, BEMA buprenorphine.  According to management, top-line results from a phase 3 trial showed that the drug achieved the study's primary efficacy endpoint.
BEMA buprenorphine is being developed to treat pain in patients requiring around-the-clock opioid therapy for an extended period of time.
While the stock has moved significantly higher, it may have more room to run.  BioDelivery Sciences expects to report top-line results from a second phase 3 trial of BEMA buprenorphine around mid-year.
If the results are positive, BDSI could be off to the races once more.
Golden Star Resources (NYSE: GSS)
Golden Star is an established gold mining company that holds a 90% interest in both the Bogoso and Wassa open-pit gold mines in Ghana.  The company also has a 90% interest in the Prestea Underground mine in Ghana, which is currently undergoing permitting after a successful feasibility study was completed in June 2013.
Earlier this month, Golden Star announced its production results for all of 2013 and provided guidance for the coming year.
Last year, Golden Star sold 331,000 ounces of gold, in line with management's revised guidance for the year.  The combined cash operating costs per ounce for the Bogoso and Wassa mines are estimated to be between $1,050 and $1,150 per ounce.
Golden Star's full year 2013 financial results are expected in late-February 2014.
For the coming year, management expects the two mines to produce between 295,000 and 320,000 ounces of gold.  And they're forecasting combined cash operating costs per ounce to drop into a range of $950 to $1,000 per ounce.
Thanks to this bullish forecast, GSS has taken off like a rocket.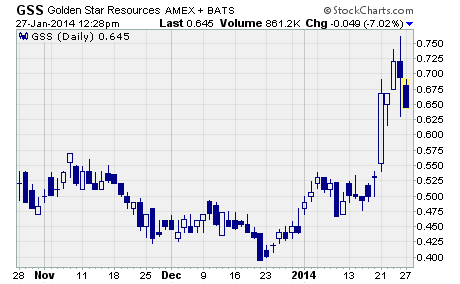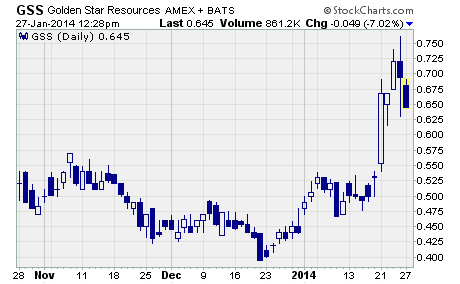 As you can see, the stock surged on Tuesday and never looked book.  It climbed from the prior week's closing price of $0.53 to a high of $0.76 before finishing the week just under $0.70 per share.
That move was good for a one-week gain of 32%.
And the stock has now appreciated by more than 72% over the past month.
While GSS has already plowed through the analyst median price target of $0.39, it may rise even further going forward.  Earnings estimates have improved dramatically over the past 90 days.  And trading volume has increased by 55% over the three-month average in the past ten days.
Shanda Games Limited (NASDAQ: GAME)
GAME is another penny stock moving higher in a hurry.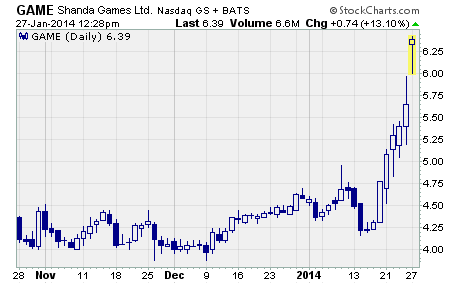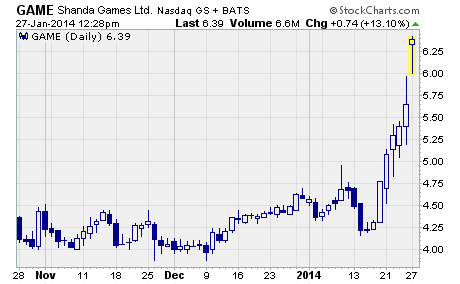 Less than two weeks ago, GAME had declined to a low of $4.20 per ADS and appeared to be heading lower.  But then something unexpected happened.  The stock rebounded and started rising in a steep uptrend.
And by Friday, GAME had added 32% for the week.
Shanda Games Limited is a leading online game developer, operator, and publisher in China.  It offers a diversified game portfolio, which include some of the most popular massively multiplayer online games and mobile games in China as well as overseas markets.
Why is the stock surging?
While it wasn't readily apparent last week what sparked the stock's sudden rise, it all became clear today.  Early this morning, the company announced it received an offer from its controlling shareholder, Shanda Interactive, to take the company private.
Shanda Interactive is offering to pay $6.90 for each Shanda Games ADS.  The offer represents a 22% premium to Friday's closing price of $5.65 and values the company at $1.9 billion.
According to the Associated Press, Shanda Games is "reviewing the proposal and expects to form a special committee to handle the matter, as well as consider its other strategic options."
As I write, the stock is changing hands for around $6.39 per ADS.  The only way an investment in GAME makes sense now is if you think the buy-out offer will increase or another buyer will come in to spark a bidding war.      
Profitably Yours,
Robert Morris
Category: Hot Penny Stocks