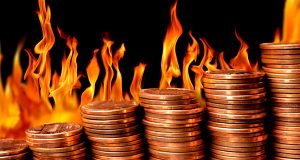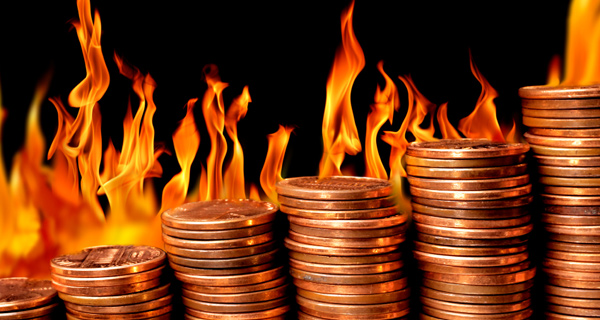 It's an exciting time for penny stocks, especially hot penny stocks like Diversified Restaurant Holdings (BAGR), DragonWave (DRWI), and Majesco Entertainment (COOL)…
Diversified Restaurant Holdings (NASDAQ: BAGR)
BAGR soared last week…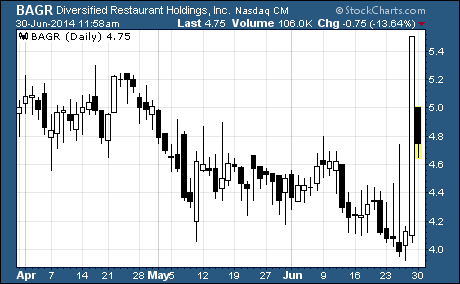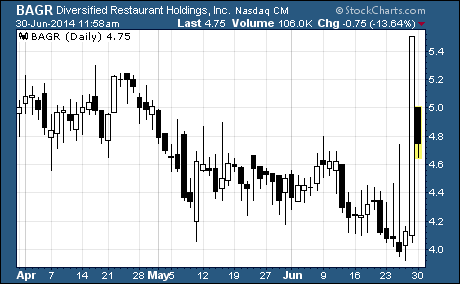 Shares of this restaurant chain skyrocketed from the prior week's close of $4.12 to a high of $5.50 on Friday. And the stock showed tremendous strength by finishing out the week at the high.
All in all, the big upside move gave investors a solid 33% gain for the week.
Diversified Restaurant Holdings owns and operates its own Bagger Dave's Burger Tavern restaurants as well as Buffalo Wild Wings franchises. As of May 9th, the company operated 18 Bagger Dave's Burger Tavern restaurants and 36 Buffalo Wild Wings franchises.
It's not clear what prompted the rally as there has been no specific positive news about the company recently. The gains were most likely due to a frantic bout of short covering on the last trading day of the second quarter. Prior to last week's surprising rise, BAGR had suffered a 35% drop from the high of $5.99 set on March 24th to its low of $3.92 on June 26th.
However, it doesn't look like the rally is going to hold.
BAGR is down more than 13% intraday to $4.75 as I write. And with analysts projecting a loss of $0.01 per share for 2014, it's hard to get excited about the company's fundamentals.
We suggest looking for better opportunities in the penny stock space.
DragonWave (NASDAQ: DRWI)
DragonWave provides high-capacity packet microwave solutions that drive IP networks worldwide. Its carrier-grade point-to-point packet microwave systems transmit broadband, voice, video, and data to meet bandwidth requirements.
The company's products have applications in the mobile network backhaul, as well as leased line replacement, last mile fiber extension, and enterprise networks. DragonWave's customers include service providers, government agencies, enterprises, and other organizations.
After rising rapidly to start the year, DRWI began a decline in late-January that would last for nearly fourth months.
The downtrend began right after the company reported a big year-over-year drop in third quarter revenue. And by May 15th, the stock had declined 45% from its late-January high of $1.99.
But then last week, the stock took off like a rocket…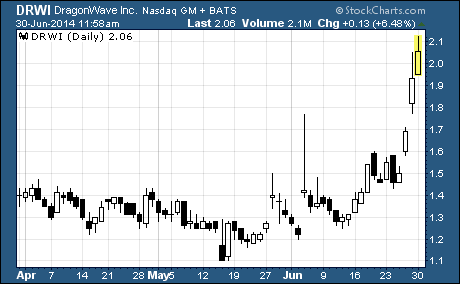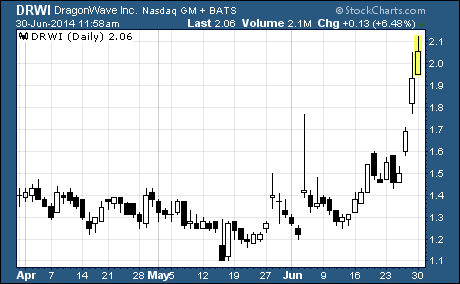 As you can see, DRWI surged from the prior week's close of $1.46 to a high of $2.05 on Friday before ending the week at $1.93. The strong move translates to a solid 32% gain for the week.
What's going on?
Investors are piling into the stock ahead of the company's first quarter earnings report, which is scheduled for July 15th. They're optimistic after DragonWave said first quarter revenue is expected to exceed the fourth quarter figure by 60%!
In addition, an analyst with CIBC raised his price target for the stock on Friday from $1 to $3 per share. At a current price of $2.06, the stock has 50% upside to this analyst's new price target.
Thanks to the recent move, DRWI appears to be overbought on a relative strength basis at the moment. We suggest waiting for a pullback before establishing a position in this momentum stock.
Majesco Entertainment (NASDAQ: COOL)
Following a huge decline from its early January high of $5.32 to a low of $1.65 on June 19th, COOL found new life last week…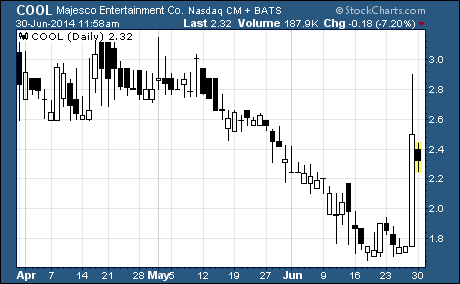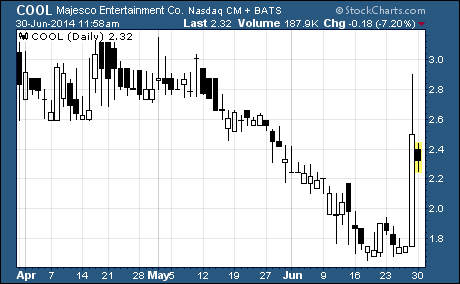 The stock soared to a high of $2.90 on Friday for a massive intra-day gain of 66%. And while it pulled back to $2.50 by the close, COOL registered an impressive one-week rise of 32%.
Majesco Entertainment provides video game products for family-oriented, casual-game consumers worldwide. Its video games can be played on personal computers as well as interactive hardware, digital, mobile, and online platforms offered by the likes of Nintendo, Sony, Microsoft, Apple, Facebook, and Zynga. The company sells its products to large retail chains, specialty retail stores, video game rental outlets, and distributors.
Why did the stock take off?
It looks like bargain-hunting investors snapped up shares of COOL after a bullish article appeared on a popular financial website. After highlighting the company's many near-term issues, the article suggests Majesco's recent entry into the huge, untapped US online gambling market might make the stock a good long-term bet.
With that said, Wall Street is not quite so optimistic…
Over the past 30 days, analysts have issued significant downward revisions to their earnings estimates for this fiscal year and next. Their earlier estimate of a 22-cent loss for fiscal year 2014 (ending October) has now been expanded to a loss of $1.65. And the estimate for a 10-cent loss in fiscal year 2015 has grown to a projected loss of 70 cents.
No question about it, these are major downward revisions.
Given the worsening outlook for Majesco, we suggest you look at other penny stock opportunities for your investment dollars. COOL is only appropriate for investors willing to take on heavy short-term risk for a potentially huge pay-off down the road.
Profitably Yours,
Robert Morris
Category: Hot Penny Stocks