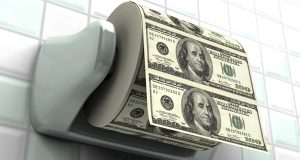 Welcome to Pump and Dump Friday, our weekly feature where we identify potentially "bogus" promotions going on in penny stocks.
Today we're exposing one of the most extensive penny stock pump and dump campaigns of the week… Converge Global (OTCPINK: CVRG).
If you don't know how these schemes work, be sure to check out our free report that exposes the whole thing.
Without further ado, here is today's disaster waiting to happen:
Converge Global (OTCPINK: CVRG)
CVRG is one of the most heavily hyped penny stocks of the past week. Promoters have been paid over $30,000 to hype the stock. And the email campaign launched on June 25th is off and running.
But despite promoters' efforts, investors aren't taking the bait.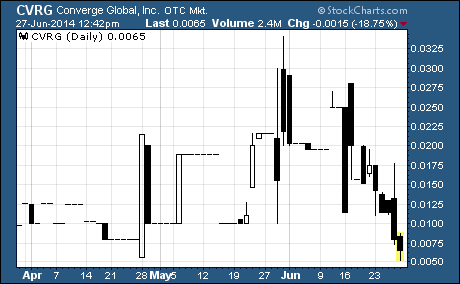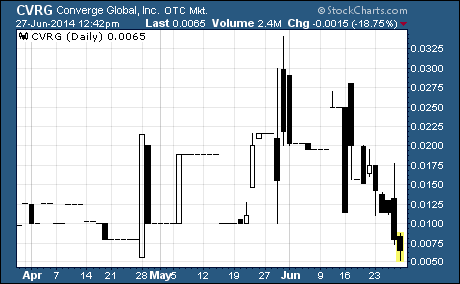 As you can see, the stock has moved lower since the promotion began. It's dropped from around $0.01 to a current price of $0.0065. That's about a 45% drop in less than two trading days!
However, I can't say I'm surprised by the lack of interest in this stock.
Converge Global has a long history of failure dating all the way back to July 24, 2000. Since its inception, the company has generated just under $59,000 in revenue while racking up losses totaling $3.4 million.
The company's business is to acquire mining properties and/or claims for the purpose of exploration and development into a commercially viable operation. But apparently it has had extremely limited success throughout its nearly 14 years in operation.
Nevertheless, the company and its promoters are now telling investors that it has a new plan to make Converge Global a raving success.
It's going to produce gold in Russia!
In November 2013, the company acquired Sintek, Inc., which supposedly has licensing agreements and mining claims known as the Siberia Gold Project. The Siberia Gold Project is located in Eastern Sibera, near Yeravninsky region in the Republic of Buryatia of the Russian Federation.
Converge Global claims the Siberia Gold Project contains 400 kg of placer gold reserves. That's about 14,109 ounces, which are worth at today's spot gold price of $1,318 per ounce, approximately $18.6 million.
What's more, the company says Sintek reported revenue for 2013 in excess of $1.3 million for schlich gold and $1.7 million for chemically pure gold.
That all sounds well and good, but I'm confused about why none of that money has found its way to Converge Global.
According to the 2013 annual report, the company generated zero revenue and registered a net loss of $160,227. And the first quarter of 2014 was no different. Again the company generated no revenue while taking a loss of $20,826.
It's hard to see at this point how investors in Converge Global are going to profit from the mining operations of Sintek, Inc. That probably explains why the stock is sinking instead of soaring despite the extensive promotion campaign.
I suggest you steer clear of Converge Global. The stock's being promoted by the penny stock pump machine. And it clearly hasn't demonstrated the ability to generate revenue let alone earnings.
Profitably Yours,
Robert Morris
Other Penny Stocks Being Pumped This Week
Bigg Tree Group (OTCQB: BIGG) – Promoters have been paid over $138,000 in June to pump BIGG.
ITonis (OTCPINK: ITNS) – Promoters have been paid nearly $500,000 this month to hype ITNS.
Category: Pump & Dump Alerts