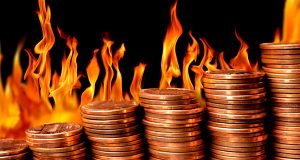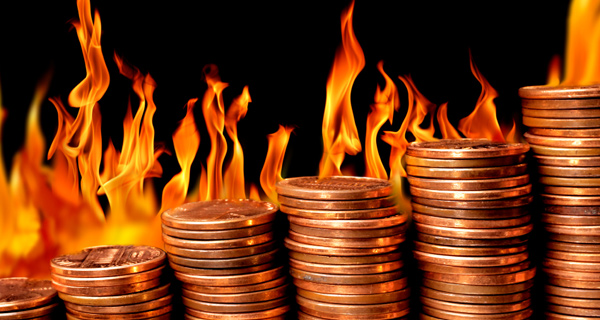 It's an exciting time for penny stocks, especially hot penny stocks like Golden Minerals Company (AUMN), New Concept Energy (GBR), and StemCells (STEM)…
Golden Minerals Company (NYSE: AUMN)
AUMN's on fire!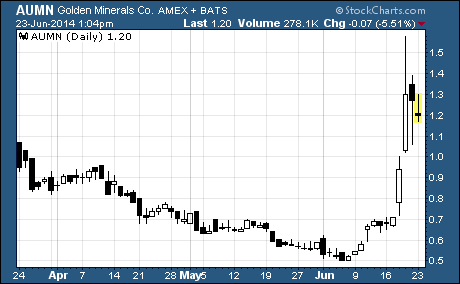 Shares of this tiny gold miner are jumping off the chart. As you can see, the stock climbed from the prior week's close of $0.67 to a high of $1.58 on Wednesday before finishing the week at $1.27.
The move was good for a stunning one-week gain of 90%.
Golden Minerals Company is engaged in mining, construction, and exploration of mineral properties in Mexico and Argentina. It explores for gold, silver, zinc, lead, and other minerals. The company's properties are estimated to contain measured and indicated resources of 64.6 million silver equivalent ounces plus inferred resources of 65.8 million silver equivalent ounces.
Here's why the stock took off last week…
On Wednesday, Golden Minerals announced plans to restart mining operations at its Velardena properties in July 2014. Production has been suspended at the property since June 2013 due to depressed precious metal prices.
The really good news is that management expects to produce payable metals starting in the fourth quarter of 2014.
They estimate production will rise from 150,000 ounces of silver equivalents per quarter to 275,000 ounces per quarter by mid-2015. And cash costs are forecast to decline from $30 per silver ounce in the fourth quarter to between $12 and $15 by middle of next year.
Take a closer look at AUMN for your own portfolio. The rally in this stock may be just getting started.
New Concept Energy (NYSE: GBR)
New Concept Energy operates oil and gas wells in Ohio and West Virginia. At the end of December 2013, it had 152 producing gas wells, 31 non-producing wells, as well as mineral leases covering 20,000 acres.
The company also leases and operates a retirement community located in King City, Oregon.
GBR has been moving higher since mid-April when the company reported outstanding results for 2013. For the year, revenue jumped 8% to $4.2 million and earnings increased 50% to 6 cents per share.
But the stock went parabolic last week…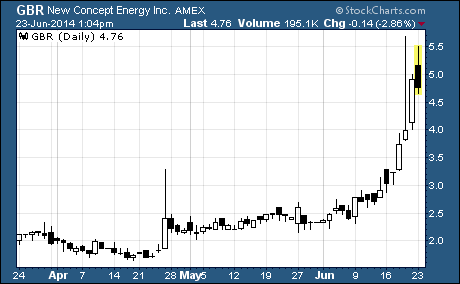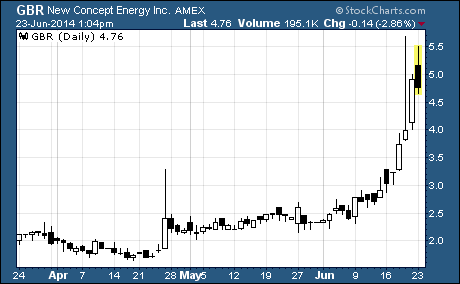 GBR surged from the prior week's close of $2.91 to a high of $5.67 on Thursday before ending the week at $4.90. That's an impressive gain of 68% in just one week's time.
And the stock is now up 169% for the year.
The shares took off thanks to a major spike in oil prices. The price of crude is rising rapidly as fighting between militants and the Iraqi army escalates.
Last week, both Brent and West Texas Intermediate crudes hit the highest prices we've seen since September 2013. And many market pros are betting oil prices are going to rise significantly higher from here.
If you're looking for a penny stock to play a further rise in oil prices, GBR may be a good way to do it. But you may want to wait for a pullback before establishing a full position in this high-flyer.
StemCells (NASDAQ: STEM)
After moving sideways for months, STEM soared last week…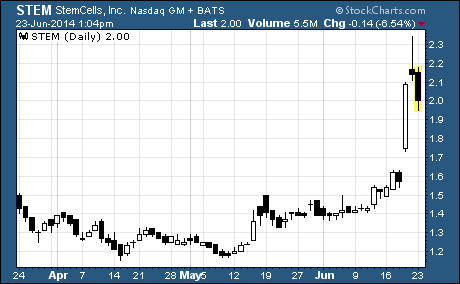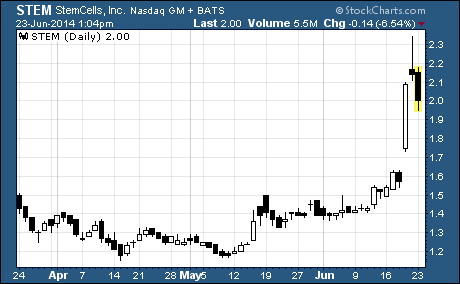 As you can see, this tiny biotech skyrocketed from the prior week's close of $1.52 to a high of $2.34 on Friday before closing out the week at $2.01. The strong upward move gave shareholders a terrific gain of 41% for the week.
And the stock is now sitting on a year-to-date gain of 74%.
StemCells is engaged in the research and development of cell-based therapeutics and tools for use in stem-cell based research and drug discovery. The company's platform technology, HuCNS-SC® cells (purified human neural stem cells), is currently in clinical development as a potential treatment for a broad range of central nervous system disorders.
Why is the stock surging?
Last week, the company announced positive interim results from its phase 1/2 trial for dry age-related macular degeneration (AMD). The results showed a 70% reduction in the rate of geographic atrophy (GA) and a 65% reduction in the rate of GA. What's more, the product candidate demonstrated a favorable safety profile.
In light of these better-than-expected-results, StemCells has closed enrollment in the phase 1/2 trial and will now focus on initiating a phase 2 proof-of-concept study later this year.
This could be a huge drug for StemCells if ultimately approved by the FDA.
AMD is the leading cause of blindness in adults over age 55 in the developed world. And an estimated 10 million people in the US alone either have AMD or are at substantial risk of receiving the diagnosis.
It certainly looks STEM is firing on all cylinders at the moment…
But before you rush in, you may want to wait for a pullback. Small biotech stocks often use sharp rises in their share price to raise money through public stock offerings. And when such an offering is announced, you'll often see the stock drop in value.
Profitably Yours,
Robert Morris
Category: Hot Penny Stocks