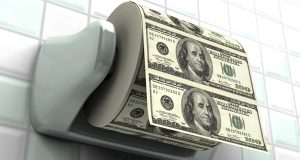 Welcome to Pump and Dump Friday, our weekly feature where we identify potentially "bogus" promotions going on in penny stocks.
Today we're exposing one of the most extensive penny stock pump and dump campaigns of the week… BrainyBrawn (OTCPINK: BRNW).
If you don't know how these schemes work, be sure to check out our free report that exposes the whole thing.
Without further ado, here is today's disaster waiting to happen:
BrainyBrawn (OTCPINK: BRNW)
BRNW is one of the most heavily hyped penny stocks of the past week. The stock has been pumped by 13 promoters through 35 different newsletters. And more than $40,000 has been paid to penny stock promoters in June.
Despite promoters' efforts, the campaign is a huge bust so far.
Since the promotion started on June 17th, BRNW has traded up from 3 cents to a high of 4.4 cents and back down to a current price of 2.8 cents per share. I'm sure that's not the type of action those behind the campaign were hoping to see. (Sorry there's no chart… StockCharts.com doesn't have one for this company).
However, I can't say I'm surprised by the lack of interest in this stock.
There really isn't too much information out there about the company. According to the most recent annual report (published in April 2014 for the period ending March 31, 2013), BrainyBrawn is a development stage company that provides business information products and solutions to the healthcare, hospitality, education, and retail sectors.
I was certainly expecting a more professional presentation of the company's business and financial situation. You see, the company's President, CEO, and largest shareholder, Naresh Belwal, is the former head of investment banking services at a Wall Street broker dealer.
But the report was bare bones to say the least.
The only thing we really know about the company is what can be found in a couple of recent company press releases.
These claim the company just released its first product, the Student Admission Management System called Sanvi SAMA. And they go on to say that the first Sanvi SAMA has been installed "at a prestigious University in India."
Here's what caused my scam radar to go off…
First off, the company's a year behind in its financial reports. I'd expect the former head of investment banking for a Wall Street firm to be current in this area. After all, it is his area of expertise.
Second, neither press release refers to this university in India by name. How can anyone confirm the company's story if we don't know exactly which university installed the system?
Or maybe that's the intent?
Another red flag is that the press releases provided old data on the size and growth of India's for-profit education industry and tried to pass it off as a recent forecast. The source article referenced in the press releases was published in 2010.
I'm sure a lot has changed in the past four years. And again, I'm surprised that a former Wall Street guy would try to use an industry forecast for 2015 from a four year old article. That's incompetent at best and dishonest at worst.
Given the above red flags, I recommend you avoid risking your hard earned money on BRNW. There are better penny stocks out there without the kinds of concerns currently surrounding BrainyBrawn.
Profitably Yours,
Robert Morris
Other Penny Stocks Being Pumped This Week
Novagant (OTCPINK: NVGT) – 19 promoters with 61 newsletters have been paid nearly $45,000 to hype NVGT this month.
PetVivo (OTCQB: PETV) – 22 promoters with 59 newsletters have been paid over $240,000 in June to plug PETV.
Category: Pump & Dump Alerts