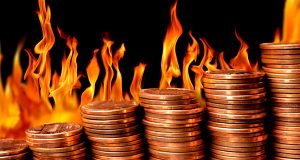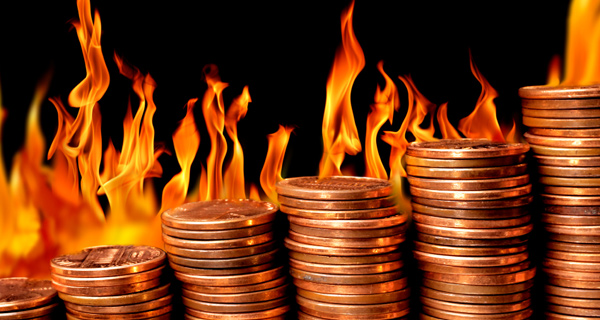 It's an exciting time for penny stocks, especially Affirmative Insurance Holdings (AFFM), Celsius Holdings (CELH), and Prana Biotechnology (PRAN).  Let's take a closer look at these three hot penny stocks…
Affirmative Insurance Holdings (OTCQB: AFFM)
AFFM took off like a rocket last week!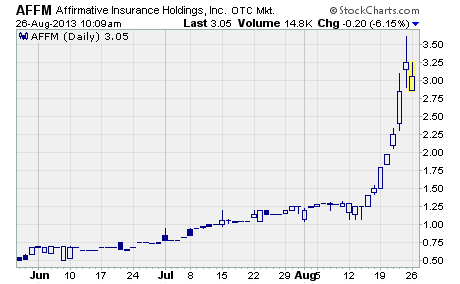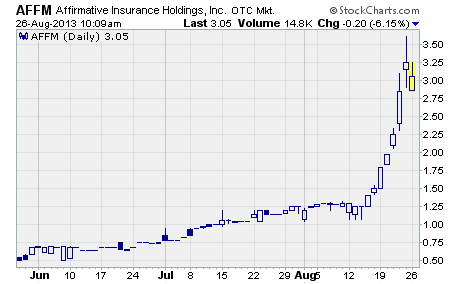 As you can see, the stock soared from $1.25 on August 14th to a high of $3.60 this past Friday.  That's a stunning move of 188% in just eight trading days.  While it couldn't hold onto the high, AFFM finished the week at $3.25 for a one-week gain of 117%.
The stock's surging because the company recently reported its first quarterly profit in years.
Affirmative is a distributor and producer of non-standard automobile insurance policies in nine US states.  These policies provide coverage to drivers who find it difficult to get insurance due to a lack of prior insurance, age, driving record, limited financial resources, and other reasons. 
For the second quarter…
Revenue increased 41% year-over-year to $21 million on a 46% rise in total gross premiums.  Net income came in at $1.5 million compared to a loss of $5.7 million in the year ago quarter.  And earnings increased from a loss of $0.37 to a profit of $0.10 per share.
A great quarter any way you slice it.
The improved results show Affirmative is making good progress on recent actions taken on pricing, underwriting, and expense reduction.  What's more, the company's benefiting from favorable market conditions in key states like Texas, California, and Louisiana.
There's no question that investors were pleased with the company's second quarter.  But it's too soon to tell if this is the beginning of a new trend of profitability or a one-off event.              
Celsius Holdings (OTCPINK: CELH)
Celsius Holdings is the creator and marketer of Celsius, a drink claimed to be "the world's first and only negative calorie drink backed by clinical science."  The company was founded in 2004 and is based in Boca Raton, Florida.
According to the company, Celsius is a negative calorie supplement that is clinically proven to burn calories, provide energy, reduce body fat, and enhance endurance when combined with exercise.  It comes in five ready-to-drink flavors, Orange On-the-Go powder stick packets, or a 30-serving canister. 
The drink is sold in supermarkets, convenience stores, health clubs, spas, and gyms throughout the US and internationally.  It is also available through various e-commerce websites.
As you may have guessed, CELH spiked higher last week.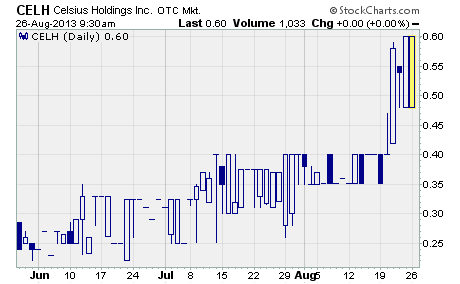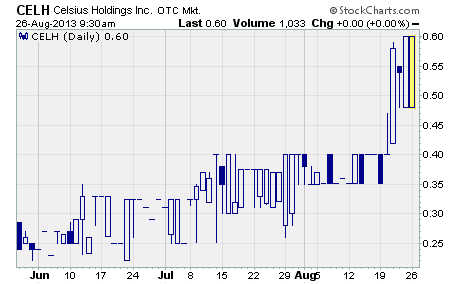 After closing out the prior week at 40 cents per share, CELH finished last week at 60 cents for a one-week gain of 50%.  And the stock has more than tripled in value off the April low of 19 cents per share.
That's a stunning run to say the least.
The most recent boost to Celsius' share price follows impressive quarterly results.
For the second quarter, revenue jumped 66% year-over-year to $3 million on a big increase in international sales.  However, domestic sales were no slouch either, as all domestic segments saw double and triple digit growth during the quarter.
While the company posted a net loss of $228,000, it was much improved over the year ago quarter's loss of $1.1 million.
Investors certainly liked the news.  They sent CELH soaring to its highest level in over three years.  We'll have to see if the stock is able to build on these gains going forward.
Prana Biotechnology (NASDAQ: PRAN)
Prana is a development stage biotech focusing on new drugs for Alzheimer's, Parkinson's, and Huntington's diseases.  The company's leading drug candidate is PBT2, which is currently undergoing a phase 2b trial in Alzheimer's disease and a phase 2a trial in Huntington's disease.
Here's the thing… PRAN soared over the past week!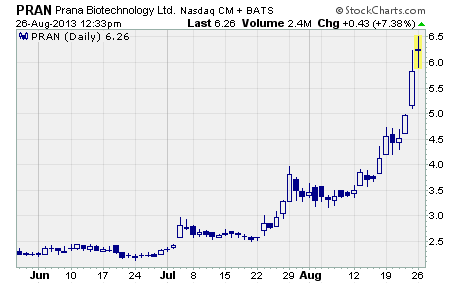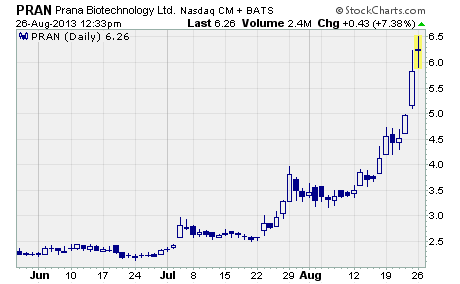 As you can see, the stock has been moving steadily higher since the second week of August.  After hitting a low of $3.17 on August 6th, PRAN climbed to a high of $6.24 last Friday before finishing the week at $5.83.
That's an 84% gain in just over two weeks' time.
And most of that gain came last week on the back of PRAN's 41% surge.
What's going on?
Investors have been piling into PRAN ahead of upcoming results from the phase 2a trial of PBT2 in Huntington's disease.  Those results are expected sometime in October.  What's more, results from the phase 2b trial in Alzheimer's patients are expected in March 2014.
These are huge potential upside catalysts for PRAN.
Positive results would mean PRAN is on track to developing treatments for two debilitating diseases for which there are no cures and very few treatment options.  In addition, spending on Huntington's disease drugs is projected to hit $870 million by 2018 while the Alzheimer's drug market is already north of $10 billion annually.
With sales potential like that, it's not hard to see why investors are excited about PRAN.    
Profitably Yours,
Robert Morris
Category: Hot Penny Stocks