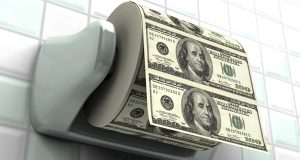 Welcome to Pump and Dump Friday, our weekly feature where we identify potentially "bogus" promotions going on in penny stocks.
Today we're exposing one of the most extensive penny stock pump and dump campaigns of the week:  Exlites Holdings International (OTCPINK: EXHI).
If you don't know how these schemes work, be sure to check out our free report that exposes the whole thing.
Without further ado, here is today's disaster waiting to happen:
Exlites Holdings International (OTCPINK: EXHI)
EXHI is one of the most heavily hyped penny stocks of the past week.  According to our sources, 71 promoters with 262 newsletters have been paid nearly $500,000 to pump the stock.
And it actually worked for a few minutes…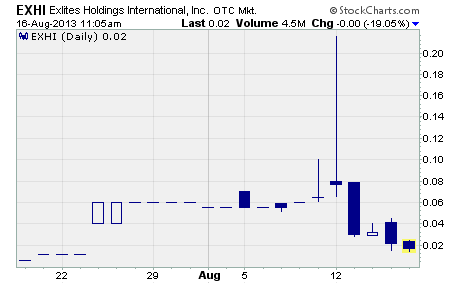 As you can see, the stock hardly traded at all over the weeks prior to the pumping campaign.  Then on the campaign's very first day, EXHI shot up from $0.055 to a high of $0.215 per share.
That's an intra-day gain of 291%!
But the sellers were ready and waiting for the spike. 
As soon as the stock popped, they began dumping their shares immediately.  And EXHI fell back to earth to finish the day at $0.077.
Despite valiant efforts by the pumping machine, the stock has continued to move lower and lower.  EXHI is changing hands at just 2 cents per share as I write. 
That's a drop of 64% from where the stock was trading prior to the pump.
And it's a stunning plunge of 90% from the first day peak.
What I can't understand is how anyone would buy this stock in the first place.  It just goes to show that there are lots of people out there blindly trading these pump and dump penny stocks without any regard to the quality of the company behind them.
Here's what I mean…
According to the annual report filed in July 2013, Exlites is engaged in the durable medical supply business.  It recently acquired Ashford Durable Medical Solutions and plans to provide medical supplies to hospitals, home health agencies, assisted living facilities, and wellness centers.
That certainly is an ambitious plan. 
But at the moment, that's all it is… a plan.
The company's financial statements are very thin and appear to provide the bare minimum of information required.  But what they do show is a company struggling to survive.
At the end of April, Exlites had total assets of $15,746 of which $9,746 was cash.  That compares to total liabilities of $236,932 and a shareholders' deficit of $221,186.
What's more, the company had zero revenue during the quarter and generated a loss of $7,571.
I found these numbers intriguing as the annual report said, "the company offers an extensive portfolio of medical supplies and equipment from industry leading manufacturers…"  So, I took a look at their website.
And what I found wasn't very encouraging.
The website looks like it was just recently slapped together.  The first thing that caught my eye was a strange statement on the first page.  It says the company's experience in this industry amounts to "many years". 
That's a dead giveaway that management has very little experience, if any, in the medical supply business.  If they really had any experience, you can bet they'd be much more specific about it.
Another red flag is that the company's not set up to receive payment from Medicare, Medicaid, Commercial Insurance, or Third Party Payers.  It's tough to grow a medical supply business when you can't accept payment from these important sources in the healthcare market.
But here's the best part…
The company's "extensive offering of medical supplies" amounts to just seven products.  You read that right… seven products!  And they range in price from $1.50 to $130.00 apiece.
Message to management… buy a dictionary and look up the word "extensive" before using it to describe your product line!
I could go on and on, but you get the point. 
Exlites is nothing more than a start-up company with a website and a few products.  It's not generating any revenue and it's racking up losses.  The only reason this stock is seeing any action at all is because of the half million dollar pump campaign. 
Stay away from this stock if you value your money.
Other Penny Stocks Being Pumped This Week
SourcingLink.net, Inc. (OTCPINK: SNET) – 40 promoters with 144 newsletters have been paid over $140,000 so far in August to hype SNET.
Arch Therapeutics (OTCQB: ARTH) – 27 promoters with 57 newsletters have been paid over $70,000 in August to plug ARTH.
As you know, penny stocks are a great place to invest your money.  You just have to do your due diligence to stay away from all the schemes and scams out there these days!
Profitably Yours,
Robert Morris
Category: Pump & Dump Alerts