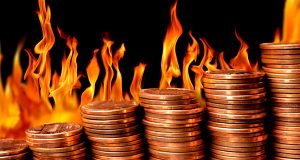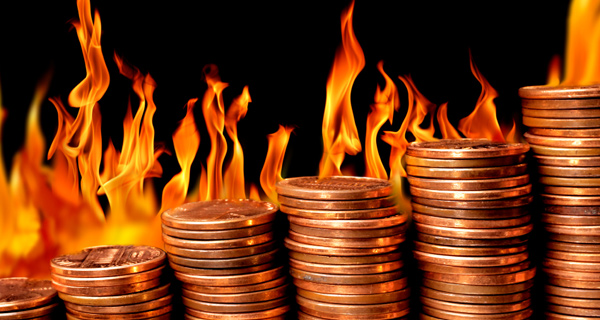 It's an exciting time for penny stocks, especially hot penny stocks like Achillion Pharmaceuticals (ACHN), Armco Metals Holding (AMCO), and GreenHunter Energy (GRH)…
Achillion Pharmaceuticals (NASDAQ: ACHN)
ACHN is soaring into the stratosphere!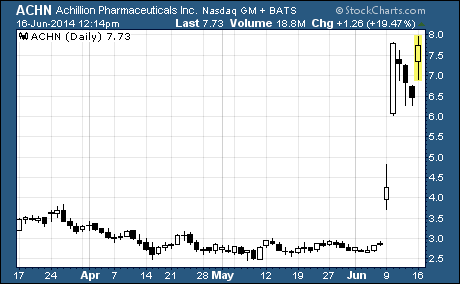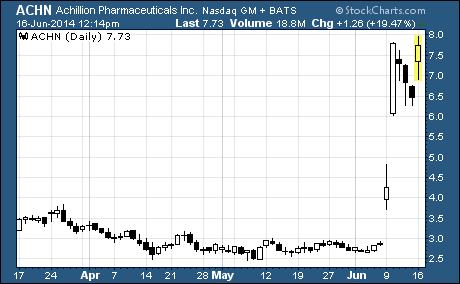 Shares of this once high flying biotech stock had been shunned by investors for the past eight months. But last week, buyers started snapping up shares like the Netherlands collected goals against Spain in their recent World Cup match (the Dutch beat the current world champion Spaniards 5 to 1 on Friday).
And as a result, ACHN has gained 165% in just the past week!
Achillion Pharmaceuticals is a small biotech that is developing drugs for the treatment of infectious diseases. It currently has four drug candidates for treating hepatitis C virus (HCV) and one antibacterial drug candidate in various stages of clinical testing.
Why's the stock skyrocketing?
The shares are benefiting from three major news events that all transpired last week.
First off, ACHN rose in sympathy following news that Merck will acquire tiny Idenix Pharmaceuticals (IDIX) for $3.85 billion or $24.50 per share. Merck's making the move to get its hands on the biotech's three HCV drug candidates.
And the drug giant is clearly willing to pay top dollar to get them. The acquisition price represents a 253% premium to Idenix's closing price on the day prior to the announcement.
After the news broke, investors pounced on Achillion. They're betting that Achillion could be the next big takeover target due to its stable of HCV drug candidates.
But that's not all…
The stock received another boost last week after the FDA lifted its clinical hold on sovaprevir, Achillion's mid-stage HCV drug candidate. The trial had been on clinical hold since last July.
And finally, ACHN is jumping today after the Maxim Group upped its price target from $6 to $22. The analyst pointed to the huge potential of Achillion's HCV drug candidates and its status as an attractive acquisition target.
There's no question that ACHN has made sharp gains in just a short period of time. However, last week's major news events appear to suggest the stock has a ton of upside potential from here.
Armco Metals Holdings (NYSE: AMCO)
Armco is a California-based company that sells metal ore and non-ferrous metals in China. Its customers include some of the fastest growing steel producing mills and foundries in that country.
Prior to last week, investors wanted nothing to do with Armco shares. The stock had dropped 64% from its 52-week high of $0.58 to a recent price of just $0.21 per share.
But what a difference a week makes…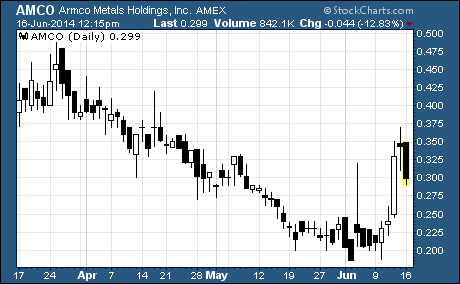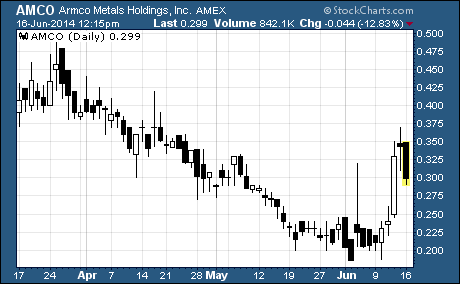 As you can see, AMCO climbed to a high of $0.37 last Friday before finishing the week at $0.34 per share. That's an impressive 62% gain in just five trading days.
The stock took off after management announced huge news on June 4th…
They said the company's Armco Renewable Metals subsidiary has received a restricted materials import approval from the Environmental Management of Solid Waste in China. The approval allows Renewable Metals to import 20,000 metric tons annually of steel-based scrap, copper-based scrap, aluminum-based scrap and other materials.
This is great news for Armco as it can now import certain non-ferrous scrap metals that generally carry higher gross margins than basic scrap steel.
It's not exactly clear yet how this news will specifically impact the company's top and bottom lines. So, you may want to put this hot penny stock on your watch list for now.
GreenHunter Energy (NYSE: GRH)
GRH is marching higher at a brisk pace…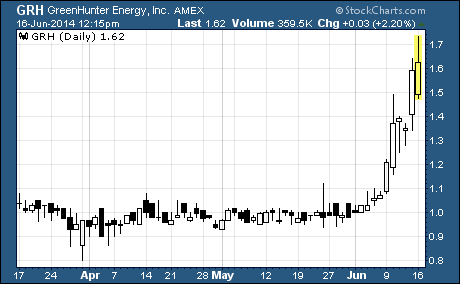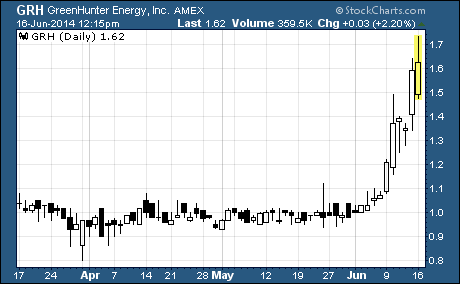 Shares of this microcap environmental services company shot up from $1.06 to a high of $1.64 before ending the week at $1.59. The strong upward move provided shareholders with a stunning 49% gain in just one week's time.
GreenHunter Energy is a diversified water resource, waste management, and environmental services company specializing in unconventional oil and natural gas shale resource plays. The company offers hydraulic fracturing services, as well as fluids handling, hauling, and barging services. It also owns and operates commercial salt water disposal wells for the injection of brine and other fluids related to oil and gas production.
Why the sudden surge in share price?
Investors are flocking to the stock after recent positive comments from Noble Financial Group. The research arm of this investment banking firm initiated coverage on GreenHunter Energy at the end of May with a Buy rating and a $1.50 price target.
At the time, GRH was changing hands for just 98 cents per share.
The analyst believes GreenHunter will see strong growth in its salt water disposal operations and margin improvement in the transportation services business. He also believes the company will benefit from the introduction of a new creative salt water storage line.
But that's not all…
After GRH plowed through Noble's $1.50 price target last week, the analyst has maintained his bullish outlook. This morning he raised his price target from $1.50 to $2.25 per share.
With GRH currently trading at $1.62, the stock has 39% upside to the analysts' new price target. Given the strong momentum behind these shares, it looks like GRH is a worthwhile short-term trade.
Profitably Yours,
Robert Morris
Category: Hot Penny Stocks