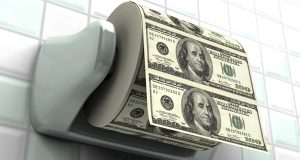 Welcome to Pump and Dump Friday, our weekly feature where we identify potentially "bogus" promotions going on in penny stocks.
Today we're exposing one of the most extensive penny stock pump and dump campaigns of the week:  Nouveau Holdings (OTCPINK: NHLI).
If you don't know how these schemes work, be sure to check out our free report that exposes the whole thing.
Without further ado, here is today's disaster waiting to happen:
Nouveau Holdings (OTCPINK: NHLI)
NHLI is one of the most heavily hyped penny stocks of the past week.  According to our sources, 32 promoters with 160 newsletters have been paid more than $200,000 to pump the stock.
The pumping campaign began on Monday with a flurry of emails touting NHLI as a "must-see momentum alert" and as having an impressive "technical set-up".  But those statements couldn't have been further from the truth.
Check out the stock chart…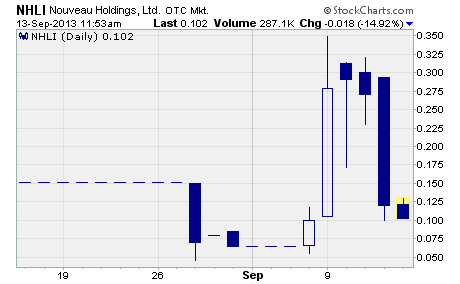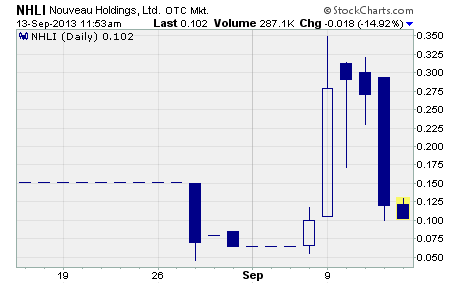 As you can see, the stock hardly traded at all in the weeks leading up to the pumping campaign that began on September 9th.  In other words, there was insufficient trading history from which to derive any sort of chart pattern that could provide technical insight into the future direction of this stock.
 You can take my word for it… the two blue bars in late August do not constitute a "technical set-up".
What's more, there was certainly no "momentum" in this stock prior to the pump. 
A momentum trading strategy is designed to cash in on a stock price trend continuing into the future.  The theory is that once a stock establishes a trend (either up or down), it is more likely to continue in that direction than it is to move against the trend.
However, there was no trend here…
Four days worth of trading in an unknown stock after months of inactivity do not a trend make. 
Nevertheless, the pumper emails did their job and generated enough interest in NHLI to produce a huge gain on the first day of the campaign. 
But make no mistake, their efforts were helped immensely by the stock's tiny float of just 257,000 shares.  With so few shares available, the stock was certain to jump on a surge in demand created by the pump.
The point is… the big move in NHLI on September 9th was mostly due to the pumping campaign combined with the stock's small float.  It had little to do with the merits of the company.
Speaking of the company, let's take a closer look at it now…
Nouveau was first formed in 1987 under the name First American Railways.  The name was changed in 2007 to Spectrum Acquisition Holdings and again in February 2013 to its current moniker.
According to the most recent quarterly report (period ending March 2013), the company has exited the business it had been pursuing since 2007.  That business was the development of environmentally responsible products for companies in the mining and mining equipment industries.
And it's not hard to understand why it's ditching that business…
The company never generated a single penny of revenue.  It racked up net losses of approximately $2.9 million.  And it won't be able to continue its current level of operations without additional funds.
So, what's the company doing now?
Nouveau is trying to get into the online gaming business through an acquisition of B3Square1 LLC.  The two companies have apparently agreed to the acquisition, which is expected to close by early November. 
It's not clear what the combined company will look like as I couldn't find any financial information on B3Square1.
And what's happening with the stock today?
The planned change of business and news that B3Square1 has launched its first online game certainly helped the pumping campaign get off to a good start.  NHLI registered a gain of 190% over the campaign's first couple of days.
However, the stock failed to hold onto those gains or move any higher.  And as I write, NHLI has plunged all the way back to $0.10 per share.  That's a drop of 71% from the intra-day high of $0.35 set on the first day of the campaign.
The bottom line…
As always, I advise you to avoid trading any penny stocks that appear to be part of a pump and dump campaign.  There are plenty of penny stocks out there that offer excellent opportunities for profit without the need for a pumping campaign.
Other Penny Stocks Being Pumped This Week
Nuvliex (OTCQB: NVLX) – 21 promoters with 320 newsletters have been paid $60,000 so far this month to hype NVLX.
Seven Arts Pictures (OTCQB: SAPX) – 20 promoters with 155 newsletters have been paid over $50,000 in September to plug SAPX.
As you know, penny stocks are a great place to invest your money.  You just have to do your due diligence to stay away from all the schemes and scams out there these days!
Profitably Yours,
Robert Morris
Category: Pump & Dump Alerts