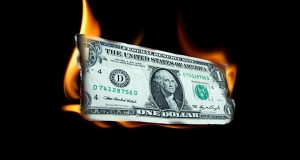 Welcome to today's Pump and Dump Alerts, where we will be exposing these two companies:  Globalwise Investments (GWIV) and Hollund Industrial Marine (HIMR).
Here we identify a couple of the potentially "bogus" promotions going on in penny stocks today.
If you don't know how these schemes work, be sure to check out this free report that exposes the whole thing.
Without further ado, here are today's "disasters waiting to happen":
Globalwise Investments (GWIV)
Globalwise Investments, via its wholly owned subsidiary Intellinetics Inc., is an enterprise content management (ECM) company with software that delivers cloud ECM based solutions on-demand. In the second quarter of 2012, GWIV lost $155,250 with $82,939 of it from continuing operations.   As of June 30th, the company had a $4.9 million accumulated deficit.
Currently shares of this penny stock trade near $1.65.
Blue Wave Advisor's website, The Lightning Picks, was paid $30,000 to pump shares of GWIV.   
Hollund Industrial Marine (HIMR)
Hollund Industrial Marine is a company working in the underwater forest industry.  HIMR has developed a heavy machine solution for the underwater forest industry called TigerLynk.  This technology uses an industrial robot arm mounted on a vessel or platform to remotely cut and retrieve timber from underwater sources.   According to filings, the company terminated their SEC registration back in late 2007.
Right now, this penny stock is trading near $0.001.
Hot Stock Profits was paid $2,500 to promote shares of HIMR.
A final word (and warning).
These are just a few of the potential "pump and dumps" we've seen lately.
Remember, there's a lot more of this going on than we can highlight here.
For more in-depth coverage of potential penny stock pump and dumps, be sure to sign up for our free newsletter, Penny Stock Research.
As you know, penny stocks are a great place to invest your money.  You just have to do your due diligence to stay away from all the schemes and scams out there these days!
Until next time,
Brian Walker
Category: Pump & Dump Alerts, Pump & Dump Daily