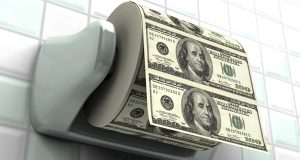 This week we're exposing one of the most popular Penny Stock Pump & Dumps:  Goff Corp. (OTCBB: GOFF).
That said, welcome to Pump and Dump Friday, where every week we identify at least one of the many potentially "bogus" promotions going on in penny stocks today.
If you don't know how these schemes work, be sure to check out our free report that exposes the whole thing.
Without further ado, here is today's "disaster waiting to happen":
Goff Corp (OTBB: GOFF)
Two heavyweight penny stock promoters, Victory Mark Corp LTD and Degroupa Tenner Morales Media Corp, both out of Costa Rica, ramped up the pumping machines last month to begin hawking previously unknown Goff Corp. 
Victory Mark operates through its domains selectpennystocks.com, heropennystocks.com, and preferredpennystocks.com.  Degroupa Tenner operates through its domains pennystocks.com, earningsforecast.com, and pennyadviceexpert.com.  
Both companies began pummeling investors in mid-March with provocative emails that urged them to jump on GOFF's IPO.  And now that the stock is trading, the pumping campaigns are running full steam.
Here are a few headlines from recent GOFF pumping emails…
"Our Brand New Monster Pick Is GOFF!"
"GOFF Could Be The Biggest Mining Pick This Year!"
"Could GOFF Be The Next Gold Stock To Climb Above 4 Dollars?"
-Victory Mark
"Our New Golden Pick Is GOFF"
"GOFF Could Rally From 35 cents To $1 Soon – Don't Miss It!"
"As Wall Street Uncovers GOFF, Share Price Could Triple In The Near Term"
-Degroupa Tanner Morales Media
Sounds like GOFF is a can't miss investment opportunity right?  Not so fast!  With just a little bit of research, we found GOFF isn't all it's cracked up to be.
GOFF is a shell company that was incorporated in Nevada in 2010.  The company's main offices are located in Cork City, Ireland.  According to their last 10-K, which was filed late – in September 2012 – the company's intended business was to provide web-based services.
I say intended because the 10-K states the company had not implemented its business plan… even though the company was formed two years earlier.
Can you say… Red Flag!
Since then, Goff has decided to go into the gold mining business through a subsidiary company, Golden Glory Resources SA.  Web based services… gold mining… I guess they're essentially the same thing… NOT!
Here's the scoop…
Golden Glory has apparently acquired a 100% interest in mineral leases in the Aguadas, Department of Caldas, Colombia area.  They're calling the venture the La Frontera Gold Project.
According to Goff, the "region is well known for multiple gold discoveries within the past several years…"  Ok… that's a relatively harmless plug for the area… I'll give them that one. 
Here's the company's hook…
Goff states in a March 22nd press release, "Colombia's dynamic gold production increase [is] projected to reach as much as 3 million ounces in 2012 with a value of $4.8 billion – 30% coming from the district where Golden Glory Resources is positioned." (emphasis added.)
So, if I read between the lines, Goff is essentially saying they're sitting on over $1 billion worth of gold deposits? 
Yeah… right!
And to make it even more convincing, you have the pumpers spreading the following nugget through their various emails.  They're telling subscribers… "small amounts of gold have been produced in the past at the La Frontera property." 
The funny thing is they're referring to small amounts of gold discovered by "several artisanal miners" who mined La Frontera before Golden Glory bought the leases.
Several artisanal miners?  Really?
I could go on and on with this… but you get the point.
Despite the apparent lack of credulity behind this project, a number of investors are eating this stuff up.  GOFF shares have soared from an opening price of $0.27 in its March 18th IPO to a high of nearly $0.62 today.
That's a 130% gain in just a little over two weeks' time!
No question about it… Victory Mark has earned the $500,000 it was paid to pump this stock.
The massive hype surrounding GOFF has clearly created an opportunity to make money on this stock at the moment.  The problem is… you will never know when the dumping might start. 
And by then, it could be too late to get your money out.
As always with these types of penny stocks, we suggest you steer clear and look for better opportunities.  But if you must roll the dice… make sure you gamble only with funds you can afford to lose completely.
Other Penny Stocks Being Pumped This Week
IceWeb (OTCBB: IWEB) – the Stock Psycho (Penny Stock Alerts) was paid $165,000 to pump IWEB.
Norstra Energy (OTCBB: NORX) – Global Marketing Media LLC was paid $50,000 to pump NORX.
As you know, penny stocks are a great place to invest your money.  You just have to do your due diligence to stay away from all the schemes and scams out there these days!
Profitably yours,
Robert Morris
Category: Pump & Dump Alerts