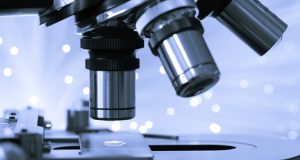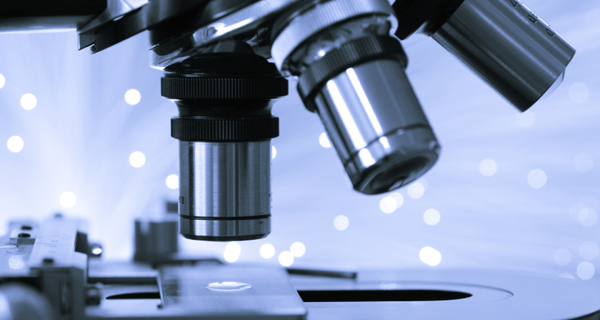 Few areas of the market are as polarizing as biotech penny stocks.  Some investors love these super volatile stocks and trade them regularly.  Others hate them with a passion and won't touch them with a ten foot pole.
But whether you love them or hate them, you have to admit they offer huge profit potential.
For example…
While doing research for this article, I ran a quick stock screen for biotech penny stocks.  I searched for stocks in the biotech industry with market caps of less than $2 billion and share prices under $10.
The screen produced 126 results.
After sorting them by year-to-date performance, I found some amazing statistics.
Of the 126 biotech penny stocks produced by the screen, 26 had year-to-date gains of 30% or more.  That's phenomenal!  In other words, one out of every five biotech penny stocks has increased 30% in value in just the past three months.
What's more, 32 of them have produced gains of 25% or more since the beginning of the year.  That's one out of four biotech penny stocks doubling or even tripling the year-to-date return of the Dow Jones Industrials Average.
And that's not all…
If we look at the top 15 stocks on the list, the performance numbers are out of this world.  These stocks have all gained 50% or more so far in 2013.  And the top stock on the list, Chelsea Therapeutics International (CHTP), has skyrocketed by 160%!
Here's a list of the top 15 biotech penny stocks and their year-to-date returns: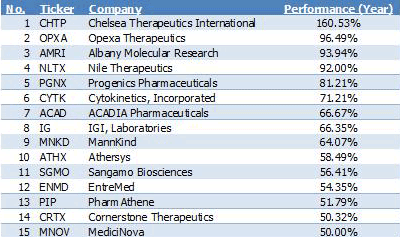 Now, of course my screen also produced a number of biotech penny stocks that are down for the year.  Of the 126 stocks produced by the screen, 18 of them are sitting on losses of 20% or more.  And four of these stocks are down by more than 50%.
The worst performer so far this year is Affymax (AFFY)… this biotech penny stock has lost 93% of its value in the past three months!
Here's the upshot…
Trading biotech penny stocks is a highly speculative endeavor.  You have to do intensive research to find those biotechs with quality drug candidates, a broad pipeline, innovative technology, solid financials, and an upcoming catalyst.
Biotech penny stocks with these characteristics have a much better chance of producing the high double-digit and even triple-digit returns.
And when you make your trades, you should only use funds that you can afford to lose.  Don't trade with your mortgage/rent payment, grocery money, college tuition, or other necessary funds.  You have to be prepared to lose part or all of your money when trading these volatile stocks.
With that said, if you hit a big biotech penny stock winner, you can easily make 10 times your money or more!
Profitably Yours,
Robert Morris
Category: Biotech Stocks, Penny Stocks