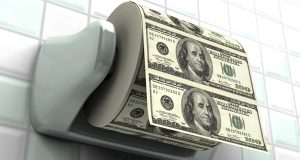 This week we're exposing one of the most popular Pump & Dumps:  GNCC Capital (GNCP).
That said, welcome to Pump and Dump Friday, where every week we identify at least one of the many potentially "bogus" promotions going on in penny stocks today.
If you don't know how these schemes work, be sure to check out this free report that exposes the whole thing.
Without further ado, here is today's "disaster waiting to happen":
GNCC Capital (GNCP)
GNCC Capital's ticker symbol reminds me of the health food and vitamin chain, GNC Holdings (GNC).  But sadly, this penny stock has nothing to do with the health food company.  In fact, GNCC Capital is more like a poison pill!
And I have to say- the pumpers out there now seem to be losing their creative touch…
In the past, the paid stock promoters would come up with rather creative ways to promote a penny stock.   Most of the pumpers out there now, like Buzz Stocks in this case, are BORING!  It seems $7,500 doesn't get you that much in the pumping world, because this is all the pumper put out…
Recently announced $1M line of credit for 'extensive exploration work'
Yep, they're regurgitating press releases.  How creative…
Guys… at least stretch the truth or give me some crazy fundamental made up indicator to get me excited!  Anyway- let's get down to tearing down GNCC Capital, which isn't too hard.
When I first started my research, I couldn't help but notice this glaring problem- GNCP hasn't filed with the SEC since 2005, other than to terminate their stock registration in 2008.
Simply put, as investors, we have no way to trust the accuracy of the financial data that is released!
What's more, when we look at the numbers, it's rather scary.  Sure, the books show GNCC has over $400,000 in assets.  But when we look further down, we can see the company is on the hook for $19 million in liabilities!
Of course, being an "exploration stage" company, GNCP has no revenue.  That means the company is running at a loss right now- a mere $301,000 loss in the last quarter of 2012.  That's pennies compared to the $2.9 million GNCC Capital lost in 2011…
I really don't see any upside for ANYONE to put money into these shares- considering there's nothing of value to "invest" in.   You're better off running out to GNC and buying some vitamins.  At least you'll be doing some good for yourself!
Other Penny Stocks Being Pumped This Week
CHLO – OTC Stock Breaking News is being paid $3,000 per week PLUS shares
HKTU – Moving Pennies is being paid $4,000
A final word (and warning).
This is just one of the potential "pump and dumps" we've seen lately.
Remember, there's a lot more of this going on than we can highlight here.
As you know, penny stocks are a great place to invest your money.  You just have to do your due diligence to stay away from all the schemes and scams out there these days!
Until next time,
Brian Walker
Category: Pump & Dump Alerts