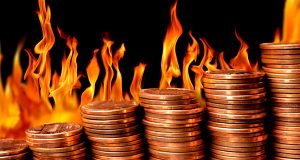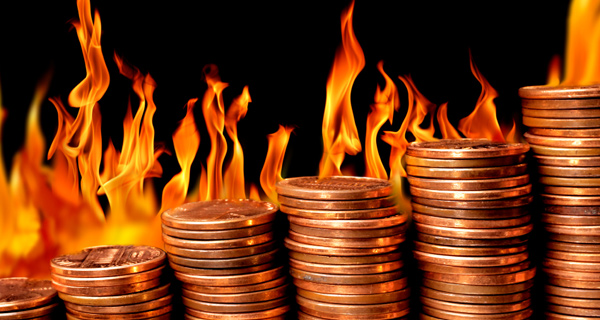 It's an exciting time for penny stocks, especially Stereotaxis (STXS), Intellicheck Mobilisa (IDN), and QKL Stores (QKLS).  Let's take a closer look at these three hot penny stocks…
Stereotaxis (NASDAQ: STXS)
STXS soared last week!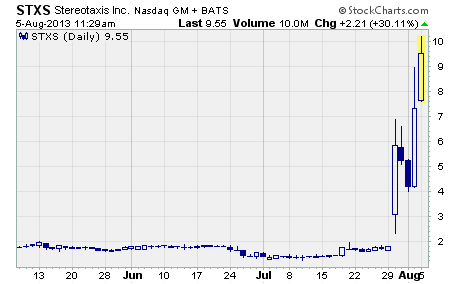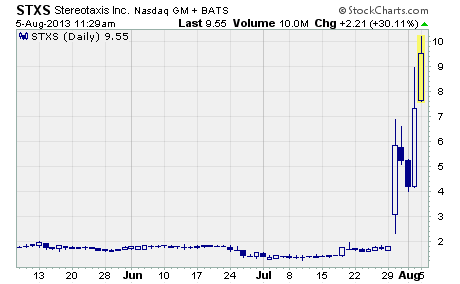 Stereotaxis is a medical appliance and equipment maker based in St. Louis, Missouri.  They offer robotic cardiology instrument navigation systems designed to enhance the treatment of arrhythmias and coronary disease.
Why's the stock screaming higher?
Last week the company received clearance from the FDA to market its Vdrive Robotic Navigation System with V-Sono Intracardiac Echocardiography (ICE) catheter manipulator in the US.  This represents the first FDA clearance for the Vdrive family of products, which has been utilized in Europe since 2011.
According to CEO William Mills…
"this V-Sono clearance should accelerate procedure growth in our U.S. installed base as well as open up an untapped, expanding electrophysiology (EP) market where ICE catheters are widely utilized."
He went on to say…
"More than 68,000 ICE catheters are used in U.S. EP labs each year, a number that is growing at an annual rate of 15%."
Investors clearly liked the news. 
They drove STXS up from the prior week's close of $1.70 to a high of $8.99 last Friday.  The stock finished the week at $7.34 for a gain of 332%.  And it's up another 30% this morning as I write.
Intellicheck Mobilisa (NYSE: IDN)
Intellicheck provides wireless technology and identity systems for mobile and handheld access control and security systems.  Their products enable rapid ID verification and are used in commercial, military, and government markets.
Last week, one of the company's products made headlines.
And as a result, IDN took off like a race horse!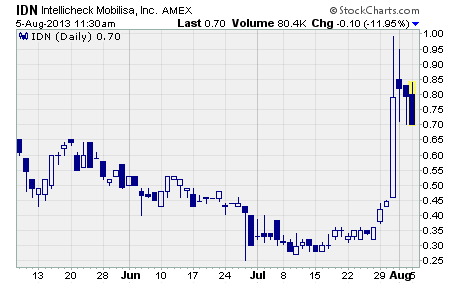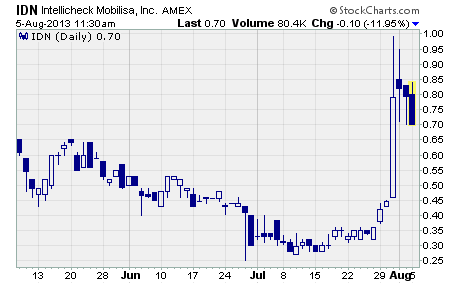 What's the big news?
Intellicheck's ID-checking mobile app was ranked as the third most downloaded paid i-Phone business app in Apple's App Store.  Called barZapp, the app allows a user's smartphone to quickly check an ID card.
As you might expect, the app has become a big hit with bars and nightclubs since it was released on July 1st.  However, the app is also a convenient way to check ID for other age-related products and services such as tobacco, age-restricted movies, rental cars, adult magazines, and gaming.
It looks like the sky's the limit for barZapp.
And investors are clearly taking notice.
After finishing the prior week at 36 cents, IDN nearly tripled in value when it hit an intra-day high of 99 cents last Wednesday.  Although the stock ultimately pulled back to finish the week at 80 cents, IDN registered an amazing one-week gain of 122%. 
QKL Stores (NASDAQ: QKLS)
QKL Stores operates 30 supermarkets, 14 hypermarkets, and 4 department stores in northeastern China and Inner Mongolia.  The company's supermarkets and hypermarkets sell groceries, fresh food, and non-food items.  Their department stores offer clothing, cosmetics, small electronics, jewelry, books, and home furnishings.   
Here's the thing… QKLS took off last week!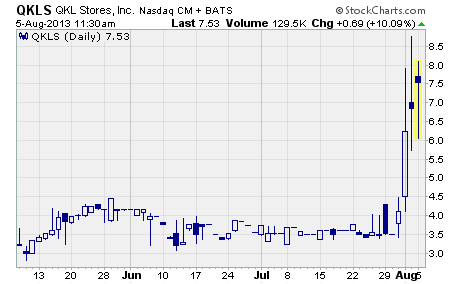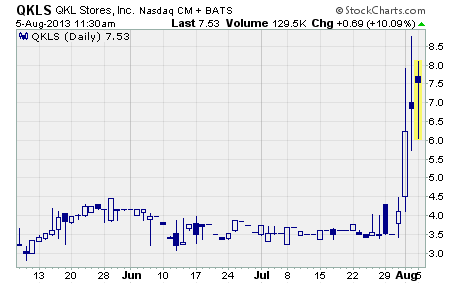 What's going on?
The stock's jumping after an opinion piece on QKLS was published on a popular financial website last week.
The article pointed out several positives about the company and its stock.  Hedge fund sponsor, Prescott Group Capital Management, LLC, recently acquired a 10.1% stake.  The stock was trading well below book value and cash per share.  And after posting a profit last quarter, the company's expected to boost profitability in the second half of 2013. 
What's more, the author suggested QKLS could trade north of $10 per share.
As a result, QKLS climbed from the prior week's close of $3.50 per share to an intra-day high of $8.75 on Friday.  The stock finished the week at $6.84 for a one-week gain of 95%.
Profitably Yours,
Robert Morris
Category: Hot Penny Stocks