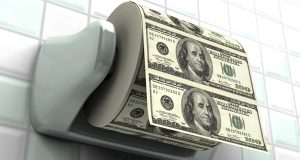 This week we're exposing this pair of popular Pump & Dumps:  First Corp. (FSTC) and Global Stevia (GSTV).
That said, welcome to Pump and Dump Friday, where every week we identify a few of the potentially "bogus" promotions going on in penny stocks today.
If you don't know how these schemes work, be sure to check out this free report that exposes the whole thing.
Without further ado, here are today's "disasters waiting to happen":
First Corp. (FSTC)
For those investors clamoring for African telecom operations… this one's for you!
I know, I know… you've been waiting your whole life for this opportunity.
At least that's what Buzz Stocks is telling potential investors about First Corp.  (FSTC).   And why not?  They have to say something to lure unsuspecting sheep into buying this stock- seeing they were paid $5,000 for their efforts.
As is the case lately in the pump and dump world, they're not alone hyping this stock.
Both Tribeca Investment and Penny Stock Prophet were paid to pump FSTC.  And each of those pumpers cashed in for $30,000.  Not a bad payday, and certainly better than Buzz Stocks did.
Maybe I should go negotiate pumping rates for Buzz Stocks?  Hmmmm… NOT!
Of course the pumpers won't share the dirt with you on this company, that's my job.  So here we go.
For starters, FSTC is acting a little shady for a stock trading near $0.06- in September they authorized to increase their common stock from 100 million to 1 billion shares – a 10x jump in share count!
Can anyone say dilution?
Of course, it's easy to see why they're selling more shares – they make no money!  That's right- First Corp. reported $0 revenue as of this quarter.  But what's worse is they've never booked any revenue dating all the way back to 1995! 
In addition, their current quarterly statement shows they lost another $98,000.
And their books are just as bad…
FSTC has just $59,000 in current assets while being saddled with $1.3 million in current liabilities.
Put it in this light, you can see that buying shares of FSTC is nothing more than a donation.  I suggest you ignore the pumpers and put a real penny stock in your portfolio.  One with something crazy like revenues and earnings!
Global Stevia (GSTV)
Can you say a day late and a dollar short?  Well, that's what it looks like here with Stevia newcomer GSTV being pumped.
For those of you who don't know what Stevia is, think "natural" alternative to Splenda® or Equal® brand sweeteners.  You know, those "harsh chemicals" we put in our foods and coffee to reduce calories and replace sugar?
Well, that's the going line with Stevia… the natural calorie-free sweetener.
Going a bit off topic here – my personal opinion is Stevia is bitter and nasty!  Years ago I tried to switch to Stevia myself, since I was looking for a sweetener that had less of a chance of causing cancer (that's what the Stevia marketing crowd wants you to believe… those other brands cause cancer).
But after trying to adjust my palate to the bitter residue of Stevia, I just quit sweeteners cold turkey!  If they're in my food, fine- I'll deal with it.  But I'm not putting anymore of that crap in my coffee- I'd rather just have milk and call it a day.
Ok, back to the stock in question, Global Stevia…
Like I said, this Stevia movement happened years ago.  It just became main-stream when the agricultural giant Cargill created a branded version of Stevia called Truvia®.
All of a sudden, here comes a penny stock pumper using that very name in their hyped up campaign.   They're actually name dropping Truvia® into their hype for comparison purposes.
Now the company may be called Global Stevia, but that's where any comparison ends!
First off, Stock Mister was paid $32,500 by Belmont Group to hype up this $0.12 stock.  And the best the pumper could come up with is that GSTV is "developing" nurseries and test fields in Southeast Asia.
So it comes as no surprise that GSTV has collected $0 in revenue since 2010.   What's more, this past quarter the company lost $195,000!
Now here's the scary part…
Share count has grown over the past year to 299 million outstanding shares from 169 million!  That's not a good sign for any investors… current or future.
And things don't look likely to change any time soon as their current assets total a whopping $9,706 while current liabilities remain high around $203,000.
If you like Stevia, that's great.  Now I personally don't… and I certainly don't like Global Stevia as an investment- for anyone!
Other Penny Stocks Being Pumped This Week
FTTN – OTC Stock Pick was paid $30,000 by a "third party"
BRIZF – Blue Wave Advisors was paid $25,000 by Lake Media Group
WMXG – Breaking Bulls was paid $50,000 by Rubicon Capital Advisors
A final word (and warning).
These are just a few of the potential "pump and dumps" we've seen lately.
Remember, there's a lot more of this going on than we can highlight here.
As you know, penny stocks are a great place to invest your money.  You just have to do your due diligence to stay away from all the schemes and scams out there these days!
Until next time,
Brian Walker
Category: Pump & Dump Alerts