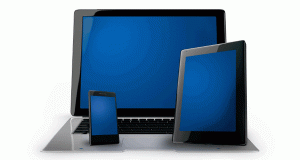 With all the post-election carnage in the stock market, it may have been easy to miss just how hard Apple (AAPL) has fallen.  Over the past month, the world's largest company is down 17% for the month.
And that's after a minor recovery, where the stock nearly broke below the psychologically important $500 per share level.
It's crazy if you think about it.  In mid-September, the shares were trading over $700 and seemed unstoppable.  That means AAPL shed something like $165 billion in market cap since those highs.
So why is the company with the most popular products known to man taking such a massive hit?  And more importantly, what does it mean for the stock market?
Let's start with the company.
I may focus on small caps, but it doesn't mean I ignore large, important companies.  So, I can say very confidently that I believe Apple is quite a bit oversold at this point.
Look at a few of the fundamentals…
Apple is still growing earnings and revenues by over 20%.  The company has over $29 billion in cash.  And, it pulls in over $150 billion in revenue annually.
But despite the strong fundamentals, the stock's trading at just 9x projected earnings.
You see, apparently analysts decided that 20% plus growth wasn't enough.  And, the company's new products aren't exciting enough.  What's more, investors seemed to have bought into this line of thinking.
However, the last time I checked, lines were still forming around the block to buy new Apple products.  And, with $29 billion in cash, the company has nearly unlimited options on what direction to take with its future.
One thing I can guarantee, AAPL leadership (and the product development team) isn't out of good ideas.  Not every product the company releases has to be groundbreaking.  More importantly, as long as people are lining up to buy, I'm not worried about the future of the world's biggest company.
Here's the thing…
What's happening with AAPL is a good representation of what's happening with the overall stock market.  That is, people are losing faith despite improving fundamentals.
In the case of AAPL, investors are ignoring strong growth.  For the stock market in general, investors are ignoring rapidly improving economic data.
Now, much of the selloff is related to fears of the fiscal cliff.  However, once the situation is resolved – and I believe it will be – investors will return their focus to the fundamentals.
And when they realize things aren't so bad, stocks should get a nice boost.  That includes everything from AAPL to small caps.  Bottom line, it's way too soon to give up on stocks… of all sizes.
Yours in profit,
Gordon Lewis
Category: Breaking News, Penny Stock Tips