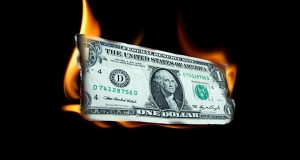 Welcome to today's Pump and Dump Alerts, where we will be exposing these two companies: FrogAds (FROG) and Toron (TRON).
Here we identify a couple of the potentially "bogus" promotions going on in penny stocks today.
If you don't know how these schemes work, be sure to check out this free report that exposes the whole thing.
Without further ado, here are today's "disasters waiting to happen":
FrogAds (FROG)
FrogAds is a development stage company providing online classified ads. FROG generated $130 in revenue in 2011.  The latest paid stock promotion is pushing a national media campaign starring Pamela Anderson.  The press release states the spot will air on CNBC this Wednesday, April 4th between the hours of 6:00AM and 9:00AM.
We exposed FROG in February for a paid promotional scheme to pump shares.  At the time, the stock traded around $0.41.
Shares of this penny stock currently trade near $0.14.
Research Driven Investors (RDI) was paid $40,000 by Lake Media Group (FROG's former promotion agency) to pump shares of FROG.  To date, RDI has collected $185,000 for their promotional efforts of this stock.
Toron is a development stage company focuses on marketing, selling, and re-selling Web domain names or URLs.  TRON's own URL, manageyoururl.com, expired on 10/29/2011 and is pending renewal or deletion.  We exposed a paid promotion on shares of TRON last November.
This penny stock is currently trading around $0.10.
Penny Stock Rumors was paid $6,300 to hype shares of TRON.
A final word (and warning).
These are just a few of the potential "pump and dumps" we've seen lately.
Remember, there's a lot more of this going on than we can highlight here.
For more in-depth coverage of potential penny stock pump and dumps, be sure to sign up for our free newsletter, Penny Stock Research.
As you know, penny stocks are a great place to invest your money.  You just have to do your due diligence to stay away from all the schemes and scams out there these days!
Until next time,
Brian Walker
Category: Pump & Dump Alerts, Pump & Dump Daily