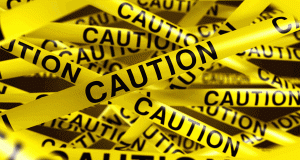 It wasn't too long ago that Career Education (NASDAQ: CECO) was riding the wave of investor optimism for education and training services stocks. 
Back in April 2004, the stock was trading close to $70 per share with a market cap of around $4.7 billion.  And just three years ago, CECO was trading north of $30 with a market cap of $2 billion.
But oh, how the mighty have fallen.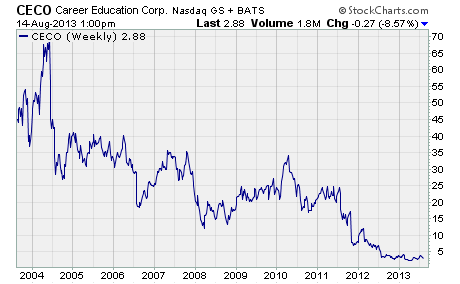 By April of this year, CECO had slid 97% from its April 2004 high to an all time low of $2.03 per share.  And the company's multi-billion market cap had shrunk to just $133 million.
No question about it, a lot of shareholders took a bath on this stock.
But then an interesting thing happened…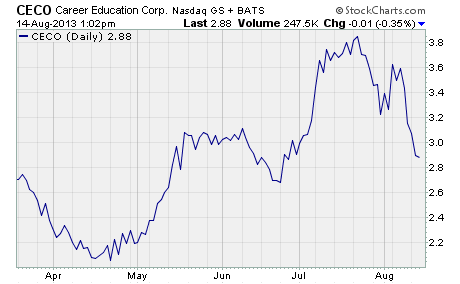 Bottom fishers stepped in and began buying up CECO shares.  They drove the share price higher and higher over the next few months.  And by late July, the stock had hit a high of $3.95.
The rally was good for a 95% gain in just three months' time!
Since hitting that high though, the stock has pulled back significantly.  At present, CECO is changing hands for just $2.89 per share.  That's a discount of 27% from the recent high.
At the current price, a lot of investors and traders are thinking CECO is a good buy.  Maybe you even looked at the chart and the recent earnings report and thought it's time to pull the trigger.
If so… slowly remove your finger from your mouse and step away from the computer.
The recent uptrend in CECO is nothing more than a relief rally off the bottom.  It's pretty common to see volatile, short-term upswings in stocks that have been decimated like CECO has.
The shorts cover their positions and nimble traders jump in for a quick pop.
But here's what worries me…
The stock tanked after the company reported an upside earnings surprise for the second quarter.  Analysts were expecting a loss of $0.51 per share, but the loss came in at a much better $0.31 per share.
That's an upside surprise of about 40%.
Not too shabby.
What's more, investors appeared to shrug off good news about the company making headway on resolving its legal woes.  CECO said it has reached a preliminary agreement with the State of New York and agreed to proposed settlements of shareholder lawsuits.
But perhaps the biggest red flag of all…
Company insiders and institutional investors continue to sell their shares as fast as they can.  Over the past six months, insiders have sold 3.7 million shares of CECO or about 27% of their holdings.  And institutions have dumped nearly 6 million shares, reducing their holdings by over 16%.
If CECO was really poised to turn things around anytime soon, insiders and institutions would not be unloading their shares.  They'd be buying up all the shares they could get their hands on.
Bottom line…
Don't be fooled by CECO's recent climb.  It bears all the telltale signs of a sucker's rally.  There are tons of better opportunities for profit in the penny stock space.
Profitably Yours,
Robert Morris 
Category: Penny Stock Alerts