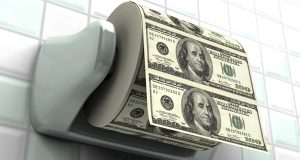 Welcome to Pump and Dump Friday, our weekly feature where we identify potentially "bogus" promotions going on in penny stocks.
Today we're exposing one of the most extensive penny stock pump and dump campaigns of the week:  Rewards Nexus (OTCPINK: ERNI).
If you don't know how these schemes work, be sure to check out our free report that exposes the whole thing.
Without further ado, here is today's disaster waiting to happen:
Rewards Nexus (OTCPINK: ERNI)
ERNI is one of the most heavily hyped penny stocks of the past week.  According to our sources, 34 promoters with 173 newsletters have been paid more than $50,000 to pump the stock.
And so far, the campaign is serving its purpose.
Take a look at the chart…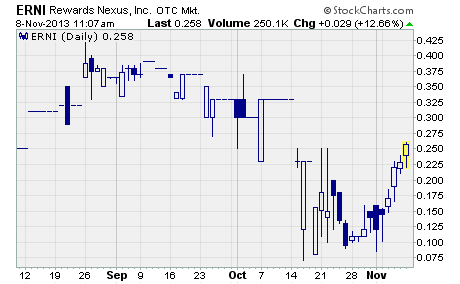 The current promotion actually started on October 22nd when ERNI was trading for around $0.15 per share.  After briefly trading down to a low of $0.09, the stock began moving higher.  And as I write, ERNI is changing hands for $0.25 per share.
That's a 66% gain since the campaign began.
The big question on many investors' minds though is whether the penny stock is doomed for a big fall.  I think it is.
Here's why…
Rewards Nexus is a development stage company with a limited operating history.  It's not producing any meaningful revenue.  It has been racking up sizable losses.  And it has a shaky balance sheet.
More on all of that in a moment…
The company's only business currently is a rewards program for restaurants in New York provided through its subsidiary, Earn IQ.  The program allows Earn IQ members to earn back 5-9% of their total bill at participating restaurants.
Rewards Nexus claims to have 2,000 registered members and an "adequate number of participating restaurants". 
I'll admit the company's business idea is intriguing, and the potential rewards are significant.  But the company faces stiff competition from more established loyalty programs and credit card companies. 
It will probably take years, if the company survives that long, to establish itself as a player in an industry the company describes as "highly competitive".
Getting back to the financials…
A quick perusal of the company's 2012 annual report reveals Rewards Nexus has a lot of work to do.  The company failed to generate any revenue in 2011 or 2012.  And it produced net losses of $219,717 in 2011 and $184,587 in 2012.
To be fair, the most recent quarterly report (June 2013) shows the company has managed to generate over $20,000 in revenue so far this year.  With that said, it has already racked up losses of over $170,000 as well.
The balance sheet is even scarier…
While the company shows a cash position of $13,965, I'm concerned about its liquidity.  Total current liabilities are nearly six times larger than total current assets.  And the company has more than $600,000 in long-term debt on the books.
Last but not least, Rewards Nexus has an accumulated shareholder deficit of $4.1 million!
Based on all of the above, it's hard to fathom how investors can believe this company deserves a market cap of nearly $19 million.  In my opinion, shares of ERNI are nothing more than lottery tickets at this point.
I recommend you stay away from this stock unless you're comfortable with the possibility of losing your entire investment.  There are lots of penny stocks out there with longer operating histories, better financials, and stronger balance sheets.
Other Penny Stocks Being Pumped This Week
 New Western Energy (OTCQB: NWTR) – 41 promoters with 129 newsletters have been paid more than $30,000 this month to hype NWTR.
 Drinks Americas Holdings (OTCPINK: DKAM) – 12 promoters with 70 newsletters have been paid more than $45,000 in November to plug DKAM.
As you know, penny stocks are a great place to invest your money.  You just have to do your due diligence to stay away from all the schemes and scams out there these days!
Profitably Yours,
Robert Morris
Category: Pump & Dump Alerts