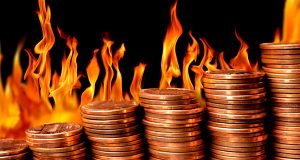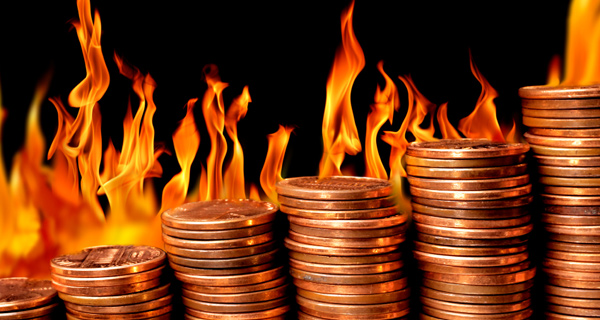 It's an exciting time for penny stocks, especially penny stocks like Mindspeed Technologies (MSPD) and ENGlobal (ENG)…
Mindspeed Technologies (NASDAQ: MSPD)
MSPD soared last week!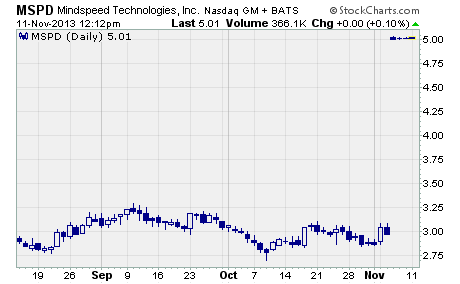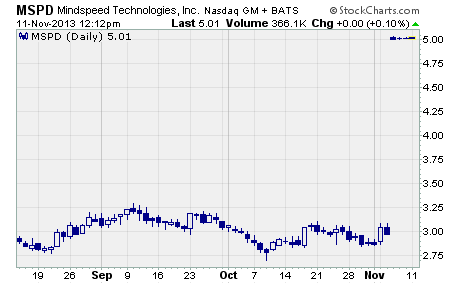 As you can see, MSPD had been bouncing around between $2.75 and $3.00 since early October.  Then last week the stock surged from $2.87 to over $5.00 per share in the blink of an eye.
That move provided shareholders with a stunning one week gain of 75%!
The stock took off on news that Mindspeed will be acquired by M/A-COM Technology Solutions Holdings (NASDAQ: MTSI).  The two companies announced last Tuesday that M/A-COM will purchase Mindspeed for $5.05 per share through a cash tender offer. 
The purchase price represented a hefty 66% premium to MSPD's closing price of $3.04 on November 4th.  And the deal values Mindspeed at approximately $272 million.
M/A-COM is a leading supplier of high performance RF, microwave, and millimeter wave products that enable next generation internet and modern battlefield applications.  Mindspeed is a leading provider of network infrastructure semiconductor solutions to the communications industry.
Mindspeed's CEO Raouf Halim described the deal this way…
"[M/A-COM] shares our commitment to innovation, and the two companies complement each other well, particularly within the high-performance analog market segment.  Together we will have the scale and resources to deliver innovative technologies to our customers and drive growth, with a larger portfolio of products and a global sales force." 
However, not every Mindspeed shareholder believes the deal fairly values the company.
As soon as the deal was made public, several law firms announced they're investigating the acquisition on behalf of Mindspeed shareholders.  The investigations will try to determine if Mindspeed's board of directors breached its fiduciary duty to obtain maximum value for shareholders.
In other words, there's a chance the acquisition price could increase from the agreed upon $5.05 per share.
Now, it remains to be seen what effect, if any, these inquiries will have on the acquisition.  But it's entirely possible that the purchase price – as well as MSPD's share price – could move higher from here.
ENGlobal (NASDAQ: ENG)
ENG is another penny stock making a big upside move.
ENGlobal provides engineering and automation services primarily to the energy sector in the US and internationally.  The company was founded in 1985 and is based in Houston, Texas.
A quick look at the chart shows ENG took off like a rocket last week…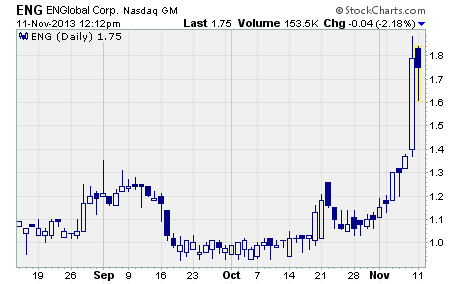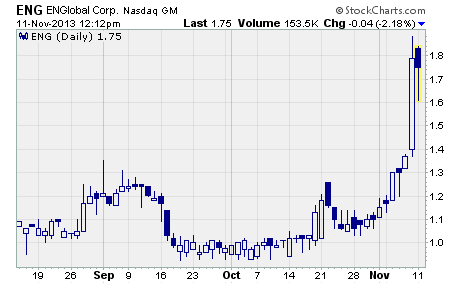 After closing out the prior week at just $1.15 per share, the stock climbed rapidly last week to a high of $1.88 before finishing at $1.79.  The unexpected surge gave shareholders a terrific 56% gain for the week.
What happened?
ENGlobal's third quarter earnings showed the company's financial situation is improving rapidly. 
Gross profit margin surged from 7.1% in last year's third quarter to an impressive 12.0% this time around.  And net loss went from $22.3 million or ($0.83) per share to a net loss of just $50,000 or ($0.00) per share.
No question about it, the company's profit improvement plan is bearing fruit.
Over the past year, ENGlobal's management team has been almost completely reorganized.  This move, more than any other, has been critical to improving margins and reducing expenses. 
But it's not the only major change ENGlobal has made.  The company has also sold or discontinued four non-strategic businesses.
While these divestitures have led to a drop in revenue, they've enabled ENGlobal to significantly reduce its short-term debt.  In fact, the amount outstanding on the company's credit facility has declined from $26.8 million in December 2012 to $1.1 million on September 28th to just $567,000 on November 8th.
It certainly looks like ENGlobal is on track to deliver profits going forward.  And the recent jump in ENG suggests many investors agree.
Profitably Yours,
Robert Morris
Category: Hot Penny Stocks