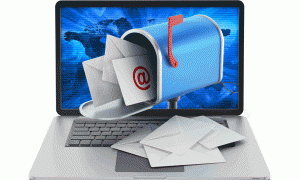 Investing in penny stocks can be a great way to make gobs of money in the market.  But it isn't an easy thing to do.  There are thousands of penny stocks out there to choose from. 
And separating the legitimate penny stocks from the growing number of penny stock scams is tedious, painstaking work.
The good news is… we're here to help.
Every Friday we publish a "Pump And Dump Alert" that identifies penny stocks being pumped by penny stock promoters.  The purpose of the article is to expose potentially "bogus" promotions happening in the penny stock universe.
By bringing these to light, we help our readers avoid getting taken out to the woodshed.
Now, since we started publishing the Pump And Dump Alert three years ago, it has become a huge hit with our readers.  And as a result, they've become more attuned to sniffing out potential penny stock pump and dumps.
In fact, we receive a large number of emails every day from readers asking for our opinion on various penny stocks.  Unfortunately, we just don't have the resources to personally respond to every email. 
So we're going to start answering those questions here.  If there's a penny stock you'd like our opinion on, just shoot us an email at customerservice@pennystockpublishing.com.
One penny stock that we've received a lot of questions about is Baristas Coffee Company (BCCI).
Let's take a closer look at it now…
I did some digging and found that Baristas was indeed the subject of a promotion campaign in March of this year.  No less than five different promoters were paid $55,000 to hype the stock.
And it worked like a charm… for a couple of weeks.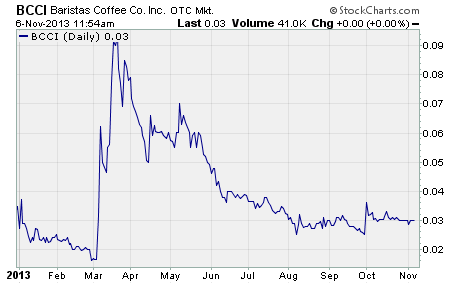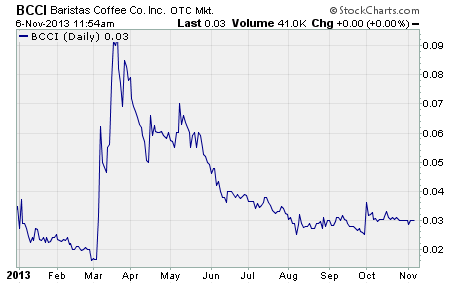 Just prior to the pump campaign, BCCI was trading for a paltry $0.016 per share.  But as promotional emails started hitting investors' inboxes in early March, the stock took off like a rocket.  And by March 19th, BCCI had surged to a high of nearly 11 cents. 
The move was good for a stunning 588% gain in just two weeks' time.
But in hindsight, that was the time to sell the shares for a quick profit.
Since hitting that 11 cent high, BCCI has declined almost all the way back to where it was before the promotion campaign.  As I write, the stock's changing hands at just 3 cents per share.
A whopping 73% below the March 19th high.
The question now on readers' minds is whether the stock will ever recover.  Of course, that's the million dollar question.
The company certainly has an intriguing business… 
Baristas is trying to build a nationwide chain of drive-through beverage retailers that offer coffee, espresso, tea, hot chocolate, hot apple cider, frozen coffee, and smoothies.  But at the moment, the Seattle-based company has just 11 retail locations in four states… Washington, Florida, Montana, and Arizona. 
What's really intriguing about this company though is its approach to attracting customers.
Each retail location employs scantily clad female models to serve its beverages.  And according to the company's website, each beautiful barista is "trained to interact with the customer to maximize sales…"
Baristas certainly isn't the first company to use beautiful women to hawk its products.  But it's just way too early in the company's development to know if this bold approach will succeed or backfire.
So far, the company is having limited success…
According to the most recent quarterly report (June 2013), Barista is a self-described development-stage company with minimal revenue.  And its "ability to continue as a going concern is dependent upon achieving a profitable level of operations and on the ability… to obtain necessary financing to fund the expanding operations."
Those are two big ifs at this point.
Right now, Barista's is nothing more than a young company with an intriguing business plan that needs strong financial backing.  There's no telling how much development is needed before investors will start buying the stock and drive up the share price.
Given the company's limited operating history and heavy need for financing, BCCI is a highly speculative stock at this time.
With that said, if you own the stock, you might want to hang on to see if a rally develops in the near term. 
A recent press release says Barista just secured $1.7 million in media inventory from Media Funding Group.  Perhaps some of that money will be used to fund another stock promotion campaign that will drive a short-term rally.
If that were to happen, I would sell my shares and take my profit.
If you don't own BCCI, I suggest you stay away from it unless you have a very high tolerance for risk.  The only investors who should own BCCI are those comfortable with the idea of potentially losing their entire investment.     
Profitably Yours,
Robert Morris
Category: Penny Stock Tips, Pump & Dump Alerts