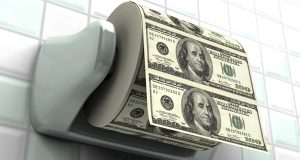 Welcome to Pump and Dump Friday, our weekly feature where we identify potentially "bogus" promotions going on in penny stocks.
Today we're exposing one of the most extensive penny stock pump and dump campaigns of the week:  Dephasium Corp. (OTCQB: DPHS).
If you don't know how these schemes work, be sure to check out our free report that exposes the whole thing.
Without further ado, here is today's disaster waiting to happen:
Dephasium Corp. (OTCQB: DPHS)
DPHS is one of the most heavily hyped penny stocks of the past week.  At least eight different promoters have pumped the shares through 11 newsletters.  And over $200,000 has been paid in July so far to plug the stock.
The key pumpers are names you will easily recognize from my past articles…
The Stock Psycho, Darth Trader, and Penny Stock Daily each raked in $90,000 to pump this stock.  And both Damn Good Penny Picks and Penny Stock Newsletters were paid $20,000 apiece for their services.
Not a bad payday for just a week's worth of work.
However, the pump never got off the ground…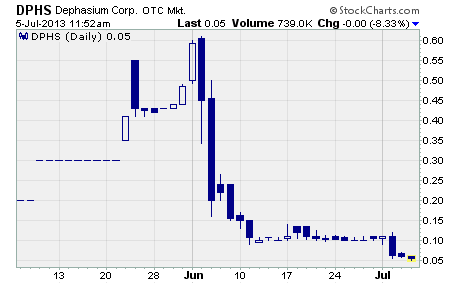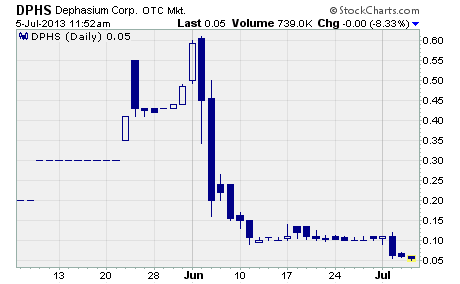 As you can see, DPHS ended the month of June at 10.5 cents per share, a far cry from the high of 61 cents reached earlier in the month.  Clearly, those behind the pumping campaign hoped to drive the stock back up to and beyond that recent high.
But it wasn't meant to be. 
As soon as the pump began, the stock dropped to 6.4 cents per share.  And then it continued drifting lower to around 5.5 cents this morning.
That's a nasty 48% fall in just three days time! 
And the stock has plunged 91% from its early June high! 
So, what's the skinny on Dephasium?
The company was originally formed in California in 1980 under the name Expertelligence.  It reincorporated in Nevada in 2006.  And in 2011, it changed its name to Pay Mobile Inc.
Pay Mobile planned on providing integrated payment solutions for consumers and businesses.  It intended to do this by incorporating its proprietary mobile payment technology with the issuance of open-loop prepaid Visa cards. 
However, that business appears to have failed miserably.
According to the 2011 annual report, Pay Mobile generated just $225,987 in revenue for all of 2011.  And it racked up a net loss of $772,118.
The annual report also said the company's plan for 2012 was to fully launch the Pay Mobile product while attempting to secure additional financing.  However, in June 2012, the company said it had decided not to pursue that business after all.
At that point, Pay Mobile Inc. reverted back to a shell corporation.
Now in 2013, the company has changed its name twice.  The first change was to Allied Ventures Holding Corp.  It's not clear what the intended business of Allied Ventures was. 
The second name change this year was to the current moniker, Dephasium Corp.
The company's latest business plan is to market cell phone cases which supposedly protect the user from electromagnetic waves emitted by cell phones.  The cases incorporate a technology called Ancilia, which Dephasium claims will block up to 98% of these electromagnetic waves.
Dephasium recently purchased Ancilia from Dephasium, LTD, a British company, for 70 million shares of Dephasium Corp. stock.  Dephasium Corp. intends to market its products in the US and Canada.
But I'm not holding my breath…
Given the company's long track record of failure, it's hard to see how this time around will be any different.  Do yourself a favor and look for better opportunities than Dephasium for your investment dollars.     
Other Penny Stocks Being Pumped This Week
Promithian Global Ventures (OTCPINK: PGVI) – Nine promoters with 38 newsletters have been paid over $150,000 so far this month to hype PGVI.
Mission Mining (OTCPINK: MISM) – Seven promoters with 33 newsletters have been paid over $20,000 in July to plug MISM.
As you know, penny stocks are a great place to invest your money.  You just have to do your due diligence to stay away from all the schemes and scams out there these days!
Profitably Yours,
Robert Morris
Category: Pump & Dump Alerts