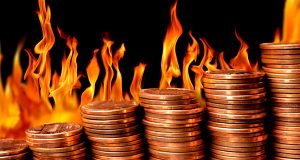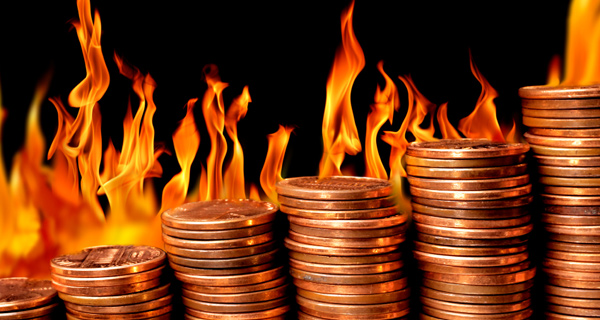 It's an exciting time for penny stocks, especially Urologix (ULGX), iGo (IGOI), and Rockwell Medical (RMTI).  Let's take a closer look at these three hot penny stocks…
Urologix (OTCQB: ULGX)
ULGX soared 83% last week!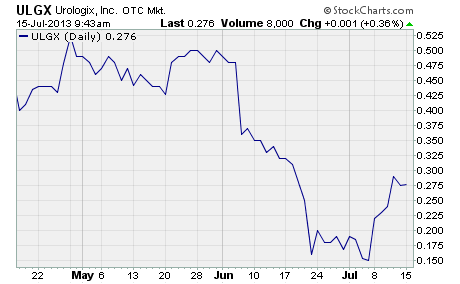 I'll explain why in a moment… but first a few words about this exciting company.
Urologix is a medical device company that provides non-surgical, office-based therapies for the treatment of benign prostatic hyperplasia (BPH).  Its customers are urologists, ambulatory surgery centers, and hospitals in the US and internationally. 
BPH is non-cancerous prostate enlargement, a condition which causes urination and bladder difficulties. 
According to the Urology and Prostate Institute, 60% of men over age 60 and 80% of men over age 80 have been diagnosed with BPH.  It is the most common disorder of the prostate gland, and it's said that if all males live long enough, in time they will develop BPH.
Why's the stock jumping?
The shares have been surging since Urologix provided good news about its financial condition on July 1st.  The good news is that the company has restructured its $7.5 million debt to Medtronic for the exclusive licensing of Prostiva.
This restructuring gives Urologix greater financial flexibility and allows it to allocate more resources today toward growing the in-office BPH market.
In addition, the company announced its preliminary revenue for fiscal year 2013 (ending in June) of approximately $16.6 million.  While that's down 3% year-over-year, the figure is in line with management's revenue guidance.
Investors clearly liked this news.
They've sent ULGX up from a low of $0.12 on July 2nd to around $0.28 today.  That's a whopping gain of 133% in just under two weeks' time! 
iGo (NASDAQ: IGOI)
iGo makes a variety of products for mobile electronic devices in North America, Europe, and Asia Pacific.  The company's power products are their bread and butter.  These include chargers and surge protectors that incorporate the company's iGo Green technology. 
However, the company also offers rechargeable alkaline batteries, protection products like skins, cases, and screen protectors, as well as audio products such as earbuds, headphones, and speakers.
Over the past week, IGOI has jumped 54%!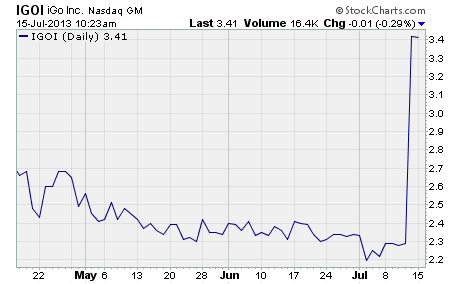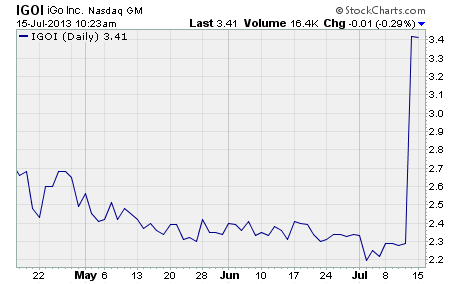 Here's why…
Last Thursday, Steel Excel (OTCQB: SXCL) said it will pay a hefty premium to acquire a big portion of IGOI.  In fact, the company said it will pay $3.95 per share through a cash tender offer to purchase up to 44% of IGOI's outstanding shares.  The tender offer is expected to be completed in the next couple of weeks.
The purchase price represents a 71.5% premium to the stock's closing price of $2.30 on July 10th.
As you can see, IGOI has surged on the news. 
The stock's shot up from $2.30 to over $3.40 in just a few trading days.  And it has more room to move higher before it hits Steel Excel's purchase price of $3.95.
Rockwell Medical (NASDAQ: RMTI)
Rockwell Medical is a biotech that makes products for the treatment of end-stage renal disease, chronic kidney disease, iron deficiency, secondary hyperparathyroidism, and hemodialysis.  Its products are used to cleanse patients' blood and replace nutrients lost during the kidney dialysis process.    
Here's the thing… shares of RMTI jumped 52% last week!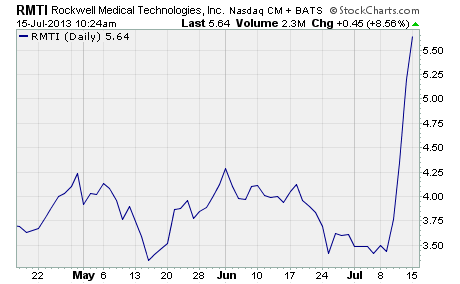 What's going on?
The company announced positive results from a late-stage trial of its new drug for anemia.  The drug is called soluble ferric phosphate (SFP).  Rockwell believes it could be safer and more effective than the standard treatment. 
The trial results indicate SFP not only raised patients' hemoglobin levels but helped them better maintain their hemoglobin levels.  This suggests patients treated with SFP may not need as much IV iron and could take smaller doses of other anemia drugs.
This is great news for patients as the standard treatments can lead to organ toxicity and other nasty side effects.
What's more, a Stifel Nicolaus analyst recently told the Associated Press that SFP could change the use of iron therapy and generate peak sales of $150 million per year.  The analyst rates RMTI a buy and has a price target of $11 per share.
Investors were clearly excited by the news! 
They sent RMTI soaring from $3.44 to a high of $5.35 for a three-day gain of 55%.  The stock finished the week at $5.20, but it's up more than 8% this morning to $5.64 as I write.
Profitably Yours,
Robert Morris
Category: Hot Penny Stocks