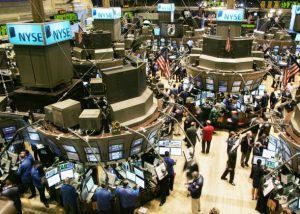 Well that was a close one… sort of.
After what seemed like endless debates and press conferences beyond count, Washington's politicians finally hammered out a debt ceiling agreement.  The result of all of the hand-wringing and finger pointing is a deal which neither side really likes, but both sides claim as some form of victory.
Sounds like a real compromise to me.
During the final days of the debate, the markets finally started pricing in a small possibility of US default.  Prior to last week, most investors assumed a debt deal was a foregone conclusion.  The risk of a US default appeared to be nearly non-existent –according the financial markets.
And maybe there really never was a true risk of default.
But regardless, as we inched towards the default deadline and no deal seemed imminent, we began to see meaningful selling in equities.  Investors were fleeing stocks and piling into traditional safe havens such as gold and government bonds.
But a deal was eventually struck.  And now that the debt ceiling issue has been resolved, the market is set to rally, right?
Apparently, not so much.
Even though the risk of default is past, the stock market has continued its precipitous decline.  As of this writing, the S&P 500 had given up all of its year to date gains.  And over the last three months, both the S&P 500 and the Dow Jones Industrial Average have dropped over 7%.
Moreover, penny stocks have been hit even harder.  The Russell 2000, a good proxy for the penny stock market, is down nearly 2% year to date and a whopping 9% over the past three months.
Why do things look so grim?
In a word, the economy. 
Much of the economic data surfacing in recent weeks points to another recession.  Our "recovery" appears to have been short lived (though that could change in a hurry if the employment situation improves).
Not to mention, with the US debt crisis out of the way, investors have gone back to focusing on the more serious issues in Europe.  Until the Eurozone figures out how to handle their own debt crisis, the global markets will remain on high alert.
Fortunately, there's a silver lining…
This is the best time for savvy investors to buy penny stocks.
It's time like these when you can find the best bargains in the stock market.  You see, investors are selling off their stocks across the board.  When fear takes hold, people start dumping their shares.  And penny stocks – considered riskier investments – are usually the first to go.
But as usual, panic selling is overdone.   And many equities have reached oversold territory.
Here's the thing…
There are numerous penny stocks trading at dirt cheap valuations now.  And it's starting to look like one of the better times in recent months to buy companies at rock bottom prices.
Don't let the grim economic/political news get you down.  The US isn't going to default.  The Eurozone isn't going to collapse.  And the economy may be down but not out.  Plus, there's reason to believe the second half of the year will be much better.  All in all, now's a great time to buy penny stocks at bargain basement prices.
Yours in profit,
Gordon Lewis
Category: Breaking News, Investing in Penny Stocks