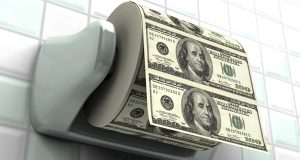 Welcome to Pump and Dump Friday, where every week we highlight a few of the "bogus" promotions that are going on in penny stocks.
If you don't know how these scams work, be sure to check out this free report that exposes the whole thing.
Without further ado, here are this week's disasters waiting to happen:
Easton Pharmaceuticals (EAPH)
Despite the market plummeting over the last 12 days, the Pump & Dumpers don't ever take a day off.
As a matter of fact, one crazy pumper (24-7 Stock Alert) started hyping a stock on Thursday during the 500 point market freefall!  He's telling everyone to BUY as markets plummeted.
Ever hear the famous saying, "Don't try to catch a falling knife!"
I know why he was hyping the stock… He was paid $15,000 to say nice things!
Clearly Easton must have a monster business.  The stock's down only 37% in the last 48 hours… and everyone should buy it during the worst rout the markets have seen in years…RIGHT?!?!
Not so fast.
According to the information I could find… again, nothing on the SEC website… the company has a whopping $2,563 in cash.  I know a guy who has more in his wallet!
Unfortunately this little company has a monster debt of $250,000 owed to consultants.  That's a great way to waste… I mean spend money.  And that's not the end of it.  They owe more than $70,000 to a shareholder!
What's even more shocking is the accumulated deficit number.  It's the total losses the company has experienced over the last few years… it's over $36 MILLION!
Best of all, this company has no revenue.  None, Zero, Zippo, Zilch!
But they managed to blow through another $55,000 on "consultants" last quarter!
So, let me put this together for you.  A penny stock, plummeting in value, being hyped by a known pumper…despite the market turmoil.  And the company isn't even strong… they have just over $2 thousand in cash and more than $250,000 in debt… and they have ZERO revenue.
This sounds like the exact opposite of a winner to me!
Hiru Corporation (HIRU)
Let's be honest… not every Pump & Dump is obvious… but this one sticks out like a headless man at a hat convention.  There's just nothing there!
Let's start with the stock.
HIRU trades hands right now at just $0.0002 cents a share.  So you can buy 50 shares of stock for a PENNY… or those of you who are big spenders can buy 5,000 shares for just a dollar.  But don't waste your dollar, I'll tell you why.
The entire value of this company (according or our friends at Yahoo) is a whopping $310,000.  That's right… the entire company's value is about the same as a nice home here in Phoenix.
Now here's where it gets even stranger… there's no information out about this company anywhere.  You won't get anything from the SEC website… and our friends at the OTC Markets site label this stock with a skull and cross bones!
If that doesn't say stay away I don't know what will!
What we do know about this company is very interesting…. It's a Chinese-based maker of herbal supplements and animal husbandry products.  Despite being a public company, they have no investor or financial information on their website.  And I can't find any financial information on the company – anywhere.
That's plenty of RED flags to stay away from this stock.
But let me give you one more.
OTC Penny Picks was pumping this stock and said they recently announced "huge news about their Lung Cancer Therapy".  If you're confused, welcome to the club… what happened to the herbal supplements and animal husbandry products?
Never mind, it's not worth thinking about. 
One last parting shot… OTC Penny was paid $250,000 to promote this stock… Remember, the entire company is only worth $310,000.  What's wrong with this picture?
Run, Run, Run away!
Scorpex (SRPX)
Now this is my favorite story of the week.
The Pumpers are really selling empty boxes here.  Hot OTC encouraged subscribers to buy shares of SRPX after a mid-day dip on Thursday…  I guess being down 500 points is a dip in their mind.
Anyway…
The company they recommended is absolutely stunning.  I actually found some financial statements on the company (again, nothing could be found on the SEC website).
I've got to say, these were the easiest financial statements to analyze… EVER!
Why?
Because all the numbers were ZERO!
That's right… Zero Revenue, Zero Expenses, Zero Earnings, Zero Cash, Zero Fixed Assets, Zero Cash from Operations… Financing… and Investing.
The one area they did have lots of good numbers was in the Liabilities section.  They have over $300,000 in accounts payable and over $200,000 in notes payable!
But somehow $20,000 was sent to Hot OTC to pump the stock… strange I tell you!
Like I said, analyzing this company is easy.
There's no business to look at.  It's an empty box.  And if you ask me, the $1.77 share price is way, way, way too high.
If you disagree, let me know!
A final word (and warning).
So that takes care of a few of this week's inglorious "pump and dumps."
Remember, there's a lot more of this going on each week than we highlight here.
As you know, penny stocks are a great place to invest your money.  You just have to do your due diligence to stay away from all the scams out there these days!
Until next time,
Brian Walker
Category: Pump & Dump Alerts