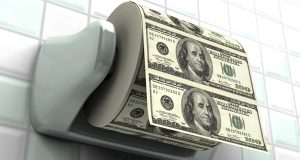 This week we're exposing this pair of popular Pump & Dumps:  DirectView Holdings (DIRV) and Dragon Polymers (DRAG).
That said, welcome to Pump and Dump Friday, where every week we identify a few of the potentially "bogus" promotions going on in penny stocks today.
If you don't know how these schemes work, be sure to check out this free report that exposes the whole thing.
Without further ado, here are today's "disasters waiting to happen":
DirectView Holdings (DIRV)
I just love it when pumpers keep coming back to penny stock scams I've already exposed- thinking no one will be looking.  Of course it's of no surprise they're using the same tactics over and over again.
Talk about boring reruns!
Sadly, many of the unsuspecting investors that get caught up in their scheme are hearing about the stock for the very first time…
Now for those of you who've seen our last expose on DIRV, it's the same group doing the pumping this time around.  The only difference here is they're saying they have not been compensated for "this" promo on DIRV.
That doesn't mean they haven't been paid in the past, or won't be in the future.
In fact, we caught Beacon Equity getting paid $25,000 for their coverage of this penny stock back on August 3rd, 2012.
Back then, the effect the pumpers had on the stock was pretty obvious.  Here's a copy of the chart…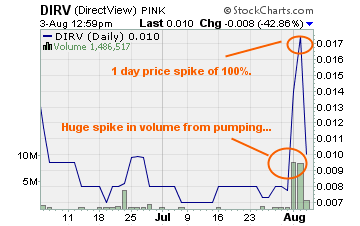 As you can see, there was a direct relation between a spike in the share volume (and price) and the pumping.
So how's DIRV turned out for investors since?  Take a peek below…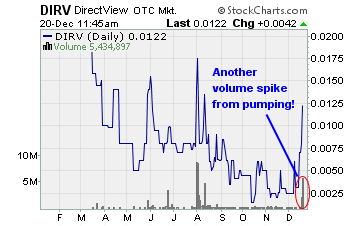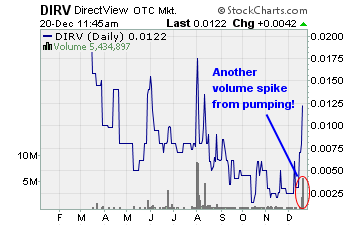 Before this week's pumping action, I'd say investors should have abandoned ship!  DirectView shares were trading at just a quarter of a penny!
The only reason… again THE ONLY REASON this sad penny stock is trading higher is because of the "free" pumping efforts of Beacon Equity Group – a BlueWave Advisors subsidiary.
Rest assured the fundamentals have not changed for the better…
Well, I stand corrected on one metric- the company has doubled their cash on the books from $233 in the first quarter – to over $521 in the third quarter of 2012.  Wow (blatant sarcasm)!
Otherwise, DIRV posted a loss of $144,131 in Q3 of 2012- even larger than the $136,000 loss they posted in the first quarter of the year.
If you were one of the unfortunate investors that bought shares over the past week, my advice to you is SELL NOW- before the bottom falls out yet again.
Dragon Polymers (DRAG)
This stock's name conjures up images of madmen in Romania attempting to capture dragon blood.  That's where dragons are raised, right… Romania?
Ok, ok- getting away from the sci-fi fantasy, Dragon Polymers has one of the strangest business focuses I've ever heard of.  DRAG is a "landfill mining" company looking to extract "post-industrial" polymers such as Nylon 66 and Polyethylene Terephthalate.
Really?
Garbage men- playing in a landfill… no wonder the stock is trading for just a penny!  How can you make money "mining" in a garbage pile?  Listen, I'm all for recycling- but that level of focus seems a bit specific… no?
And using the term, "mining"… that's creative.
The only thing more creative is the manner in which the pumpers are highlighting the latest news on DRAG-
"Supply agreement for 8.8 million pounds of Nylon 66 fiber with Hangzhou Worldbest IM. & EXP. Co LTD gets approved!"
Of course, Research Driven Investors was paid $40,000 by Red Tie Financial to pump DRAG. 
Even with the latest supply agreement approval, it doesn't guarantee any financial success by Dragon Polymers.  And judging by their pervious performance, I wouldn't expect all that much more anyway.
You see, DRAG has all of $720 as of August 31st – and more than $675,000 in liabilities.  There may be an issue paying that debt if the company can't produce any more cash.
Even worse, DRAG is sitting on $14.3 million in accumulated deficit!
With a gross profit of $16,500 in the nine-month period ending August 31st, it's going to take a long time to make any headway.  The crazy part is, the gross profit was eaten up entirely and DRAG posted a loss of $382,000 for that same nine-month period.
If poor financials aren't enough to keep you away, you should know that DRAG stock is no longer registered with the SEC!  And that takes away a huge level of protection for investors.
The bottom line…
I see big trouble ahead for Dragon Polymers, and any investor buying this stock now is certifiably crazy in my book!  Do yourself a favor- ignore the pumpers and save your cash for a real investment.
Other Penny Stocks Being Pumped This Week
SHOM – Penny Stock Rumor was paid $10,000
NWTR – Pennies Picks was $15,000 cash, and expects a total of $300,000
A final word (and warning).
These are just a few of the potential "pump and dumps" we've seen lately.
Remember, there's a lot more of this going on than we can highlight here.
As you know, penny stocks are a great place to invest your money.  You just have to do your due diligence to stay away from all the schemes and scams out there these days!
Until next time,
Brian Walker
Category: Pump & Dump Alerts