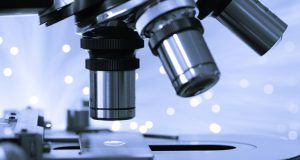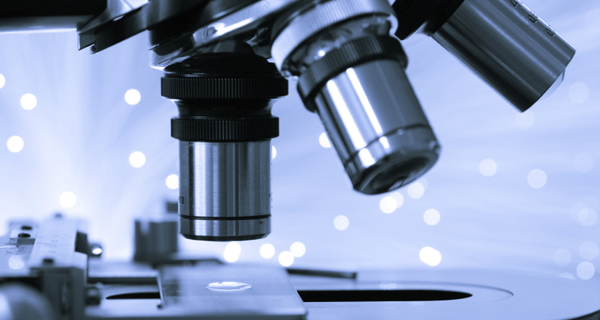 I just happened to be doing some research in the penny stock universe and a chart caught my eye.
It was a massive gap up in the stock and the company just released earnings yesterday morning, so I had to look into it some more…
Who's the company?
NeuroMetrix (NURO)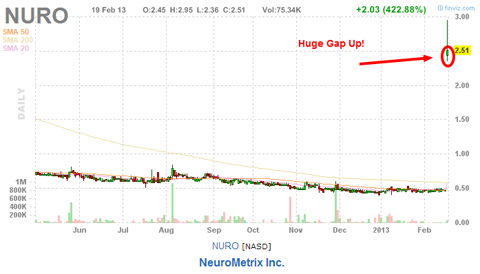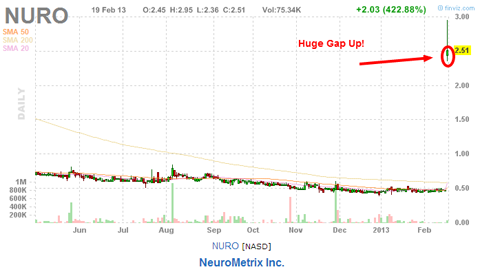 That's one heck of a jump… over 422% in a single day!  Wow, NURO must have posted some massive earnings, right?
Well, nothing could be further from the truth.
While the recent move looks awesome on this chart, the reality is shares are trading higher because the company just executed a 1-for-6 split of their common stock on February 15th!
With the markets on holiday Monday, that left yesterday as the first trading day post-split… so it merely looks to be trading higher.  I find it a little concerning that the board decided to conduct a split one trading day prior to their earnings announcement.  The sketchy part is, NeuroMetrix just announced less than stellar earnings.
So how bad is it?
Well, for the three months ending December 2012, the company brought in revenues of $1.5 million- down from $2.4 million in the same period of 2011.  When looking at the whole year, sales for 2012 fell to just $7.6 million, a sharp 25% drop from 2011.
Topline growth is clearly falling off lately…
With that said, this Harvard-MIT spinoff has brought some cutting edge products to market, with a focus on diabetes.  In fact, NURO became the first company to receive approval from the FDA to measure a diabetic condition known as neuropathy.  
For those of you who don't know, neuropathy is the most common complication of diabetes which often leads to foot ulcers and possibly amputation.  I know this well as my paternal grandmother lost her foot to it decades ago…
So when I read the transcript form the earnings call, I was pleased to see the CEO say NURO was moving forward with their two diabetes products.
But that doesn't excuse them from making this move with their shares right before earnings- it's too confusing for the average investor.  One day their shares are trading at $0.50 or less, and the next they're at $3.00- whoa!
Now, take a look at the following chart to see the price adjusted for the split…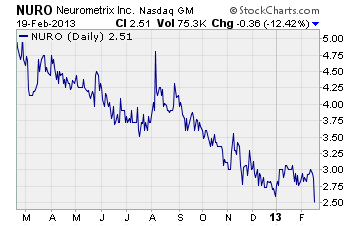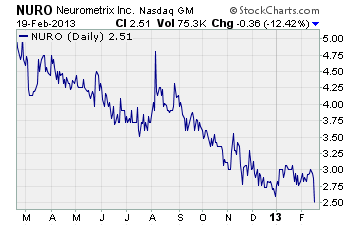 As you can see on this chart, shares are now trading at a 52-week low.   That's after yesterday's 12.5% drop, of course.
So there are two points I'd like to drive home here…
First, if you were a shareholder before earnings, you might get excited and think you had a huge 400% gainer on your hands by looking at the first chart.
But looking at the second chart, you get a completely different picture.  You need to get in the habit of reading company releases, and not just looking at a stock's price or chart.
Who knows… instead of a reverse split, it could have been a buyout or even great earnings.
The devil's in the details as they say…
Second, just because you believe a company makes something that can change the world, doesn't mean it's a great investment.  I'd love nothing more than to see NURO succeed at helping folks with neuropathy, as I'm sure my grandmother would have benefited if it was around for her.
But that doesn't mean it's a great investment at this point.  If things change financially, I'd reevaluate the case.  But right now, NURO is just another speculative biotech penny stock…
Until next time,
Brian Walker
Category: Biotech Stocks