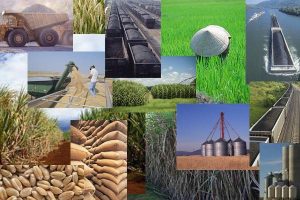 Lately, commodities are taking it on the chin.  After a long bullish run in the commodities market, we may finally be seeing a full scale reversal.
The iShares GSCI Commodity Index ETF (GSG), a broad measure of commodities, reached a high of over $39 a share in April of this year.  Last week, the index hit a low of under $33 a share.  That's a steep 15% decline in just two months.
So what's causing the commodity selloff?
First off, a rally in the US Dollar is hurting commodities.  As you know, the dollar and commodities tend to have an inverse relationship.  Second, major fundamental data is causing investors to flee crude oil and agricultural products.
Why oil and agriculture?  Let's start with oil…
After hitting two-year highs – and scaring the pants off of drivers – crude oil has recently settled back down to more palatable levels.  Prices initially took off when the Middle East/North Africa turmoil began.  Basically, investors feared supply disruptions.
But, crude oil prices didn't stay elevated for long.  Oil bulls soon realized the slowing global economy could mean lower demand for oil.  And on top of that, the IEA just released 60 million barrels of oil from the strategic reserves.
The result… oil prices plummeted to $90 a barrel. 
But oil isn't the only commodity to sell off in recent days…
Agriculture products are also getting crushed.  Over the last couple weeks, we've seen an epic meltdown in the grain and soft commodity markets.
The hardest hit products are wheat and cotton.  Wheat's down a whopping 22% in just the last month, while cotton plunged 17% over the same period.  Pretty harsh selloff if you ask me.
Global supply projections for these products are increasing because of improving weather conditions.  Meanwhile, a slowing economy should lead to lower demand expectations.
So what does the commodity selloff mean to the stock market?
In a nutshell, falling commodity prices could be a major benefit to many small cap companies. 
You see, small cap companies are reliant on oil for things like transportation and shipping.  And these sorts of costs usually make up a greater percentage of expenses for smaller companies than larger companies.  So, a lower oil price could provide a nice boost to the bottom line.
And that's not all…
A drop in agriculture commodity prices means lower prices on food and clothing.  And those costs can be significant for companies in certain industries… particularly smaller companies.
Here's the bottom line…
The recent selloff in the commodity markets could be a big help to certain industries.  Companies who rely on oil or agricultural products should get the biggest bottom line boost from lower prices.
Some examples of penny stocks which stand to benefit are regional airlines, small shipping companies, restaurant chains, and clothing retailers.
Keep an eye on some of the penny stocks in these industries.  Lower costs could translate to big earnings for them in coming quarters… and of course, higher stock prices.
Yours in profit,
Gordon Lewis
Category: Commodity Stocks