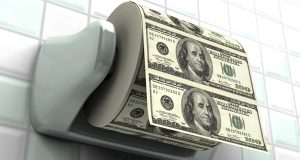 Welcome to Pump and Dump Friday, where every week we highlight a few of the "bogus" promotions that are going on in penny stocks.
If you don't know how these scams work, be sure to check out this free report that exposes the whole thing.
Without further ado, here are this week's disasters waiting to happen:
Portage Resources (OTC PINK: POTG)
This company is being touted as a "pre-exploration" gold mining company.  So, I guess being pre-exploration is like being pre-law in college… it means nothing.
Well, let's see what it does mean…
Now you'd think being in the gold mining business they would have drilled core samples and completed feasibility studies… right?  Because the BS e-mails I've seen say POTG forecasts having 500,000 ounces of gold in the ground.
Therein lies the problem… Portage doesn't own any land – not a single square foot! 
What's more, they have $533 in cash and $101,000 in debt.  In a recent financial statement, the company states they have insufficient capital to be successful in this effort… I think that says it all.
Awesome Penny Stocks was paid $10,000 (CAD) by a third party to churn this fool's gold. 
Medical Care Technologies (OTCQB: MDCE)
We've got a development stage enterprise here, looking to do business somewhere in the medical sector.  They allegedly make medical management software, plan to open children's clinics in China, and look to launch a vitamin division.
It's exhausting just thinking about all they've got going on!
And big plans call for big resources, so let's take a look…
MDCE holds just over $6,000 in cash – have a working capital deficit of $300,000 – and have accumulated over $2.4 million in losses.  So much for that… the biggest thing they've got is unpaid debt.
In their latest quarterly report, it's noted there's substantial doubt they have the ability to continue.  Well at least they have the guts to admit it!
But still, they recently blew $500 having Hot Shot Stocks attempt to resuscitate this medical misfire.
Sleep well my friend…
Cooper Holding (OTC PINK: SHAR)
I'm sure you've seen guys walking around in camouflage jackets keeping their true identities a secret… right? 
Well, that's where this company comes in.  They design concealment products, allowing sportsmen to sneak up on their prey… for the ultimate show down.  What's more, they sell hunting blinds, knives, and mineral supplements – probably impulse buys hidden near the cash register.
As intriguing as this may sound, the company is going to have to take a shot at something else.  The latest financial numbers on these guys are pathetic.  2011 first quarter revenue is a whopping $300 paired with a loss of $9,500.
Better still, last year's efforts earned them a net profit of negative $273,000.  I doubt their beaming with pride over that!
In spite of their dismal results, they scratched out a check to The Wall Street Voice for $3,600.  In return, SHAR has been presented to the world for inspection and investment. 
Thankfully the effort has gone mostly unseen.  Share prices have moved only a fraction, so it looks like some investors figured this one out. 
Let's just leave these guys undercover… in the shadows of real, profit-making investments. 
A final word (and warning).
So that takes care of a few of this week's inglorious "pump and dumps". 
Remember, there's a lot more of this going on each week than we highlight here. 
As you know, penny stocks are a great place to invest your money.  You just have to do your due diligence to stay away from all the scams out there these days!
Until next time,
Brian Walker
Category: Pump & Dump Alerts