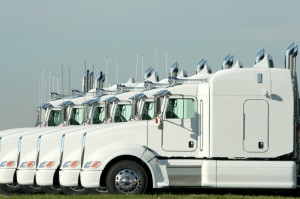 It's been a busy week for penny stocks… but none have been quite as volatile as YRC Worldwide (YRCW).  The shares have been all over the map in recent days.
Check this out…
Just one week ago, on June 22nd, YRCW shares hit a low of $0.68 per share.  Then on June 27th, the stock soared to a high of $1.89.  That's an incredible 178% gain in just five days!
But as of this writing, the shares have already dropped to $1.15… continuing their trend of extreme volatility.
So what's causing the crazy price swings?
I'll get back to that in a minute.  First, let's take a quick look at the company…
YRC Worldwide considers itself a transportation services provider… but mostly they're a trucking company.   They own over 11,000 tractors and over 50,000 trailers.  Needless to say, that's a lot of trucks.
Over the last year, the company pulled in nearly $4.5 billion in revenues.  But, their market cap is shockingly just over $50 million.
How can a company with $4.5 billion in revenue be worth only $50 million?  Excellent question…
For one, the company is drowning in debt.  They have over $1 billion in debt… with only around $100 million of cash in the bank.  What's more, the company has posted significant losses for three straight years.
Clearly, YRCW is dealing with tough times.
You see, the poor economy has really taken its toll on the trucking company.  On top of lower demand, they're also dealing with higher fuel costs.  Not to mention, management has to come up with money to make payments on their massive debt.
And that's not all…
Just when it looked like economic conditions were improving, the US got pummeled by one of the harshest winters in recent memory.  This past winter virtually destroyed profits in the trucking industry.
And for the already struggling YRCW, it was nearly a death blow. 
In order to avoid bankruptcy, the company had to undergo a major restructuring.  Considerable capital needed to be raised.  And it was likely going to significantly dilute the value of existing shares.
It should come as no surprise that the stock plunged.  At one point, the shares lost over 90% of their value in less than a year.
Back to present times…
As can be expected, investors were fleeing YRCW in droves.  When the value of the company collapsed to around $50 million, it appeared the stock had hit rock bottom.
And then, out of nowhere, shares rocketed higher.
Surely, some major news was released driving these impressive gains, right?
Actually… no.
Believe it or not, so far, only speculation is fueling YRCW's huge swings.
Some investors might be guessing a restructuring deal is in place.  Other investors might have seen the huge jump in stock price and wanted to capture short-term gains.  Or, it could be an influx of bargain hunters, who are assuming the price has bottomed out.
Whatever's going on… it's not supported by fundamental data.  Until any new info comes out, buying YRCW is nothing more than a roll of the dice.
Look, at these prices, YRCW could be worth the risk.  But until more information comes out, I wouldn't touch these penny stocks.  Unless something significant occurs, the company is headed for bankruptcy.  However, if the fundamentals change, the stock could be in for an even wilder ride.
Yours in profit,
Gordon Lewis
Category: Penny Stocks On The Move