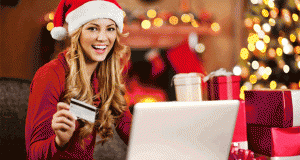 Oh what a difference one short week can make…
Unlike the previous two weeks, Wall Street put on its best five day performance since June last week.  In fact, "Black Friday" ended in the black with the Dow Jones rallying 172 points.
It appears as if investors couldn't help but become captivated by retail sales news hitting the wires just after Thanksgiving- as plenty of retail stocks started soaring.
Amazingly, Black Friday online sales eclipsed the $1 billion mark for the first time ever!
Not to be outdone, "Cyber Monday" seems to be contributing even more to the success of this year's holiday sales…
IBM reported a 24.1% jump at more than 500 retail websites from a year ago. 
Even more impressive are the numbers coming out of Ebay (EBAY) and Amazon (AMZN).  Channel Advisor is showing sales were up by more than 57% from 2011 at EBAY… and 52% from 2011 at AMZN.
Of course, shares of both online giants went soaring yesterday, with EBAY up by 4.9% in just one day…
While this is great news for the big cap companies and the US economy in general, it's even better news for penny stocks.  And that means now's the time for smart investors to start shopping for their own deals in penny stocks.
Here's why…
As these mega-retailers see huge jumps in sales volume, someone has to supply the products and services.   What's more, someone has to supply the parts, pieces, widgets, and thingamabobs that go into everything we're buying.
Many of these companies exist in the realm of penny stocks…
If you really want to profit from what appears will be a rather strong retail sales season, then start picking up shares of these penny stocks now.  Remember, the headlines are driving the big name stocks up now- but it will be earnings that send their suppliers soaring down the line. 
And if you own penny stocks, you know that earnings season routinely means double digit moves!
Now, if you're stuck in your research and can't figure out the best penny stock plays this holiday season, I have one other suggestion that can help you out.  Simply pay attention to the retail sales headlines early this year, and you'll discover what's hot.
Is it Barbie or video games?  Is it music or laptop computers?  Is it apparel or appliances?
You get the point.  Figure out what's hot and you can start looking for penny stock winners.
Until next time,
Brian Walker
Category: Investing in Penny Stocks, Penny Stock Tips