What's The Future Of Biotech Penny Stocks?  
We asked… and you answered.
A few months back I was wondering what the future of biotech penny stocks would be… So I asked you to give me your opinion.
Let me tell you… you nailed it right on the head!
But before I get into the detail, let me take a step back.
Earlier this year… June 11, 2015 to be exact…  I wrote about Biotech penny stocks being on a run.  You can find my article about the best NASDAQ stocks in biotech on the website.
In that article, I shared with you the hottest part of the market at the time… Biotech!
I even gave you 11 penny stocks to watch and do research on… I was sure we'd find a winner or two in the bunch.
At the time, the big question was… would the massive run in Biotech stocks… especially penny stock biotech companies, keep going?
I love trends like this and I think this part of the market could run for many, many more months.
But sometimes we can be blinded by our own opinions and thoughts about the market.
So I decided to do something crazy…
Our Stock Poll About Biotech Penny Stocks
What I decided to do was toss up a poll on our website… and ask you for your feedback.
The question was:  Biotech Stocks have been on a huge run for the last few months. Do you think they will…
Continue Running Higher
Run Higher… but we're due for a pullback
Flatline for a while
Head Lower… but not much
Head Lower… and a big drop is expected
The response was overwhelming… we had a ton of people visit the poll (it's on the lower right side of the homepage).  But what was even more shocking was the results.
When all was said and done, more than 50% of the votes indicated the biotech space would continue running higher… and another 26% said the biotech stocks would run higher, but that we were due for a pullback.
So, in all, 76% of you indicated the market would go higher… and guess what… it did.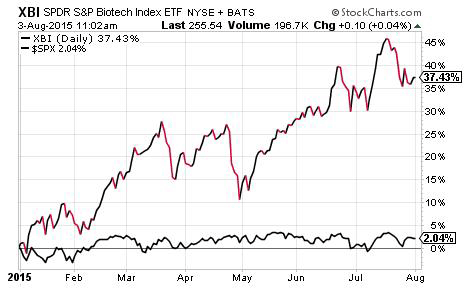 As you can see from this chart in just the last six weeks, the industry added another 7% to its already staggering returns.
You knocked it out of the park on this one… Nice work.
Best of all, I think this biotech run will continue for some time, as long as the market doesn't fall apart in August and September.
But now we're seeing some extreme market volatility…
Our Next Poll On The Future Of Oil Prices
The big swings in oil prices are really driving some volatility into the markets… and it's creating some amazing opportunities.
The Oil and Gas industry had been HAMMERED by the fall of oil prices.  Some of the oil and gas majors are seeing dividend yields over 5% and stock prices falling.  Tiny penny stock oil and gas companies are being destroyed.
As a result, many long term investors are licking their chops seeing the recent dip as a buying opportunity.  Others are worried this is just the start of  a longer term downtrend.
Just look at this 3 year chart on oil $BRENT.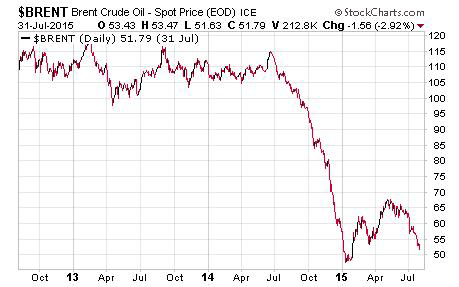 As you can see, oil prices fell off a cliff.  But history isn't important right now… the question is what does the future hold.
And that leads us to this month's poll question:
With the dramatic fall in energy prices over the last 12 months, what should we do now?
BUY BUY BUY – We're at the lows
BUY some big energy stocks, but watch out for a small downdraft
SELL the small energy players now
SELL SELL SELL – Dump it all, we're going lower
Vote now (right here in the right column)!
Unlike the presidential campaigns – every vote counts here.
After you vote, leave me a comment on the site… I want to know how you voted and why!
Next time, I'm going to share a story with you.  It's about a biotech stock that I talked about just a little while back… the stock price more than doubled 48 hours later… and I'll tell you why.
Good investing…
Brian Kent
Note:  If you're interested in learning more about Brian Kent's Penny Stock All-Stars premium service… and learning about the stocks we're trading for profit… you can get the inside scoop on penny stocks here.
Category: Penny Stocks to Watch