Are These Hot Penny Stocks Today Worth A Look?
On Tuesday, I warned you to lighten up on some of your weaker positions in the market.  The penny stock market's looking a bit touchy right now… so use the recent market strength to exit positions that are not going in your favor.
Does that mean the whole market's off limits?
No, of course not.
There's one section of the industry that's hot.   Today I'm going to get to the point… there are Hot Penny Stocks Today in the market that deserve our attention.
In the last week, I've been looking at a lot of smaller companies, and in one area, they're cropping up left and right.
What's the industry?
Construction.
Really?
Yep, construction.
Just consider these facts.  Last month we had some amazingly bullish news.  The housing census gave us better than expected numbers.
Building permit numbers were up 11.8%, significantly above the April rate.  This was an acceleration into peak building season for the summer.
You don't need to be a rocket scientist to see that rising building permits means the future of building is strong!
But wait, there's more!
Check out this chart.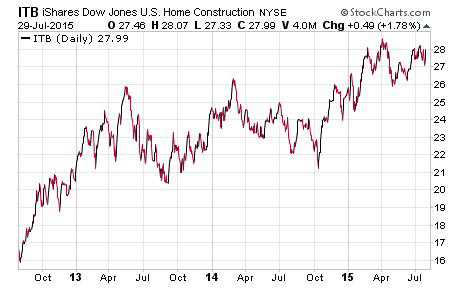 This is the chart from the Home Construction ETF managed by Dow Jones.  As you can see, the last few years have seen the entire industry move up and to the right.
It shows the strength of the overall industry.
So let's dig in.
KB Homes $KBH recently released their Q2 earnings and they got a ton of attention.  They showed total revenue up 10% and their new orders jumped an astonishing 38%.
The stock moved higher on the news!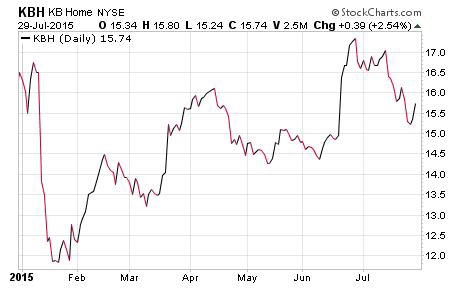 KB isn't the only ones seeing growth like this… the entire homebuilding industry is on fire.
Where To Find Tomorrow's Hot Penny Stock
Since we know that homebuilding is on fire, now's the time to look at other penny stocks in related fields.
For example, there are four penny stocks I found in the home furnishings and fixtures space that will certainly benefit from the robust housing market.
You'll also find a number of stocks in the building materials space, specialty retail, and even the basic utilities like water, electric, and gas.
With the rebounding homebuilding market, you know it's only a matter of time until many of these stocks rally.
Give them a close look and you'll be sure to find tomorrow's hot penny stock.
Good investing…
Brian Kent
Note:  If you're interested in learning more about Brian Kent's Penny Stock All-Stars premium service… and learning about the stocks we're trading for profit… you can get the inside scoop on penny stocks here.
Category: Hot Penny Stocks