The Dream Penny Stock?  
It happened again.  It's the dream of penny stock investors everywhere and it happened right in our backyard.
It's the dream of scooping up shares of a tiny penny stock to watch it skyrocket in value, doubling in value overnight.
What a dream.  Well this is no dream, and we really had a penny stock double in value over night.
A stock we talked about days earlier.
It all started earlier this year…
How we found our penny stock gainer!
Earlier this year, I started focusing on a trend we were seeing in the market.  The biotechnology industry is on fire right now.  Stocks are moving higher… big companies are throwing off massive cash and looking to buy small startups… the FDA is finally approving drugs again… and stock prices are rewarding investors.
We noticed this trend and started talking about it months back.
We wrote about it frequently calling out lists of stocks looking strong and sharing our thoughts.
Just 6 or 7 weeks ago, we shared the top 11 NASDAQ stocks you should watch… I even shared How I Found the List Of NASDAQ Penny Stocks In Biotech.
And that's when you asked for more.
You wanted to know how to find awesome penny stocks… so I shared that too.
If you were paying attention, we talked about a single penny stock in the biotech space that ended up doubling in value… overnight!
If you read my article on finding Awesome Penny Stocks, in tip #2 I showed everyone how to uncover great little stocks…
How This FREE Penny Stock Tool Helped Traders DOUBLE Their Money
We showed a sample screen for interesting stocks.  We looked at stocks near their 52-week high and trading for under $5.
In the last 52-weeks, a handful of stocks had moved significantly higher… but were still trading for pennies. One of those stocks was Nymox Pharma $NYMX.
Our free online screener helped us uncover this great little stock.
The company has a number of drugs in development and the stock cratered late last year on news that one of their drug compounds failed.
A few days after we pointed $NYMX out as a big mover and one to look more closely at… the company announced their drug…fexapotide triflutate… showed promise.
As a result, the stock took off like a rocket.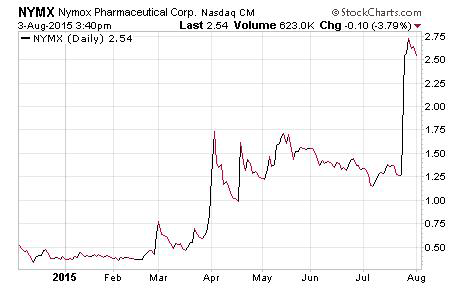 Overnight the stock doubled in value.  Now the stock is up over 505% from the lows set earlier in the year.
It's the dream scenario for any investor… and one that some of you could have captured yourself.
Tell me… did you invest in $NYMX?
Did you buy it because of my article, or earlier in the year?  Leave a comment on the website and let me know!
Good investing…
Brian Kent
Note:  If you're interested in learning more about Brian Kent's Penny Stock All-Stars premium service… and learning about the stocks we're trading for profit… you can get the inside scoop on penny stocks here.
Category: Hot Penny Stocks