Why The Ten Best Penny Stocks For 2015 Should Be Big Winners
Today is the official start of Fall.
It's the autumnal equinox.  It's a fancy word scientists use to say the sun is along the equator today, making day and night exactly the same length of time.
As the sun moves further into the Southern Hemisphere, winter approaches us here in the Northern Hemisphere.  Days get shorter.  The weather gets cooler.
Funny thing is… despite winter approaching, It still feels like summer here in Arizona – it's 101 degrees today!
Anyway, we can't stop the march of time, and that means Winter – and the New Year 2015 – is quickly approaching…
As you know, an annual tradition here at Penny Stock Research is to pick the ten best penny stocks for 2015.  We look at themes and trends, and what's working in the markets.  We do research on the companies, look for great stories, strong management teams, and try to identify the 10 best penny stocks for 2015!
And in the next few weeks, we'll be publishing our updated report…
"The Ten Best Penny Stocks For 2015"
Best of all, we'll send it to you free, as a special thank you for being a loyal subscriber to the Penny Stock Research newsletter!
But, before we send you the report, let me remind you why penny stocks are so great…
Why Penny Stocks Are A Great Investment
There's never been a better time to invest in penny stocks.
No matter what industry or sector you choose, penny stock opportunities are nearly infinite.  These stocks have the potential to make 10, 20, and even 100 times your money in short order.
As most investors know, it's very difficult to get those types of returns with blue chip stocks.  Those guys rarely go up 500% in a year, let alone 1,000%.
In fact, here's a recent example of just how much money you can make with these amazing penny stocks.
We started writing about Patrick Industries (NASDAQ: PATK) years ago.  They started as a small building company.  By 2009, they morphed into a major builder of RVs and manufactured homes – all while their stock was trading as low as $0.25.
Up until this point, the company had been buying up smaller wood, vinyl, electronics, and industrial companies left and right.  And in 2011, the company kept growing, eventually buying up the majority of their parts suppliers for their finished products.
Moving beyond their own line of business, PATK eventually started expanding into the kitchen fixtures, marine, architectural, aluminum, vinyl, and electronics businesses.  In addition, the company became a seller of pre-finished wall and ceiling panels and drywall finishing products.
And as the housing market finally bottomed, the companies in PATK's stable generated massive revenue.   And the stock took off…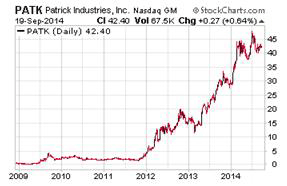 Just look at that chart!
PATK went from a miniscule $0.25 to an eye-popping $48.10.  In case you're wondering – and I know you are – that's an unbelievable 19,140% gain! 
That's enough to turn a $500 investment into a whopping $94,200. 
Try doing that with a blue-chip!
This example really shows you the power of a great idea and a low stock price… and results like that can change your life!
And that's what we're looking for with our free penny stock report – but we need your help!
Can You Help Us?
We have our own proprietary ways to identify great penny stocks… and we do incredible amounts of research and study.
But we're human…
We sometimes make mistakes… and miss important things…
What we'd like to ask for is your help in identifying The BEST Penny Stocks in 2015!  That's right, now's your opportunity to share with us your thoughts.
Maybe it's a little company in your home town that's booming… maybe it's a stock tip you got from your dentist or brother-in-law.  Maybe it's a company you work for!
Anyway, here's your chance to help us out.
If you have the best penny stock for 2015 – that you think is going to skyrocket – we want to hear about it.
Just send us an email with the company name and ticker symbol… and let us know why you think it's a great investment.  Don't forget to let us know if you own the stock or plan on buying more.
If we like your idea, it might be featured in the report, or in an update on the website… we might even call and interview you!
We live to share great ideas, and we want to hear about your great idea.
All you have to do is email your idea into the customer service department.  Just reply to this email… or email us directly at customerservice@pennystockpublishing.com.
Now of course no good deed goes on without LAWYERS ruining it… those fancy guys in the sharp suits want me to remind you that anything you send us is covered by our Terms of Use on the website  – so read it carefully.
Basically, we can use anything you send us in any way we see fit.
This isn't a competition… and there aren't any prizes… just sharing great information between friends.
Oh, one more thing… the deadline is October 1, 2014… so get your ideas in quickly!
I look forward to hearing from you… and thanks so much.
Profitably Yours,
Penny Stock Research
Category: Investing in Penny Stocks