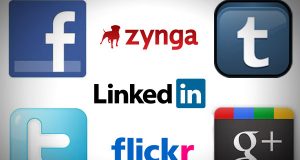 The numbers are in from the Super Bowl… and it's astonishing to see the results.
Twitter users set a new record, not once, but twice, during Super Bowl XLVI.   According to the social media firm, Twitter users shot out over 10,000 "tweets" (posts) per second, at various times during the event.   And in the waning moments of the game, the number of "tweets per second" about the game reached 12,233. 
Clearly, social media is engrained in American culture…
Last night's Twitter use proves Facebook isn't the only game in town.  Obviously, we're not talking apples to apples here.  As a comparison, Forbes reported Twitter pulled in an estimated $139.5 million in 2011.  Facebook, on the other hand, generated nearly $4 billion in revenue last year. 
Even the professional social network, LinkedIn (LNKD) pulled in over $436 million in 2011… four times Twitter. 
But that doesn't mean Twitter holds no value… 
In fact, a number of companies have tried to buy Twitter.  At one point, even Facebook made a bid.  And if Facebook thinks they're worth buying, than they must have quite a bit of potential.
As Facebook prepares to go public, most of the world is curious to see how high their stock will trade.  While it's sure to be an exciting IPO, I'm really interested in how much they'll raise.  And even more curious to see what they'll do with their war chest.
As you know, there are a number of smaller companies that make up the working parts of the social media network.  And you can be sure Facebook will buy up a number of these companies with their new found riches.
Zynga (ZNGA), for instance, provides a number of Facebook integrated games.  And some analysts believe they could be a target for the social media giant's cash pile.
But I don't think that would be a wise play for Facebook.  ZNGA provides a 30% per transaction fee to Facebook for use of their platform.  So it makes no sense for Facebook to buy up a source of their existing revenue. 
On the other hand, it does make sense for Facebook to take another crack at buying Twitter…
Twitter would end up being another advertising revenue stream for the company.  And it's one that's not currently integrated into the Facebook platform… like ZNGA.
I can envision amazing synergies between the two companies.  And Facebook certainly could leverage their social media assets to make Twitter something even more powerful than it is right now.
But Twitter is just one idea.   There are a bunch of small companies you've never heard of that may be targets of Facebook's cash hoard.  
And that bodes well for penny stocks operating in the social media arena.   Before the Facebook IPO, you may want to pick up some shares of these small companies. 
You never know which one will skyrocket in the wake of a Facebook offer…
Until next time,
Brian Walker
Category: Internet Stocks