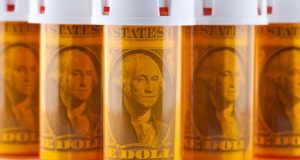 The markets are tough to decipher these days.  One day we're trading higher on solid economic data, and the next we're selling off due to one crisis or another. 
The volatility makes it difficult to stay in the market.  Granted, you could put your money into a risk free savings account, CD, or money market… but the returns are meager at best. 
In fact, these investments aren't even keeping up with inflation!
So what's an investor supposed to do?
The key is to get defensive.  Look at stocks in industries that tend to do all right even in tough economic times.  One of my favorite defensive sectors is healthcare, and drug stocks in particular. 
No matter how bad the economy gets, one thing's for sure… Americans will keep buying their prescription drugs. 
Think about it…
We are a pill popping society.  We have a drug for everything and nearly everyone's on something.  More to the point, it seems like a doctor's primary job is to prescribe a pill for what ails us.  They're like a built-in sales force for the drug companies!
No doubt about it… drug stocks should weather the storm just fine. 
In fact, drug stocks are poised to outperform in the coming year. 
But, which ones are good buys right now?
The industry's loaded with hundreds of great companies.  You know the names, Merck (MRK), Pfizer (PFE), Lilly (LLY), and so on…
But I'm staying away from the large caps right now.  These behemoths have thin pipelines and major drugs going off patent.  Nope, the drug stocks with the highest growth potential are clearly small cap drug stocks.
Here are a few things to look for in a small drug company… 
First, a drug maker needs a great product.  Simply put, a great product will lead to strong revenue growth. 
Second, a drug maker must be able to make money.  And earnings growth is what we're looking for.  Sure it's nice if you've got a great product, but can you run the business at a profit?  That's always the bottom line…
Finally, no matter how many bottles of their drugs are flying off the shelves, or how much profit their raking in… you don't want to overpay for the stock.  And that's where valuation comes in. 
I'm always looking for a compelling valuation to justify buying shares.
Revenues, earnings, and a compelling valuation… small cap drug companies  with these three things are potential diamonds in the rough.
In fact, I've found just such a company the other day through my research. 
Who is the company?
It's none other than DUSA Pharmaceuticals (DUSA).
DUSA is a US-based drug maker focusing in dermatology.  Their flagship product is Levulan photo-dynamic therapy, which is sold in both the US and Canada.  The product is designed to treat a number of common skin conditions from pre-cancerous skin lesions to acne. 
And the company's product line is quite popular…
DUSA is set to generate $42.3 million in sales this year, an over 18% increase year over year.  And next year, the company's expected to boost revenues by 21% to over $53 million.  Now that's some impressive growth!
But DUSA's ability to grow the bottom line is even more impressive…
Earnings this year are expected to reach $0.22 per share… that's double last year's number.  And things are looking even better in 2012.  Analysts are expecting DUSA to earn $0.40 per share… nearly 85% year over year earnings growth!
Clearly the company can sell their product and grow earnings… but are the shares a compelling valuation?
At a recent price of $3.39, DUSA's price to earnings ratio (P/E) is 11.5x.  As you know, the lower the P/E ratio, the more affordable it is for every dollar of earnings the company makes.  And while DUSA's P/E is higher than the industry average of 6.9x, their growth rates are well worth the added premium.
 The takeaway here is this… DUSA is growing fast and patients will keep using the company's drugs regardless of how bad the economy gets.  Consider adding shares of DUSA to your portfolio.  They could see huge gains over the next year.
Until next time,
Brian Walker
Category: Healthcare Stocks, Penny Stocks to Buy, Pharmaceutical Stocks