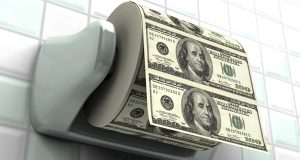 This week we're exposing this pair of popular Pump & Dumps:  Broadleaf Capital Partners (BDLF) and Endeavor Power (EDVP).
That said, welcome to Pump and Dump Friday, where every week we identify a few of the potentially "bogus" promotions going on in penny stocks today.
If you don't know how these schemes work, be sure to check out this free report that exposes the whole thing.
Without further ado, here are today's "disasters waiting to happen":
Broadleaf Capital Partners (BDLF)
The pumpers over at Stock Psycho are up to their old tricks again. They must've taken the first week of January off for some R&R, or to come up with their next scheme to try and bilk cash out of unsuspecting investors.
Their latest target is BDLF.  Of course they were paid $350,000 by Ruminate Inc. to pump shares of Broadleaf.  So what did the third-party get for their money?  Let's see if you can follow this load of BS from the pumper…
"I thought BDLF shook out all the sellers pretty hard today, and last time it rallied hard it fell over 40% the next day, and then we had the 520% blast the following day."
What the pumper's trying to do is cover their tracks for what's really going on.  In Thursday's trading, Broadleaf lost close to half its value-which isn't even 1/10 of a cent!
I'd be willing to bet the third-party was able to cash out on their shares as the stock collapsed… We can only speculate, but my guess is that's what went down here. Just take note of the chart to see for yourself-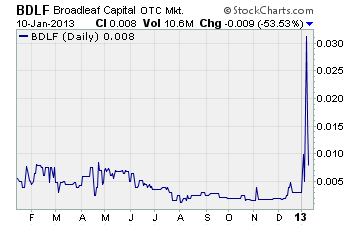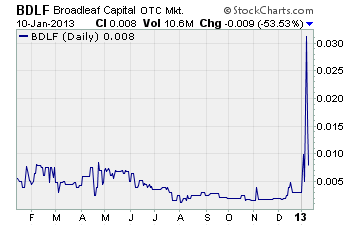 Isn't that odd that for most of the previous year, this sub-penny stock couldn't break the penny barrier? Yet along come the stock promoters, ones who've been known to pump and dump stocks in the past and somehow the stock skyrocketed to $0.03 in a single day!  Of course it fell just as fast, as the chart clearly shows.
No, there's no coincidence there at all…
Just like most stocks that come across these pages, Broadleaf is no exception when it comes to its history and financials.  Needless to say, this company isn't worth buying a single share of… even at ½ a cent.
Just take a look for yourself-
Gross profit of just $4,283 with expenses of $140,700
Outstanding common shares of BDLF climbed from just under 144 million in September of 2011 to over 162 million in September of 2012.
The company has an accumulated deficit of $14.1 million
Do I need to say anymore?
Endeavor Power (EDVP)
So here we have yet another penny stock that's been running around changing from one business plan to the next…
They may be called Endeavor Power now, but in the past they've been known as Endeavor Uranium, VB Trade Incorporated, VB biotech laboratories Inc., not including a slew of ownership and management changes over the past decade.
The stock… trades for just $0.06.  The finances over at EDVP… well, they're just absolutely horrid.
But of course the pumper won't tell you that.  Stock Roach, owned by Blue Wave Advisors- a mega pumping outfit – was paid $7,500 to promote this stock.
The problem is EDVP has $0 revenue.  So what can the pumper say that's good?  Well, they talked about AIDS testing equipment- now that the company's merged with Parallax Diagnostics.
But do we know anything about this company's financials?  Nope.  Here's my favorite line from the email-
If we get even a nudge to the upside this morning, EDVP could catch fire — and give me a satisfying case of "deja vu!"
That's some analysis there boy… whew!
I've already warned you this company has no revenue.  And now that they're a medical test company developing a test, we have no idea when we can expect them to generate revenue.
Lastly, EDVP posted a 9-month loss of $93,420 as of September of last year.   Worse yet, the company had a working capital deficit of $397,623 and an accumulated deficit of $18,490,590.
How long can they stay afloat with that much debt?  Who knows exactly, but I'd say it's not much longer.
Excited to buy shares now?  I'd bet not!
Other Penny Stocks Being Pumped This Week
CYLC – Penny Stock Prophet was paid $30,000
SUNB  – Stock Mister was paid $10,000
A final word (and warning).
So that takes care of a few of this week's inglorious "pump and dumps".
Remember, there's a lot more of this going on each week than we highlight here.
As you know,penny stocks are a great place to invest your money.  You just have to do your due diligence to stay away from all the scams out there these days!
Until next time,
Brian Walker
Category: Pump & Dump Alerts