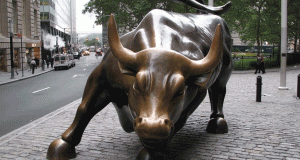 Last week, I wrote about how the VIX index was signaling how investor confidence is on the rise.  Basically, low volatility in options means investors aren't loading up on downside protection.  In other words, they're not as worried about a huge market selloff.
Turns out, the VIX isn't the only metric proving investors' confidence is on the rise.
Check this out…
In the week ending January 9th, a little over $22 billion flowed into equity mutual funds and ETFs.  That's the second highest amount on record!
The only time there's been a higher amount of inflows was in September 2007, to the tune of $22.8 billion.
Okay, so September 2007 was right before the market peaked – and then sold off in remarkable fashion.  And, many investors believe fund inflows are a contrarian indicator.  So should we be worried about the stock market with all the money pouring in?
In this case, I don't believe there's reason to be concerned.  In fact, I think it's a positive sign.
Here's why…
In 2007, investor confidence was much higher and significantly more money was invested in stocks.  Plus, many investors were ignoring the serious issues in the real estate market.
This time around, investor confidence is still low on a historical basis.  There's still a ton of money on the sidelines.  And most importantly, the macro environment is improving.
As a matter of fact, we just got past a major hurdle in the fiscal cliff.  Now, there's still the looming debt ceiling debate which has the potential to derail the economic recovery.  But, there's time left to resolve that issue before it has a major impact on stocks.
What I'm essentially saying is that there isn't enough "irrational exuberance" going around for investors to be overly concerned about the huge inflows into funds.  Most likely, it's a consequence of dividend and capital gains taxes not increasing in 2013 for most families.
What's more, even veteran investment guru Dennis Gartman feels these inflows are bullish.  And as Gartman says, "inflows are always better than net outflows".
Here's the bottom line…
Volatility is low, investors are returning to stocks, and the economy is improving.  If the politicians don't get in the way, there could be a good chance that 2013 will be a very good year for stock investors.
Keep in mind, there will be short-term pullbacks – it happens even during the most robust bull market.  But, we're nowhere near a period where investors should be considering running for the hills.
Yours in profit,
Gordon Lewis
Category: Investing in Penny Stocks