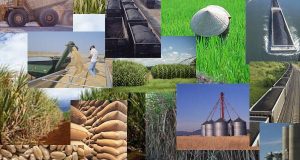 The stock market has been on a nice run lately.  So, investors may not realize just how well commodities have been doing in recent weeks.  In fact, commodities may just be in a full out bull market right now.
A good benchmark for the commodities market is the iPath DJ-UBS Commodity Index ETN (DJP).  For the year, DJP's up just 2.7%.  However, since the start of June, when DJP bottomed out, it's climbed over 16%.
And the path is nearly straight up.
So why the surge in commodities?  More importantly, can it continue?
Let's start with the first question…
Keep in mind, commodities are generally made up of agricultural products, energy products, and metals.  At the moment, agricultural products and energy are driving the rally.
Regarding agriculture, the record-setting drought occurring across the Midwest is the primary reason for the spike in prices.  In particular, grains such as corn and soybeans have set all-time highs as supply forecasts are being slashed dramatically.
What's more, the rise in grain prices is impacting other commodities such as livestock and ethanol.  Grains serve as a key source of feedstock, so their pricing is significant to both industries.
For the energy sector, the boost is coming from both from crude oil and natural gas.
Crude oil's recent climb can be attributed to Iran's saber rattling as well as a drop in inventories.  Meanwhile, natural gas has finally reversed its long drop due to hotter than expected summer temperatures.
Okay, so now we have an idea of why commodities are on the rise, but can it be sustained?
To put it simply, the answer is a resounding YES.
You see, there are bullish fundamentals in place for all three major commodity sectors.
The damage from the drought is just beginning to be seen in grains inventories.  It will be weeks before we know the true extent of the losses.
Moreover, the volatile situation with Iran is nowhere near resolution.  As such, there's definitely a floor on oil prices – with substantial room for an upside spike.
And don't forget metals…
We're just now seeing gold and silver pick up steam with the likelihood of QE3 being implemented.  Remember, metals have been lagging behind agriculture and energy in terms of performance.
Not to mention, any significant stimulus from the Fed will weigh down the value of the dollar… which is an overall bullish scenario for commodities.  In other words, there are plenty of reasons to believe commodities are in a legit bull market.
Of course, there are numerous ways to play commodities by investing in small cap and penny stocks.  Don't be afraid to make a few shrewd, commodity-based additions to your portfolio.
***Editor's Note***  I know you're here for penny stocks but I've got another investment vehicle you should take a look at.  It's a way to invest in currencies without touching forex or futures contracts.  Click here for details.
Yours in profit,
Gordon Lewis
Category: Commodity Stocks