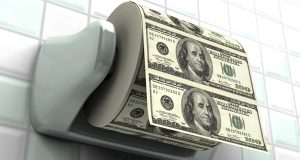 This week we're exposing these three popular Pump & Dumps:  Aquasil International (AQUS), Green Oasis Environmental (GRNO), and GreenCell (GCLL).
Welcome to Pump and Dump Friday, where every week we highlight a few of the "bogus" promotions that are going on in penny stocks.
If you don't know how these scams work, be sure to check out this free report that exposes the whole thing. 
Without further ado, here are this week's disasters waiting to happen:
Aquasil International (AQUS)
Mad Penny Stocks is pumping one tiny little stock called Aquasil.  Unfortunately, you'd have to be mad as a hatter to invest your money in this company.
Why?
Well let's start with the money… the pumper was paid a whopping "eight thousand dollars for a one-time AQUS alert".  I can't make this up… it was right in their disclaimer.
$8,000 for one email… Are they kidding!
Anyway, we were told to "Keep a very close eye on AQUS."  So I took my eye and did a little reading about the company.
Now here's a shocker… this company actually has real documents on file with the SEC!   
SPOILER ALERT:  The documents were crap.
Feel free to hit the SEC website and check them out yourself.  But I wouldn't waste your time. All you'll find is a company reporting a whopping $699 in cash.  And they have liabilities of over half a million dollars!
Crazy, I know.
So, what's the company do?  Good question… they're in the business of selling various water and soft drink products.  However, if you keep reading you'll see the company also has zero revenue.  Funny, my niece could generate more revenue selling lemonade in her front yard!
But wait… there's more.
The company recently licensed a secret "Formula" that they plan to sell.  Did they license it from Coke… nope.  Pepsi… nope.  Maybe one of the cool food science companies… nope.
They got their license for the secret "Formula" from a company out of Tajikistan!
Don't worry, I had to look it up too…
Tajikistan is right next to Uzbekistan and Kyrgyzstan… if that doesn't help, it's just north of Afghanistan.  Last time I checked, this was a hotbed of global food development technologists!  Or maybe I'm confusing Tajikistan with Chicago…
Anyway, if you're MAD, go ahead and buy the stock… It's only fallen more than 50% since the pumpers went to work on it this week.
Green Oasis Environmental  (GRNO)
This one made me smile…
OTC Penny Picks recently hyped the stock of GRNO.  They sent out an email saying "the company sent out some provocative news the other day…"
What was so PROVOCATIVE?
Apparently the company is working on sending their technology overseas.  It's technology that is used for the "remediation of slop oil, waste engine oil, and tank bottom oils."
That's not provocative… that's just DIRTY!
Speaking of dirty, somebody paid this pumper $10,000 cash to pump the stock.  It doesn't seem to be working.  Just look at the chart…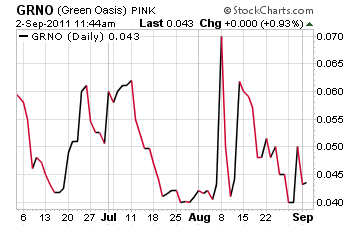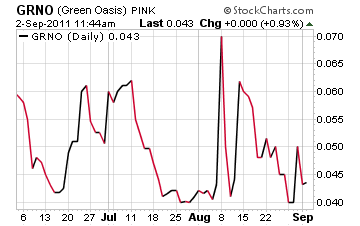 It's like the last rollercoaster I rode at Great America… and it's enough to make you sick.
I looked at their SEC filings.  I won't bore you with what I found… that would make you sick too.
The bottom line is, leave dirty stocks to dirty people.
GreenCell (GCLL)
I love the color green… it's the color of money after all.  So what's not to love about a company called GreenCell?
Plenty.
Let's start with the numbers.  Once again, we have a company reporting financials to the SEC.  I've got to admit I'm shocked! 
It makes my job much, much easier.
So we have an exciting company selling… wait for it… igniters.
Well, they're not so much selling them as trying to develop a new igniter.  But that's not all.  Once the company is done with the igniter, they then need to "complete development of its O2 sensors, fuel cells, and brake pad future products and thereafter sell and market these products."
Sounds like a lot of work to me.
What's worse… they have no sales, they lost over $100,000 last quarter.  They have a whopping $4 grand in the bank, and are in debt up to their eyeballs.
Why are we buying this stock again?
Atomic Trades said:
"GCLL.OB as a strong candidate for growth and an intermediate-term target price of $1.40."
Their grammar mistake aside, this is what I call riveting analysis.
I guess that's proof you get what you pay for… and they were only paid $25,000!  I wonder what you get for twice that?
Green may be the color of money, but this stock is all red… red flags that is.  Stay away.
A final word (and warning).
So that takes care of a few of this week's inglorious "pump and dumps". 
Remember, there's a lot more of this going on each week than we highlight here. 
As you know, penny stocks are a great place to invest your money.  You just have to do your due diligence to stay away from all the scams out there these days!
Until next time,
Brian Walker
Category: Pump & Dump Alerts