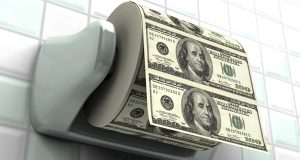 This week we're exposing these three popular Pump & Dumps:  Amwest Imaging (AMWI), Thwapr (THWI), and Itonis (ITNS).
That said, welcome to Pump and Dump Friday, where every week we highlight a few of the "bogus" promotions that are going on in penny stocks.
If you don't know how these scams work, be sure to check out this free report that exposes the whole thing.
Editor's Note:  For my regular readers, I have to say, "I told you so!"  And for those of you just tuning in, I've warned everyone more than once about this "classic" Pump and Dump… AMWI.
Here's the deal…
The pumpers did their job and took this little known stock from just $0.18 on November 22nd… all the way to $1.39 on December 8th!
Now we warned you numerous times what a sham this company was.  And I hoped you listened.  Just take a look at the chart to see what happened next…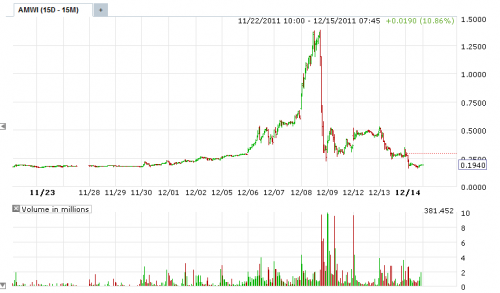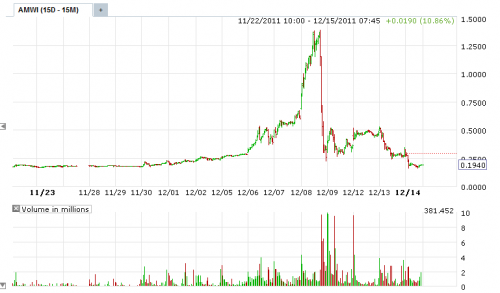 AMWI fell off a cliff!
You can see the massive spike in AMWI shares… and it's all due to the hype of paid promoters.  I'd bet my bottom dollar those "third party" companies paying the promoters to pump the stock are the ones who profited from the big move.
Hopefully, you weren't left holding the bag…
But if you are, you can't say I didn't warn you.  AMWI made our November 22nd and 25th issues, as well as a third and final warning on December 2nd.
The lesson here is simple… if you see a company show up on our radar, you can bet at some point, the company's stock chart will look eerily similar to the one above.
Now without further ado, here are the rest of this week's disasters waiting to happen:
Thwapr (THWI)
I had to chuckle at this company's name… go ahead, say it out loud.  Now say it like Daffy Duck… "Thhhhhwaaprrrrr".  Wasn't that fun?
Well, it's all that's fun about these guys.  Hold on a second… our hard-working pumper, Hot Stock Profits, probably had fun when they cashed a $5,000 check for promoting THWI.
However, there's nothing funny about the company's financials…
For starters, THWI generated $23,983 in revenue so far this year… which isn't bad for a small penny stock.  But it cost them $157,147 to do it!  At this rate, Thwapr is better off not selling anything.
And their operating expenses are massive… over $4.6 million this year alone.  In total, THWI has run a $4.5 million loss so far this year.  As if this wasn't bad enough, the company's balance sheet looks even worse…
THWI currently has $11,724 cash on the books… with total assets of $56,918.  But the problem is, the company's current liabilities run close to $2 million!
Now the really scary part is THWI has run up over $21 million in accumulated debt.  Doing some quick math, you'll find it's taken Thwapr over $20 million to get to the point where they can lose $133,164 selling their product.
Nice work guys… now that's what I call a strong investment… Not!
Itonis (ITNS)
Ok, you've seen companies like Itonis hit our pages in the past… the company goes through three major business changes and has yet to produce any revenue.  In a way, it reminds me of a three year old child…
"Daddy, I want the orange one… No Daddy, I want the red one… No Daddy, I want the blue one…"   You get the point.
And that's exactly what's going on at Itonis…
But the pumpers would have you think otherwise.  Big surprise… they are since they're getting paid to promote the stock.  In their latest release, Hot OTC Stocks said,
"ITNS is still pretty unknown but there's no telling what will happen when the scientific community find out about the break-through technology that ITNS is now involved with it!"
I think our pumper needs to spend the $40,000 they picked up for hyping ITNS and head back to school for some English lessons.
But this isn't about our pumper's bad grammar… it's about the shady findings over at ITNS.  Let's start with the company changes in the past few years…
Starting back in 2005, ITNS called itself Kenshou, Inc.  But that must not have felt right… so in December that same year, they changed their name to Itonis, Inc.  But the story doesn't stop here…
In May of 2011, ITNS changed its plan of operation and acquired Performance Mortgage Group, Inc (PMGI).  Ok, so now they're in the mortgage business… great.
But wait, later that summer, ITNS rescinded the acquisition and a settlement was reached with PMGI.  Not a good start so far fellas.
Hold on now, this gets even better…
In September 2011, ITNS moved to purchase Paramount Discoveries, Inc.  And this purchase puts Itonis in an entirely new and different direction…
You see, Paramount's technology is designed to magnetize carbon, salt, and silver.  Apparently this process will be good for industrial and agricultural processes.  Ok, check.
So now we've gone from mortgages to some sort of new tech company.  Finally, it looks like ITNS has finally settled on a company.  But they've yet to make a profit…
That's right… Itonis isn't generating any income.  But they sure are racking up debt by the truckload.  Since ITNS first started operation, they've amassed nearly $5 million in debt!
I would like to take a moment to personally congratulate the management team over at ITNS.  With their laser-like strategic focus, they've done an amazing job turning in such a jaw-dropping return on investment (ROI)!
Do yourself a favor and avoid ITNS shares… you'd be better off heading to the roulette table and blindly picking a random number!
A final word (and warning).
So that takes care of a few of this week's inglorious "pump and dumps".
Remember, there's a lot more of this going on each week than we highlight here.
As you know, penny stocks are a great place to invest your money.  You just have to do your due diligence to stay away from all the scams out there these days!
Until next time,
Brian Walker
Category: Pump & Dump Alerts