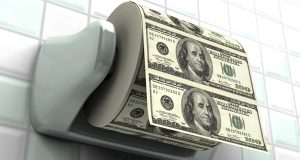 This week we're exposing these three popular Pump & Dumps:  Andes Gold (AGCZ), Green Energy Renewable Solutions (EWRL), and Great Wall Builders (GWBU).
That said, welcome to Pump and Dump Friday, where every week we identify a few of the potentially "bogus" promotions going on in penny stocks today.
If you don't know how these schemes work, be sure to check out this free report that exposes the whole thing.
Without further ado, here are today's "disasters waiting to happen":
Andes Gold (AGCZ)
It seems some stocks are the target of pump and dump schemes time and time again.  And Andes Gold is on its fourth go-round this year alone!
We warned you about two of them in the past… once in March, and then again in April.  This time around, it's Major Penny Stock and Moving Pennies doing the pumping.  They were paid $4,000 and $5,000 respectively.
Interestingly, the pumping seems to be losing its effectiveness. Shares of AGCZ have continued to slide with each pumping effort since it ran up in February.  Take a look at the stock price after the pumping started up again in March…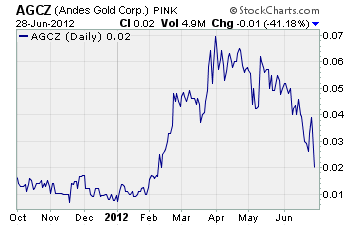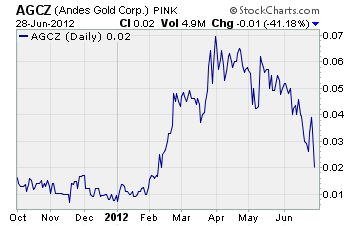 As you can see, Andes Gold is trading lower and lower each month since peaking at the end of March.
While the paid pumping going on in AGCZ is a big enough red flag to avoid buying this stock, there's even more you need to know…
For starters, Andes Gold no longer files their financial reports with the SEC.  In 2005, AGCZ terminated the registration of their stock.  This means they don't need to file timely or structured financial reports.
It takes away a layer of protection for investors.
What's more, the company issued over 200 million shares in the first quarter of 2012.  They issued 98.6 million from debt conversion and 111 million for services.  Now get this… Andes Gold has over 1 billion shares outstanding as of March 2012!
Now, AGCZ did turn a profit for the first quarter, but they had to issue shares and still burned through cash in the process.
For the smart investor, I'd recommend you take a pass on shares of Andes Gold.
Green Energy Renewable Solutions (EWRL)
I hate seeing "green" companies show up here… I'm a big fan of the green movement.  But this one had to be exposed for the pure pump and dump it is…
You see, Simply Best Penny Stocks was paid $40,000 to run a promotion on EWRL shares.  And they're not alone.  Wall Street Buzz, Xplosive Stocks, and Jackpot Penny are touting Green Energy as well.
The pumper is using the age old trick of dropping a big name company next to their sketchy penny stock.  In this case, they're comparing Archer Daniels to Green Energy… ha!
No chance they're even close.
For starters, EWRL lost $1.2 million in the first quarter of 2012.  And get this… the company has a total accumulated deficit of $4.5 million!
What's even more pathetic is Green Energy is sitting on a whopping $50 in cash.  Yep, $50 – like I have more in my wallet right now.
If the numbers aren't scary enough, the stock chart should clearly tell you this is being pumped.  Take a look at the sudden spike below…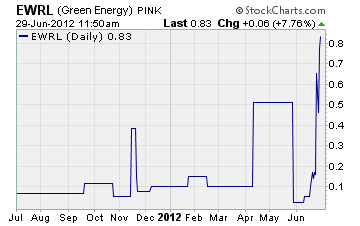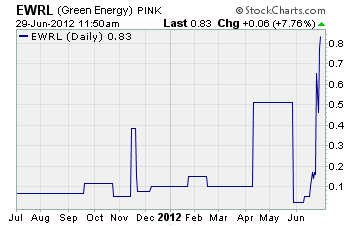 No matter what they're recycling, that's not something I'd put in my portfolio.
Great Wall Builders (GWBU)
Since we haven't heard from our friends over at Azteca Cortez S.A. for a week now, let's revisit what's going on with Great Wall Builders.
Well, the stock isn't doing so well right now.  In fact, shares of GWBU are trading below where they were before the pumping started!
Take a look for yourself…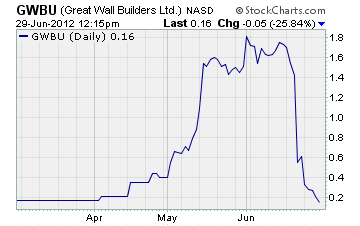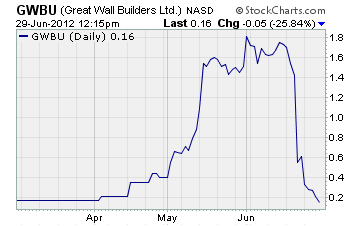 Wow!  We've seen some major dumps before… but this is the worst six week performance we've ever seen from this pumper.  Normally anything pumped by Azteca Cortez S.A. takes a leg down, gets at least one "dead cat bounce" for a re-pump… and then falls to nothing.
This stock is the new poster child for a pump and dump!
I'm going to leave you with a screen grab from my inbox from Killer Penny Stocks… one of the pumper's affiliates.  This should remind you never to touch anything we tell you is pumped by this outfit.  It's all just straight up garbage!


A final word (and warning).
These are just a few of the potential "pump and dumps" we've seen lately. Remember, there's a lot more of this going on than we can highlight here. As you know, penny stocks are a great place to invest your money.  You just have to do your due diligence to stay away from all the schemes and scams out there these days!
Until next time,
Brian Walker
Category: Pump & Dump Alerts