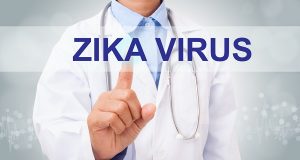 The Zika virus has been all over the news recently. It obviously is a backdrop for the Summer Olympics given the host country Brazil is the epicenter for this recent outbreak. The President and Congress continue to duel it out on assigning funding to tackle the virus from spreading further than it already has in the United States. Both sides seem to be more concerned about scoring political points in front of the election than actually getting anything done. Fortunately the private sector is front and center addressing this growing concern.
There was even a story on CNBC Monday about an analyst from Canaccord Genuity projecting that Zika could be the straw that broke the camel's back and trigger a slide in the market similar to Ebola in October of 2014. I have many worries about this market that currently sells at 19 times forward earnings and is firmly locked in a "profit recession", Zika is not one of them. This comes from a person less than 10 miles from one of the "quarantined" areas of Miami as well.
Zika simply does not have anywhere near the lethality of Ebola, although it is easier to spread. It impacts a very small subset of the population, mainly pregnant women. In fact, one of the main challenges in containing the virus is in 80% of the affected individuals the symptoms are too minor to even know you have the disease.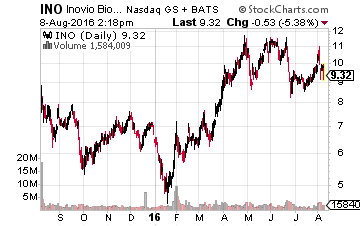 However, like most topics dominating the news, there is always a way to make a buck through prudent investments. The notoriety of the virus has put the spotlight on some vaccine makers, including two small ones that have done well within the Biotech Gems portfolio as of late. The first is called Inovio Pharmaceuticals (NYSE: INO) which actually is developing a promising vaccine to combat Zika. The vaccine recently got the blessing of the FDA to enter Phase I trials.
This vaccine is just one of many in development at Inovio. This firm has been the first and only company to generate robust t-cell responses in human studies. The company has a host of possible compounds in its pipeline including ones for MERS and influenza as well as eight possible vaccines for various cancers which easily could be partnered with a larger developmental concern. The company has plenty of cash in the till to develop its pipeline as well. Inovio is a name to keep an eye on in this space and should be bolstered in the market as long as the media is focused on the spread of Zika.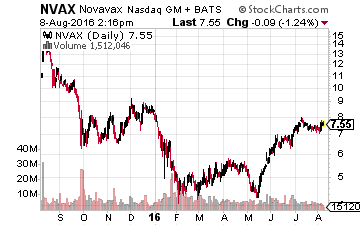 Next up is Novavax (NASDAQ: NVAX), which is my favorite vaccine play even if it is not focused on Zika. It has several important vaccines being developed but its key near and medium term catalyst is a respiratory syncytial virus (RSV) vaccine candidate in Phase III clinical trials for the elderly. Results should be out by the end of September and are very likely to be positive given previous trial results in smaller studies. RSV causes over 200,000 hospitalizations in people 65 and older just in the United States. The vaccine is also in separate trials for pediatrics. Approval should mean several hundred million annually in revenue and the market should start to revalue Novavax upward as it moves from a developmental concern to a commercial one.
Zika is just one of many worries that have knocked airline stocks down recently including falling revenue per passenger mile and concerns around expanding capacity. The stocks are cheap and could benefit as investors realize that the threat from Zika on travel is overblown. In addition, oil has fallen from just over $50 a barrel in late June to right over $40 a barrel now. This has had a corresponding impact on lowering jet fuel prices, the second largest operational costs for airlines.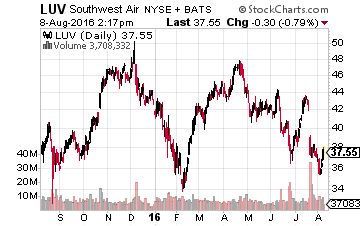 I like Delta Airlines (NYSE: DAL) and Southwest Airlines (NYSE: LUV) at the current moment. Delta is going for just over six times trailing earnings, cheap by any measure. In addition, the CFO recently bought almost a million dollars in stock, a nice vote of confidence. Southwest is a little more expensive at nine times trailing earnings but is generally acknowledged to be the best run of the major airlines and has better revenue growth and less exposure to global travel markets. This is another airline seeing recent insider buying as a director, the COO and CEO have all made several purchases in early August. Both airlines should get a boost in the second half of the year domestically as GDP is projected to grow more than three percent in the third quarter after averaging one percent over the past three quarters as well.
Finally, getting back to Brazil which has been the main victim of the outbreak of Zika. Back in September of 2012 I penned an article "Bailing out of Brazil" detailing ten reasons why it was time to abandon this emerging market. It was one of my better timed pieces as it coincided almost exactly with the top of the market. Thanks to the commodity collapse, a massive corruption scandal that has caused the president to go through impeachment proceedings, the implosion of the Real and now Zika, the country is locked into its deepest recession since the Great Depression of the 1930s.
With China's demand for iron, soybeans, copper and other commodities continuing to ebb and with the dollar strengthening again, Zika is just the latest reason to continue to avoid this market.
Finding biotech stocks with upcoming catalysts for explosive growth like Inovio and Novavax is a key component of my comprehensive strategy for massive profits in my newsletter, Biotech Gems.
And while I spend hours researching biotech stocks every week, I select only those meeting my stringent 6 point criteria developed over my decades-long successful biotech investing career.
Category: Breaking News