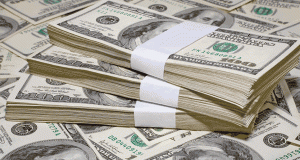 After reading through hundreds of earnings reports, Bret Jensen has selected his top five favorite stocks with the best prospects after second quarter earnings. If you're looking for a short-list of a top-rated analysts's favortie stocks, look no further.
We have been in the heart of second quarter earnings season for a couple of weeks now, and I have been inundated reading through dozens of quarterly conference call transcripts on the small cap stocks I hold in my portfolio. This is the best place to ascertain how a company is progressing or failing to execute against its strategic plans. I have also been answering scores of inquiries from readers around some names I have profiled here in recent months. I thought these pages would be a good spot to place my collective thoughts on some small cap equities I have positively profiled in the past in the lodging, housing, and biotech sectors.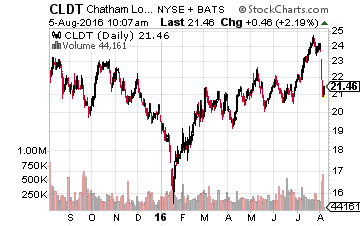 My two favorite lodging REITs, Chatham Lodging Trust (NASDAQ: CLDT) and Diamondrock Hospitality (NYSE: DRH) both missed slightly on bottom line expectations and also lowered guidance a bit as well. This is a function of the fact that the domestic economy has grown at a one percent pace over the past three quarters which has put pressure on a lot of sectors of the economy, including lodging. "GDP Now" currently projected the United States GDP to grow some 3.7% in the third quarter. I think that is a tad optimistic, but 2.5% to 3% seems achievable given inventory rebuilding.
That being said, valuations of these REITs are still attractive given their high yields in a very low-yield environment. I particularly like Chatham as it now has an over six percent yield and pays its dividend monthly. More importantly, the company is very well managed. Its CEO and a good portion of the management team hail from Innskeeper Trust. They grew that REIT from 7 hotels in 1994 to over 70 and then had the good sense to sell out in 2007 right before the onset of the financial crisis. During that time, their shareholders averaged a 13% annual return including dividends, 50% above the average lodging REIT over that time span.
I have had the shares since they traded at $10 back in 2012 and will add if they fall below $20. All the stock has done since I have owned it is double in price and more than double its dividend payouts. Given that, I am not going anywhere despite a disappointing quarter.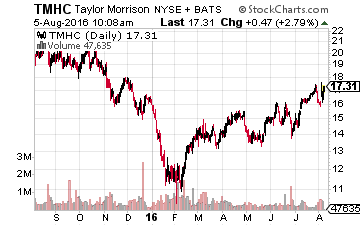 More positive news was reported by my much-profiled home builder, Taylor Morrison (NASDAQ: TMHC). The company easily beat both the top and bottom line consensus as both revenue and home closings were up more than 20% from the same period a year ago. Digging through the conference call transcript, I found this encouraging gem from management, "We stand firm in our belief that the homebuilding industry is in the midst of a sustained and measured recovery. The sector — and more notably Taylor Morrison — is well positioned for continued growth and efficiency through the ongoing maturation of the cycle." The stock is still cheap at 10 times this year's projected earnings per share.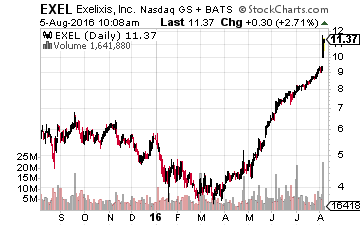 Exelixis (NASDAQ: EXEL) continues to be an emerging oncology juggernaut and is up some 130% in the three months it has been in the Small Cap Gems portfolio. The company just crushed expectations. Its recent quarter showed revenues leapt way past the consensus thanks to an impressive commercial launch of Cabometyx. This is its cabozantinib treatment for patients with advanced renal cell carcinoma, as well as a boost from its Cometriq compound. Cabometyx launched in late April. This is one of the stronger rollouts I have seen in recent years. I would not be chasing this one here, but I might be a buyer if it came back to $10 a share.  I could easily see the firm being an attractive buyout target given the desire by large pharma and biotech concerns to expand their footprints in oncology.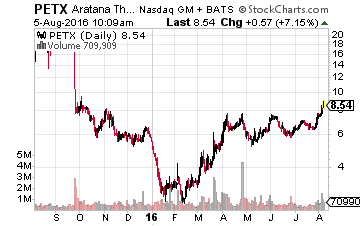 Finally, Aratana Therapeutics (PETX), another recent Small Cap Gems addition, reported earnings of 37 cents a share in the second quarter, 30 cents above estimates. I would not read much into the headline numbers as they had to do with the timing and recognition of a $45 million upfront payment the company received from its marketing and distribution partner Elanco for Galliprant which was approved in the first quarter of this year. The company reached this collaboration deal with Elanco in April. In addition to the upfront payment, Aratana will also receive regulatory and sales milestone payments up $83 million as well as royalties on Galliprant as it rolls out across the United States.
The company has more good news to come for shareholders. Galliprant, which is approved for post-operative pain for canines, is currently in a pivotal trial for the same use in cats which would expand the market for this compound. Entyce, which was approved recently for appetite stimulation in dogs, will launch in the first quarter of 2017. I would not be surprised if the company signs another collaboration deal with a larger player on that compound to achieve a faster rollout.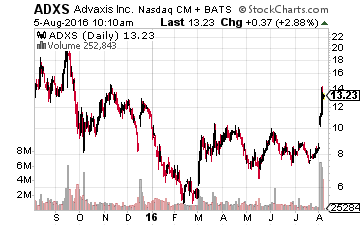 Nocita, which will be used in local post-operative analgesia for cranial cruciate ligament surgery in dogs, should be approved on August 28th. Aratana has also initiated a field safety study for AT-014 which is an investigational canine osteosarcoma vaccine licensed from Advaxis (NASDAQ: ADXS).  I expect both products to hit the market before 2016 is out.  Despite the recent run up in the shares, the stock still has under a $300 million market capitalization and should end the year with some $75 million in cash on the books. I look for years of rapidly increasing revenues from Aratana.  I would not be surprised at all to see it receive some buyout interest in the quarters ahead as it continues to develop and deliver on its pipeline.
Finding biotech stocks with upcoming catalysts for explosive growth like Exelixis and Artana Therapeutics is a key component of my comprehensive strategy for massive profits in my newsletter, Biotech Gems.
And while I spend hours researching biotech stocks every week, I select only those meeting my stringent 6 point criteria developed over my decades-long successful biotech investing career.
Positions: long CLDT, DRH, EXEL, PETX, TMHC
Category: Top Penny Stocks