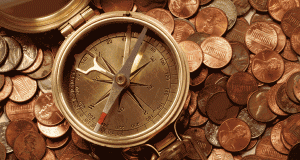 After watching the biggest turnaround story in sports on Sunday night, Bret Jensen was inspired to pick out three stocks that have been "left for dead" by the market but have great chances to be resurrected in 2017. Each of these stocks has a tough road ahead but if successful could return investors huge wads of money. 
"When a man with experience meets a man of money.  The man with experience will end up with the money, and man the that had the money will end up with the experience"
I hope by the time this article posts, the city of Atlanta has been taken off of suicide watch after the Falcons' meltdown in Super Bowl LI on Sunday. The Patriots staged a 25-point comeback with 18 minutes left in the game and then won the title on the first possession of overtime, in what has to be the biggest implosion in a professional sports championship in history.
Say what you want about Belichick and Brady, and I am not a Patriots fan; but, they are harder to kill than Dracula with a bullet proof vest.
This got me thinking about how many stocks have come back from the "dead" and gone on to provide big returns to shareholders.  Apple's (NASDAQ: AAPL) massive ascent after the return of the legendary Steve Jobs is the obvious example.
My personal best return from a dead winner was from a small internet search stock called Ask Jeeves. I bought the shares a year after the "internet bust" for $2.00 a share, less than 60% of the company's cash on hand at the time as I recall.  Three years later, the stock was bought out for $26.00 a share by a Barry Diller led technology concern.
While none of the following highlighted stocks probably have that sort of massive upside, neither are they as good as candidates for life support as were the Patriots with three minutes left in the third quarter. Also, all are good ideas for significant turnarounds in 2017 after a challenging 2016 year.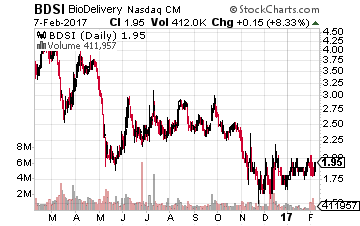 Let's start with Biodelivery Sciences (NASDAQ: BDSI), a small biopharma concern with two primary pain management compounds on the market, BUNAVAIL and BELBUCA.  The company had a tough 2016 as sales growth failed to meet investors' expectations.  The stock was cut in half to just under $2.00 a share. However, things should change in a couple of major ways in 2017.
First, the company signed a half-dozen agreements with insurance providers in the back half of 2016 which will greatly expand its network coverage for BUNAVAIL as those contracts have now kicked in.  The company also took back BELBUCA from its marketing and distribution partner, Endo International (NASDAQ:ENDP) for minor concessions.
Endo disbanded its pain management sales force which impacted sales of several compounds from numerous companies.  Overall sales of BELBUCA will probably take a hit for a few quarters as Biodelivery integrates this product into its own salesforce and adds some representatives.  However, instead of just getting royalties, the company now owns the entire revenue stream from BELBUCA.
Last week, management stated on a call with analysts that it now expected to be profitable by the end of the first quarter of 2017 instead of the year, which was its previous guidance. The current analyst median price target is more than twice the shares current trading level.
Retail has been full of landmines recently, so our next two contrarian selections come from that beaten down sector of the market.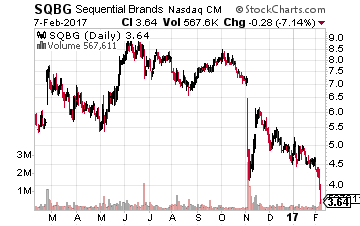 I have been waiting for Sequential Brands Group (NASDAQ: SQBG) to turn around for a couple of quarters now and am starting to feeling like I have a front row seat to the play "Waiting For Godot" (where two characters wait for the arrival of someone named Godot who never arrives).
However, I am going to give management another quarter or two to integrate the four significant acquisitions they did in 2015 that basically doubled their potential sales footprint.
The company spent most of 2016 bringing new brands into their business model and getting them into more sales channels; They brought Martha Stewart brands to Staples in the United States, Hudson's Bay in Canada and on Alibaba in China.
Due to integration expenses, profits declined in 2016 from 2015 due to this integration. However, growth should return in 2017. The company should see revenue increasing in the high single-digits and post earnings of between 50 to 60 cents a share. Even at the low end of that profit range, the shares seem mighty cheap at just over $4.00.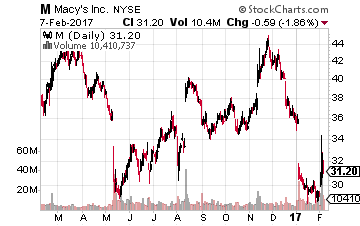 Staying in retail, venerable department store concern Macy's (NYSE: M) has fallen on hard times, and the stock has been cut in half from its highs in the second half of 2015.  Sales are slowly declining as it struggles to compete against online retailer Amazon (NASDAQ: AMZN), a common affliction across the retail space.
However, the company is solidly profitable and should post around $3.00 a share in profits this year. In addition, the stock pays north of a 4.5% dividend. Most importantly, the company's hundreds of stores sit on some very valuable real estate that has a recorded book value from decades ago. Macy's flagship store in Manhattan sits on an entire city block and is worth $3 billion to $5 billion just by itself.  The company enterprise value is just $17 billion including debt. This discrepancy of value has brought in activist investor Starboard Value which has prodded the company to start to monetize some of that real estate value by selling off some underperforming stores.  Canadian-based retailer Hudson's Bay approached Macy's about a potential takeover last week. The stock does look significantly undervalued here with a potential catalyst on the horizon.
Positions: Long BDSI, M, and SQBG
Note: Bret Jensen is the lead equities analyst with Investors Alley. He's the editor of their newsletters including The Growth Stock Advisor and Biotech Gems.
Category: Penny Stocks to Buy