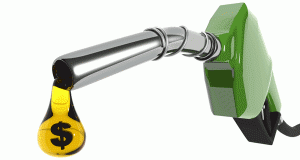 What a week!  Apparently the markets decided to celebrate Independence Day with a very patriotic rally.  As of this writing, both stocks and commodities are having big weeks.
In fact, the S&P 500 – which had dropped all the way to flat for the year at the start of June – is up over 10% year to date.  Small cap stocks have also joined in the rally, climbing over 11% so far.
Meanwhile, commodities are down just 2% year to date after falling over 15% for the year earlier in the month.
However, over the last few days, one of the most explosive gainers has been oil.
Crude oil is charging higher, vaulting nearly $10 in just three days to over $87 a barrel.  Needless to say, that's a huge move.  Before the rally, crude has been sitting at below $80 for the first time in eight months.
So where did the massive turnaround come from?
There are basically two catalysts driving black gold higher… sanctions against Iran and global central bank stimulus.
A European Union embargo on Iranian oil exports kicked in July 1st.  It will severely cut back on the amount of oil shipped from Iran – a significant source of revenue for the country.  The embargo came about due to Iran's unwillingness to open their nuclear facilities to international inspectors.
In response, Iran is threatening to close the Strait of Hormuz to oil tankers.  Roughly one-fifth of the world's oil passes through the strait.  It would clearly be a huge disruption to the oil trade.
As such, it makes perfect sense that oil prices are soaring now that the sanctions are live.
And then there's stimulus…
With economies around the globe fading, central banks are finally starting to take notice.
The Fed recently extended their Operation Twist program through the end of the year.  Today, the ECB is expected to lower their key interest rate. Finally, rumors are circulating that China is considering ways to stimulate their economy.
Keep in mind, monetary stimulus tends to be bullish for commodities.  Plus, it's been a particularly strong upward force on oil prices.
So, we have the world's three largest economic powers considering or enacting stimulus.  There's a massive standoff between Europe and Iran.  And, oil had been trading near 52-week lows.
The catalysts are in place for a substantial move higher.
Here's the bottom line…
Not only is oil screaming higher this week, there's no reason it can't keep flying high.  Even better, to get inexpensive exposure to crude oil, take a look at penny stock oil exploration and production companies.  There are plenty of well run companies out there trading at very reasonable prices.
Yours in profit,
Gordon Lewis
Category: Oil Stocks