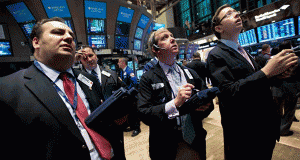 When it comes to stock investing, there's no such thing as a unanimous belief.  No matter what the topic is, there's always going to be at least one source of vocal opposition.
However, expert opinions on the market are even more jumbled than usual these days.  There's really no clear signal on market direction.  It seems like as many people are planning for a selloff as are planning for a rally.
So who should you believe?
Let's take a look at some of the key points of contention.
On one hand, you have James Bullard, President of the St. Louis Fed.  He recently stated on CNBC that the economy doesn't need any further stimulus.  His comments even caused a minor pullback in stocks.
What's more, famous investor Dennis Gartman, of The Gartman Letter, has pulled out of all stocks for the time being.  He's sitting on the sidelines as he waits for more clues on where the market might be headed.
However, that's just one side of the argument…
First and foremost, in regards to additional stimulus, Fed Chief Bernanke sees "scope for further action".  Plus, the most recent Fed notes show a majority expect stimulus soon.
That's a significant vote of confidence for QE3 if you ask me.
And don't forget, the market hasn't exactly been plummeting lately.  In fact, the major indices have been hanging in there, above key technical levels.  That's clearly not a sign of fearful investors.
Here's the thing…
Economically, we're not out the woods just yet.  In fact, US capital goods (machinery, equipment) dropped the most in eight months in July.  In other words, companies are pulling back on investments.
Moreover, Bloomberg recently compiled a consensus estimate on GDP and unemployment through 2014.  The results aren't pretty.  By the second half of 2014, GDP isn't expected to break 3%.  And, unemployment is still predicted to be at 7.5%.
We have a long way to go to get back to pre-recession levels.
That's exactly why I think stimulus is coming.
The Fed won't allow the economy to stagnate.  Slow growth is fine, but stronger growth is better.  Plus, they do have a mandate to reduce unemployment.
Bottom line…
Signals may be mixed these days, but I think we can pretty safely bank on QE3 or some other form of central bank stimulus.  There are still too many economic hurdles to overcome.  And since the stock market loves quantitative easing, I'm leaning towards a bullish market for the remainder of the year.
Yours in profit,
Gordon Lewis
Category: Investing in Penny Stocks