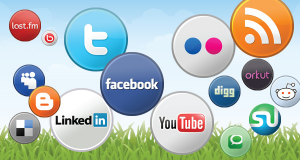 For the most part, it's been a disappointing year for social media stocks.  Actually, it's been a below par debut for social media stocks overall.  Very few of the hyped social media companies to go public have performed to expectations.
Of the major social media players, only LinkedIn (LNKD) is trading above its IPO price.  Meanwhile, Groupon (GRPN), Zynga (ZNGA), and of course, Facebook (FB), have all faltered out of the gate.
The Facebook IPO was supposed to breathe new life into the social media industry.  FB shares were supposed to be trading for something like $500 per share by now.
Instead, investors are now questioning if current social media companies can even survive with their current business models.
So then, what's next for the social media industry?
I think the future of social media can be summed up with three words… or three names.
Apple (AAPL), Google, (GOOG), Amazon (AMZN).
Here's how these three powerhouses fit into the long-term social media picture…
Think of all the major ingredients that go into a fully functional social media network.
Of course, there will be lots of content such as photos, games, books, and movies.  The content will be supported by advertising.  Plus, there will be robust internet search capabilities to find or research even more content.  Finally, you'll need devices, likely mobile, to both access your content and connect with your social network.
Between the three companies I mentioned earlier, all the ingredients are fully accounted for.
As the number one online retailer, Amazon is king of content.  Not to mention, the company is actively pursuing the device side of the business.
Google, of course, is the undisputed champion of both internet search and internet advertising.  And don't forget, Google+ is already a reasonable competitor to Facebook as the second largest social network site.
Finally, AAPL has become the largest company in the world on the strength of their devices.  In addition, the company is making a strong push on the content side of the business.
Here's a wild idea, with Facebook stock struggling and Apple's monstrous cash hoard, it wouldn't be a huge stretch to see AAPL buy FB outright.  Talk about making a splash in social media!
In a nutshell, these three behemoths are positioned to dominate the social media industry.
So what do the big three have to do with small caps and penny stocks?
Each of the companies builds at least some of their market position through acquisitions.  Look, these guys are regularly buying small companies – both public and private – in order to build and improve their product portfolio.
In fact, AAPL just purchased small cap, fingerprint sensor specialist, AuthenTec (AUTH).  By the way, AUTH shares have soared 88% over the last month.
In other words, savvy investors have the potential to profit in a big way from the consolidation in the social media industry.  Small companies with unique technology are the most likely culprits for acquisition.  AAPL, GOOG, and AMZN are looking for opportunities… you should be too.
***Editor's Note***  Be sure to head on over to this website and check out their Penny Stock Breakouts newsletter.  Apparently they're releasing the names of 2 blockbuster penny stocks today and I'm sure they'll skyrocket.  If you go now, you can probably get the names before everyone else finds out!  Click here for details.
Yours in profit,
Gordon Lewis
Category: Internet Stocks