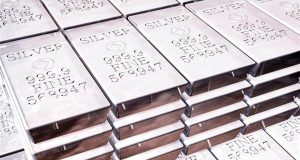 It's been a fascinating year for silver.  The precious metal has been one of the most popular topics among investors… in a year full of interesting topics.
Year to date, the price of silver has been as high as $50 an ounce, and as low as $26.  That's quite a range.  Not to mention, in just a two day period in September, the price dropped an eye-popping $10.
As of this writing, silver's sitting at roughly $31.  And it's been trading in a fairly narrow range since September's steep drop.
But that may be about to change…
A recent Bloomberg survey shows analysts expect silver to average $38 an ounce next quarter.  And they expect an average of $42 by the end of next year.
What's going to drive the higher prices?
Two potential catalysts… growth in developing nations and concerns over the European debt crisis.
Here's the interesting part…
The analysts' two reasons contradict one another.
Keep in mind, silver isn't just a precious metal. It's also an industrial metal.  Unlike gold, silver is used for quite a bit more than jewelry or as a store of value.  In fact, it's an important component for certain industries, such as photography and electronics.
And that's where the contradiction comes in.
Growth in developing countries means demand for silver would increase for industrial uses.  But, concerns over European debt issues suggest investors would buy silver for its precious metal characteristics.
But are they mutually exclusive?  Wouldn't higher demand for industrial silver imply global economic growth?  In that case, would precious metals still be in high demand as safe haven investments?
In other words, can we have both global economic growth and safe haven investing at the same time, in the same investment product?
It's an interesting question.  Here's what I think…
Because growth is expected to come from developing nations, I think we can see both catalysts come into play.  It's possible to have higher industrial demand from emerging nations and fear-based buying sparked by Euro debt concerns… at the same time.
What's more, silver has likely reached oversold territory.  Currently, gold and silver are over 80% correlated.  But gold has performed nearly 15% better year to date.  I expect that gap to close – in favor of silver.
Here's the bottom line…
Don't expect skyrocketing silver prices anytime soon.  However, because there are two catalysts which could conceivably drive up the price, I expect to see silver climb in coming months.  And if you're interested, there are plenty of silver miner penny stocks trading at dirt-cheap prices.
Yours in profit,
Gordon Lewis
Category: Silver Stocks